July 16, 2023 | Study abroad mini fair
Studying abroad in a new environment, a new country outside Vietnam is the direction chosen by many students with the desire to access advanced education, experience multicultural life and absorb many new things. 70% of international students' decision to study abroad think about future career development opportunities. Therefore, finding the right learning environment to have a sustainable direction for the future career is the most important thing for international students. If you are still wondering about choosing a country, school or field of study to study abroad, ApplyZones' 2023 multinational study abroad seminar will help you solve that problem.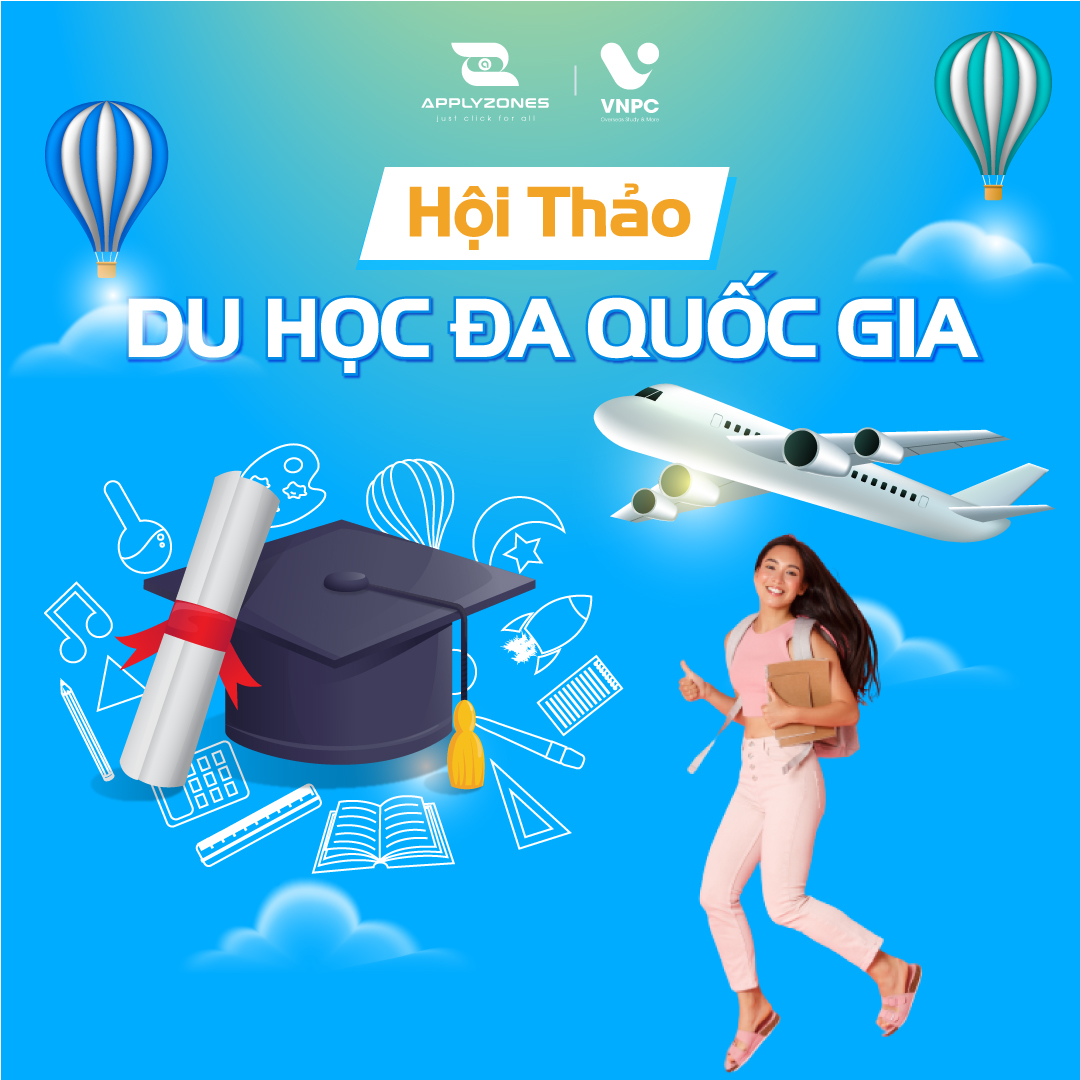 The 2023 Multinational Study Abroad Conference is an annual event organized by ApplyZones in conjunction with VNPC in Vietnam to help parents and students have an overview of the study abroad market, update Update the latest study abroad trends as well as answer questions and clearly orient your future study path. Students and parents are welcome to attend!
Time: 09h00 on 16/07/2022
Location: 9th floor, HKT Building, 85 Vu Tong Phan, Hanoi
>>Register Now<<
Join this event, you will get
Learn about the top educational institutions in the world such as Australia, UK, Canada, Switzerland…
Update HOT majors & high settlement opportunities in many countries around the world, thereby giving target orientation
Meet directly with school representatives from leading countries in the world such as exchanging enrollment information, documents, as well as answering all questions for parents and students.
Update the application procedures, the latest student visa policies of the countries
Revealing the list of super hot scholarships for the academic year 2013-2014
Counseling on study abroad routes suitable to students' ability and career orientation
Advice on choosing a major, choosing a school that is suitable for family finances and has high career prospects
Receive valuable gifts from ApplyZones, VNPC and school representatives
The highlights of studying abroad in 2023
Study in Australia 2023:
Extremely generous scholarship policy: scholarships up to 50,000 AUD of top national and international TOP schools
Visa to stay after graduation from 2 to 5 years (extend time in the Regional area)
Fast Visa – No need to prove financial, no need to have IELTS certificate
Increase the settlement target from 160,000 to 180,000- 200,000 due to labor shortage
International students can increase their income from overtime from $35-50/hour
Both spouses are eligible to study abroad (one spouse goes to school, the other goes to work full-time)
Study in Canada 2023:
Scholarship worth from 1000 - 10,000 CAD
Meet and chat directly with representatives of the top TOP colleges in Canada, with a tuition fee of only VND 250 million/year
Opportunity to stay in Canada for 2-3 years after graduation to work and seek settlement opportunities.
No need to prove financial when studying in Canada
Parents can apply for a family visit visa to visit their children for a period of up to 10 years, each trip from 3 to 6 months.
Both spouses are eligible to study abroad (one spouse goes to school, the other goes to work full-time)
Study in Switzerland 2023:
The world's No. 1 country in hotel tourism training.
Instructions for applying to the top 10 schools in the world
Receive scholarship information up to 1 billion
Diverse courses from hospitality to business with attractive tuition fees
Opportunity to work part-time while studying with income up to 52 million VND/month
Special study program 6 months theory and 6 months paid internship
You can go to many countries to practice while still a student if you have good academic records
Opportunity to work with high income in management positions in many countries around the world
Study in New Zealand 2023:
Open borders after 3 years of closure
Many attractive scholarship programs for international students
Fast and easy student visa processing time
Both spouses are eligible to study abroad (one spouse goes to school, the other works full-time), their children can attend public schools for free until the age of 18.
Study in Singapore 2023:
Many attractive scholarship programs to study abroad from 10 - 50% of tuition fees
Applying for a student visa is super fast, the procedure is simple, students with a large gap can also go
The perfect stepping stone for those of you who do not have a very good profile to study in the UK, Australia, USA, Canada
Opportunity to save study costs by 50% compared to European countries, America, ...
Receive 2 graduate degrees (1 from Singapore, 1 from UK, Australia, USA,...)
Study in UK 2023:
Take part in UK scholarship exam/interview with value up to 100%
Get a list of attractive Undergraduate - Master scholarships
Stay up to 3 years while studying in the UK
Study in the US in 2023:
Many attractive scholarship programs for international students
STEM students can also stay in the US to work for 3 years after graduation.
Diverse disciplines
Study in the Philippines 2023:
Low cost of studying abroad,
Diversity of courses, learning environment and quality curriculum.
The process of applying for a student visa is easy. The procedure is simple because the Philippines belongs to the ASEAN bloc, so for students who study abroad in the Philippines for less than 30 days, they do not need to apply for a visa. For those of you staying more than 30 days, when you come to the Philippines, the school will support visa extension. The Philippine education system is simulated like the American education system (100% is the American curriculum), if students study in the Philippines, you also have the opportunity to transfer to the US without any difficulty in terms of training quality.
Accompany us to realize your dream of studying abroad by quickly registering to attend the seminar now. Many valuable scholarships are waiting for you in the upcoming seminar!