Requirements for studying in Australia
Along with the UK and the US, Australia is one of the countries most attended by international students because this country is not only a peaceful and beautiful country with a thriving economy but also the quality of education is ranked among the top in the world. Besides, studying in Australia, students also have a high chance to settle down and get a good job after graduation. This has created a strong attraction, attracting thousands of international students to study in Australia each year. So what are the requirements for studying in Australia? What requirements do students need to meet to study here? All will be answered by ApplyZones in detail in this article!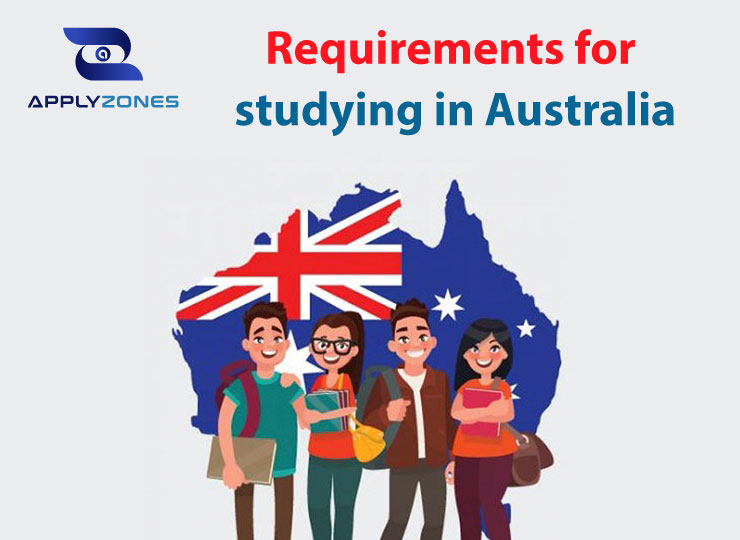 5 requirements for studying in Australia you need to meet
To realize your dream of studying in Australia, you need to meet the following 5 basic requirements. Please note that if you do not meet one of the 5 requirements, you cannot realize your dream of studying in Australia. So, make sure to consider carefully these 5 requirements to study in Australia to make your dream come true.
Age requirements
To be granted an Australian student visa, the minimum age must be 6 years old. If you are under 18 you will need to have welfare arrangements in place while in Australia in advance. International students are not allowed to come to Australia before the welfare agreement comes into effect. This is contained in the visa terms, if you do not comply, your visa is completely likely to be cancelled.
International students under the age of 18 are allowed to study abroad in the following cases:
Accompanied by a parent or legal guardian
Living with suitable relatives
The school provides proof of accommodation, commitment to support and proper arrangements with general welfare matters
Foreign language requirements
The second requirement you need to meet to study in Australia is English. International students must provide proof of foreign language proficiency upon arrival in Australia and IELTS is the most commonly used qualification.
For the IELTS levels, different courses and schools will have different IELTS level requirements. You can check this requirement on the Applyzones system.
If you do not have enough IELTS scores, you do not need to worry because international students can completely enrol in English Language Intensive Course (ELICOS) to improve their English proficiency. However, normally, to meet the requirements for studying in Australia, you must achieve IELTS 4.5 for English courses and IELTS 5.0-7.0 for diploma, undergraduate and postgraduate courses.
However, if you do not have an IELTS score, do not worry too much. Australia also accepts other English certificates such as TOEFL, Pearson Test of English Academic (PTE), and Cambridge English Advanced (CAE). So, obtaining one of these certificates in hand, you can be completely assured of overcoming foreign language requirements easily.
Certificates

Minimum score

Minimum score if combined with an ELICOS course with a duration of at least 10 weeks

Minimum score if combined with an ELICOS course with a duration of at least 20 weeks

IELTS

5.5

5

4.5

TOEFL

527

500

450

TOEFL iBT

46

35

32

Cambridge English Advanced

(Certificate in Advanced English)

162

154

147

Pearson Test of English Academic

42

36

30
Academic requirements
The following requirements for studying in Australia you need to meet is academic capacity. Different schools and programs such as high school, vocational training, undergraduate and postgraduate will have different requirements. To know the exact academic requirements of each school, please check through the Applyzones system.
In general, the basic admission requirements to study in Australia are usually as follows:
English course: International students must take an entrance test
High school program: GPA and English certificate
Undergraduate program: High school graduation, English certificate
Postgraduate program: Bachelor's degree, English certificate
If international students have not yet eligible for undergraduate or postgraduate studies, a preparation course which lasts from 8 months to 1 year can be enrolled in.
Financial requirements
Finance is one of the requirements for studying in Australia that is very important to decide whether you can fulfill your dream of studying abroad or not. To study in the country of kangaroos, international students will have to prove that they have enough financial capacity to cover the costs of studying in Australia including tuition fees, living expenses, travel etc.
However, if you are not required to provide proof of financial support with your visa application, the consulate general will have the right to ask you about your financial resources during the visa processing process.
If you are sponsored by the Department of Foreign Affairs and Trade or the Department of Defense, provide a letter of support as proof of your financial capacity.
If you are a secondary exchange student, provide the Acceptance Advice of Secondary Exchange Student (AASES) form as proof of financial capacity.
International students must demonstrate financial support through factors such as:
Proof of payment of costs in Australia such as tuition fees and living expenses of the first year for international students and accompanying family members
Proof that you meet the average annual income requirement
Submit the AASES form (for exchange students only)
Sponsorship letter from the Ministry of Foreign Affairs and Trade or the Department of Defense
Visa requirements
Visa is also a mandatory requirement for studying in Australia that you need to meet. The visa application process is also different depending on the type of study abroad of each student. The documents you need to prepare will include the following:
Passport
Copy of birth certificate
Notarized copy of ID card
Certificate of enrolment
Offer letter
For those under 18 years old, a guardian is required, the guardian's information and proof of the guardian's financial resources are also required.
Mandatory health insurance
Currently, according to the requirements of the Australian Embassy, ​​Australian visa applications must be submitted directly online. Those who want to apply for a visa need to go to the designated address to get a biometric sample
Biometric services address:
+ 94 – 96 Nguyen Du, Ben Nghe, District 1, Ho Chi Minh City
+ 52 Le Dai Hanh, Le Dai Hanh, Hai Ba Trung, Hanoi
Requirements for studying in Australia for each level of study
For each different level of study, there will be different requirements. You can refer to some of the following:
1. Primary education
+ Must be accompanied by a relative
+ Admission documents
+ Transcript
+ Passport
+ Certificate of foreign language proficiency
+ Portrait photo 4X6
+ Birth certificate
+ Household book
+ Financial proof
For students under the age of 18, you need a guardian to accompany you during your studies, possibly a relative in Australia or Vietnam. Guardians also need to apply for a visa in accordance with the regulations.
For guardians, a 580 visa is required, this is a visa that grants protection to relatives of students when studying abroad. The guardian here can be an aunt, uncle, biological parent, etc. They will be responsible for taking care of the children during the process of studying.
To apply for a 580 visa, the guardian must meet the following requirements:
Age over 21
Proof of relationship with students
A clear curriculum vitae
The guardian has children or relatives in Australia aged 6-18
The guardian must prove his/her financial capacity to pay the fees of the international student
2. Requirements for studying postgraduate program in Australia
For the postgraduate level, you need to meet the following criteria:
TOEFL ≥ 550 or IELTS ≥ 6.5
University GPA 6.5
Visa
Offer letter
Study plan and intention statement
Financial proof
In case your university GPA is not enough or your English score is not meet the requirement, you can enroll in an additional pre-master course or a preparatory English course. This course usually lasts 1 year, after completing the course you will become a full-time student.
Above are the requirements for studying in Australia that you need to master to prepare for the upcoming study abroad journey. For detailed requirements of each school or course, you can look up right on Applyzones.
ApplyZones is a free online study abroad portal with the operation on the 4.0 technology platform, automatically helping students quickly find a course that is suitable for each individual's conditions and interests with just a few simple steps on the system. You just need to enter your conditions required by the system, Applyzones will automatically search for courses that meet your conditions within seconds. In particular, you can directly apply for admission to the school of your choice as well as apply for an offer letter, or a student visa without asking for helps from educational consultancy centers. All with just a few simple clicks on Applyzones.
With outstanding advantages: no fee, proactively choosing a course that matches your interests and capacity, time-saving, and much faster than educational consultancy centers. Apply right on the Applyzones to experience free services and quickly complete your study abroad process!