Study in Australia – A bridge to your dreams
Currently, studying in Australia is the need of many international students who have completed high school education. Australia has many top universities with innovative education. However, many young people still don't know how the processes of visa application and enrollment are, what benefits of study abroad are. If you are also interested in this issue, do not ignore the article below.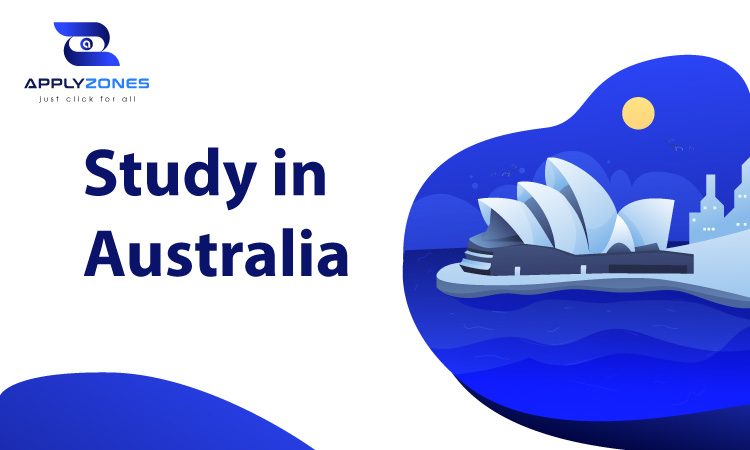 Reasons to study in Australia
Australia is one of the top choices for international students who want to study in an English-speaking country. According to statistics from the Australian Department of Education in 2019, there were more than 9 million international students enrolled. Therefore, if you study in the country of kangaroos, you will have the opportunity to meet and interact with many friends from all over the world.
Australia is always in the top of developed countries with the best education system in the world. Some Australian schools are always present in the top 50 universities in the world such as Australian National University, University of Melbourne, University of Queensland, University of New South Wales with reputation and quality of teaching. Besides, the employers will attach great importance to those who have qualifications from a reputable educational institution in Australia.
In addition, in Australia, there are more than 1200 universities and more than 22,000 different courses to choose from. You can enroll from foundation programs to vocational training courses, diplomas, undergraduates, postgraduates, spanning many different fields. No matter what and for how long you study, Australian law promotes quality education and protects the interests of international students.
The reason why studying in Australia has become a trend
Compared to other countries, Australia offers many benefits to international students. International students have the opportunity to study in the best education, expand their knowledge, improve their English skills and improve a variety of life skills.
1. An advanced and quality education
Australian education has achieved world standards and Australian qualifications are recognized worldwide. The Australian Government pays great attention to education and invest a lot of money in university research. The lecturers are leading experts who are experienced. You can completely develop yourself in a multicultural environment while studying in Australia.
2. Improve your English
All study programs and extracurricular activities in Australia are in English. Therefore you need to use it to communicate, study and interact with instructors. In such an environment, you will surely be able to improve your English rather than studying in Vietnam.
3. Expand knowledge, improve skills and life experiences
When studying in Australia also means that you are widening your eyes. You will have the opportunity to interact with many people, learn many new cultures and learn a lot of knowledge in the university. Certainly, there will be a lot of international students in Australian universities from many different territories. You will have the opportunity to immerse in a multicultural, multilingual, and multi-ethnic environment. This environment helps you to exchange, learn more about cultural intercultural to have more comprehensive about the issues around us.
4. Opportunities to change thinking methods
The method of studying in Australia will be completely different from that of Vietnam. Therefore, international students studying in Australia will be exposed to an innovative study program. Students are free to discuss, express their opinions and debate with faculty who are just companions, supporters, guiding you to the intellectual path. As such, you will have the opportunity to make a self-assessment, approach the problem and process information.
5. Favorable and attractive job opportunities
In the international labor market, holding an Australia degree will bring you a very good advantage. International graduates will have more job opportunities than domestic ones. You absolutely can choose one of the following fields of study:
• Commerce
• Sport
• Entertainment
• Banking
• Finance
• Travel
• Environment
• Land Management
• ...
Australian graduates will receive an attractive salary. You have the opportunity to find a job with a high salary and use up the knowledge learned.
Things you need to know to quickly integrate into Australia life
Australians are quite hospitable and friendly, so international students studying here feel quite comfortable. However, there are a few customs that you have to pay attention to avoid causing unnecessary misunderstanding when living here. For quick integration, you need to note the following information. These tips will help you to avoid bad things, creating good impression to Australians.
How to behave when studying in Australia
Some actions are considered illegal when done in public such as swearing, jostling, pushing when queuing, urinating, and defecating. You are only allowed to urinate or defecate in public or private toilets. Most Australians do not blow their noses or spit out the wall but use a handkerchief or tissue. Usually, when someone sneezes, Australians will say "Bless you" in the sense of blessing, but not in the sense of religion.
Culture should be noted when studying in Australia
Australians have many good ways to say. Maybe for international students, newcomers to Australia, they will be quite difficult to understand. Specifically:
• Bring a Plate: When you are invited to a party or work-related meeting where Australians say this, it means you should bring something delicious to enjoy together.
• BYO - Bring Your Own: In some restaurants in Australia, there will be drinks, wine, and soft drinks available. However, in some restaurants, you are allowed to bring wine to drink and then pay for the restaurant's washing service, which is called Corkage.
• Fortnight - two weeks. In some places in Australia they will pay employees every 2 weeks.
Australians are very polite so there are a few sentences they use very often or when they want to ask for help or accidentally collide with others such as: Please, Thank you, Excuse me, Sorry ....
Dressing should be noted when studying in Australia
Australia is a multi-racial society with many immigrants, so there is no specific regulation for dressing. Necessary regulations such as safety shoes, police uniforms, protective gear at the construction site are compulsory. Agencies, organizations and businesses all have their own uniform.
In Australian coastline areas, people wear quite comfortably, especially on hot days. Every citizen is protected by the law against any willful physical abuse.
How to find a job super fast while studying in Australia
If you want to apply for and get a job quickly, you should prepare a complete and professional resume. Australian universities will have career centers to assist you. There are a few tips for finding the right job:
• Go to supermarkets, hotels, and shops to ask managers about vacancies. You can leave your application for them to contact in the future if needed.
• Visit the company's website. When there is any information about the recruitment company will post on the website. You will easily follow up and apply.
• Read on school bulletin boards and online website. The university's career center will regularly update this information to help students earn extra income.
• Search through Australian online tools and websites.
How to find super cheap accommodation in Australia
One of the best solutions for international students in Australia is to rent a shared house. The rent for the whole house is from 70 AUD to 700 AUD/week. The houses for rent at a cheap price in Australia usually have 3 bedrooms. Houses that have only 1 bedroom will be more expensive. Therefore, the students tend to rent a shared house or share a house.
With some houses for rent, students have to purchase furniture. When looking for accommodation, students should visit the official website of the school, notice boards, on newspapers ... You need to balance between the rental and living expenses.
Reputable universities in Australia
In Australia, there are many universities, because the Australian government always páy great attention to education and research. Some famous universities in Australia that you should care about are:
• Monash University
• University of New South Wales
• Deakin university
In short, studying in Australia is now no longer too difficult for students. If you want to learn and apply, ApplyZones – an online free study abroad platform - is here to help you. Among many countries, Australia is the easiest to apply for study abroad and has the best job opportunities. We hope that the information will be useful to you.