Study Cookery in Korea – ideal choice for the future
Many people choose to study business administration, medicine, marketing, technology in Korea, while Cookery is not popular. However, it is appreciated in Korea. When studying in Korea, you will certainly learn a lot of useful things.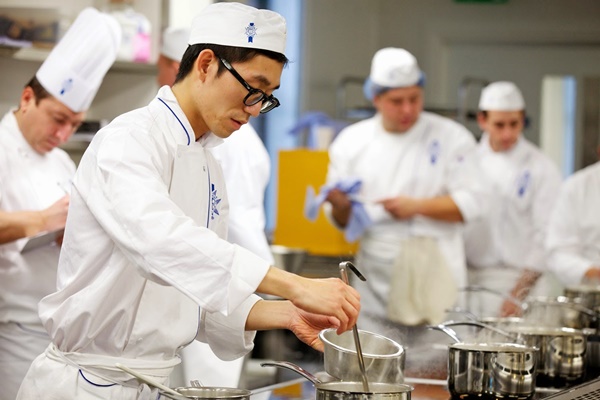 5 reasons to study Cookery in Korea
Opportunities to develop culinary skills
Korean cuisine with a variety of dishes has always been appreciated by professionals and has a great influence in the world. It is not difficult to see Korean food restaurants in any country in the world, even developed countries such as the US, UK, France ... Korean food is always loved by a lot of people. Therefore, studying in Korea is a wise choice today, especially for those who are passionate about cuisine.
Studying Cookery in Korea, you will be trained in a full range of skills such as cooking, food decoration, menu making, raw material selection management, team management, teamwork etc. And, with the direct cooperation between teaching schools and hotel restaurants, you also have many opportunities to practice and experience in large restaurants and hotels. You will study and learn about Korean cuisine and other cuisines in the world.
Immigration opportunity
Besides, cookery is also one of the professions with great prospects in the future. The opportunity for Korean immigration for international graduates is very high. The reason is that Korea is in demand for a large human resource of chefs in restaurants and hotels. Therefore, the government strongly encourages international students to stay and work after completing the studies.
Low cost of studying
Compared with having to spend a huge amount of money on other disciplines, the cost of studying Cookery in Korea is always much lower.
In which the cost of preparing the procedures and application process is only about 190 to 200 million. This is quite modest compared to the great benefits that international students can get when studying cookery in Korea. In addition, the costs of living, travel and accommodation in Korea are not too expensive. International students are also allowed to work part-time while studying. You can easily find a suitable job in restaurants and eateries to both increase experience and earn additional income to cover life.
Attractive career opportunities
According to a survey in the past few years, 100% of international students studying Cookery have jobs right after graduation with a desirable salary. Because of the development of "smoke-free industry", the demand for chefs is increasing. Therefore, right after completing the course, you can easily apply to work in many places such as clubs, restaurants, and large hotels at home and abroad. Even if you have good qualifications, you will have an opportunity to work in Korea.
However, it requires professional skills and persistent and dedication to pursue this career. Because it is busy and hard work, especially at the end of the year with are many parties or holidays, each chef is required to adapt.
Many valuable scholarships
In addition to the skills and benefits received when studying abroad, you also have the opportunity to receive valuable scholarships from schools in Korea. These scholarship programs, depending on different evaluation criteria, will have different values. One of the most important criteria that schools rely on to evaluate whether international students can get a scholarship or not is their academic performance. If you have outstanding academic performance, you will have a chance to win a scholarship. Therefore, if you plan to study Cookery in Korea, you should make an effort to study while still be at secondary school.
Requirements for studying Cookery in Korea
Academic level
Although the requirements for studying Cookery in Korea are not too strict, you still have to meet some specific requirements on academic qualifications as follows:
- Graduated from high school with a minimum GPA of 5.5 or higher
- Have Korean certificate Topik 3 or higher. If you have not got this certificate, you can take a Korean course in Korea before entering the main major
Other requirements
- Ages 18 to 30
- Have good health, not suffered from some infectious diseases, contract tuberculosis
- Have no criminal record, have not violated the regulations of immigration in Korea
- Prove financial resources of 10,000 USD in the bank account
With countless benefits and easy requirements, studying Cookery in Korea will be a wise choice for the future. If you still have difficulties or questions in choosing the right school or course, please immediately access ApplyZones for free support and quick consultation.