Studying fashion design in Korea
Today many students want to study fashion design in Korea but do not know where to start and how to pursue their passion. Many young people pursue this field and achieve success. Do you want to find out about the fashion design industry as well as Korea? If so, do not ignore the information that we provide in the article right below.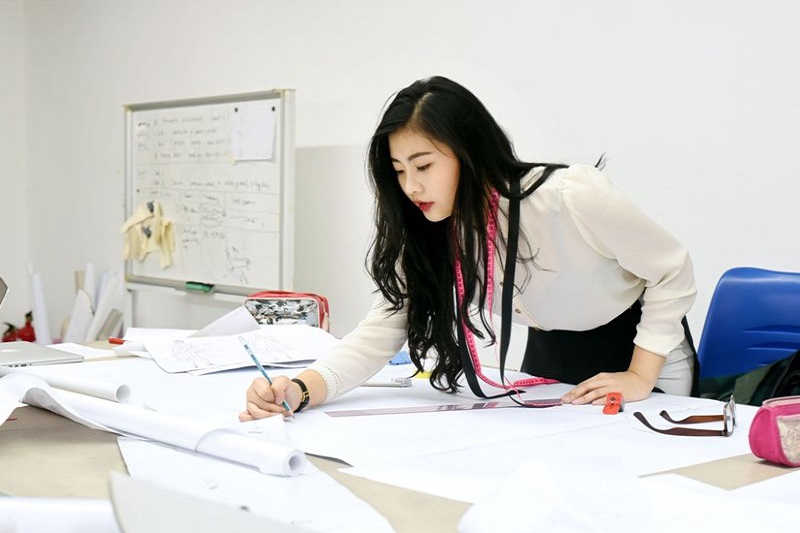 Studying fashion design in Korea
Many young people today have a passion for fashion and art, but still do not know how to use and promote it effectively. Have you ever thought about choosing fashion design to study and develop your passion? Is it more effective to learn fashion design in your country or abroad?
The answer for you is to study abroad, especially studying in Korea will bring the best results. There are many reasons why international students should choose Korea as a destination to study and pursue your passion.
Why study fashion design in Korea?
Compared to other Asian countries, Korea is chosen more by international students. Korea is the fashion capital of Asia. If Europe has the fashion capitals of France, Britain, America, Italy, ... Korea is the fashion powerhouse in Asia. Korea is a developed country in all aspects: economy, society, fashion, beauty and entertainment. Fashion products from Korea have traditional beauty, blending a little oriental style but still have distinct Asian features. Korean fashion has just caught up with the trend, which is beautiful and affordable. You can go to the famous commercial centers, or the busy markets with very affordable prices.
Finally, Korea is quite famous for the Hallyu, along with the fashion style of the idol. For this reason, many young people choose Korea as a destination to study as well as pursue their passion for fashion. While studying in Korea, students can easily access fashion as well as gain valuable experiences from their predecessors.
Benefits of studying fashion design in Korea
When studying fashion design in Korea, students will have access to new knowledge, innovative study programs, to catch up with the most trends. In addition to studying theory in lecture halls, students also practice creating new designs. Students will practice more than theory for fashion design. Practice and practical experience allow students to create, learn from experience and improve themselves. Studying fashion in Korea is a good opportunity for those who love creativity and art.
Studying in Korea, students will learn from the most basic to specialized knowledge. This means that you will be provided with solid basic knowledge to the ability to create and apply through practice exercises. Students will have the opportunity to acquire knowledge from highly specialized professors, lecturers, to work, practice directly at the garment factory, or participate in Korean or international fashion weeks.
Requirements for studying fashion design in Korea
If you have family economic resources, good academic ability and know a foreign language, you will definitely not have any difficulty applying for studying abroad. The Korean universities and colleges only require international students to have good or higher education, enough financial ability to pay for studying and living expenses in the first 6 months. For those students with higher academic qualifications and financial ability, the chance of passing will be higher. Especially, those with good academic achievements also have the opportunity to receive many valuable scholarships.
If students have weak foreign language ability, they can apply for a preparatory Korean course to get support as well as increase their chances of enrollment. In addition to the basic requirements, for those students applying for fashion design, it is necessary to show the school your talent and creativity. Attached to the application file, you must submit an additional drawing or blueprint for assessment. For many Korean universities/colleges, the design is quite important as well as determining whether you are successful or not.
Some schools in Korea have specialized in fashion design training:
• Kyunghee University (경희대 학교)
• Hanyang University (한양 대학교)
• Seoul National University (서울 대학교)
• Chung-Ang University (중앙 대학교)
• University of Daegu (대구 대학교)
• Kookmin University (국민 대학교)
• Sejong University (세종 대학교)
• Ewha Woman's University (이화 여자 대학교)
• Duksung University (덕성 여자 대학교)
• Konkuk University (건국 대학교)
Studying fashion design in Korea is not as hard as you thought. You just need to persevere in pursuing your dreams and then will surely succeed. We hope that the above information will support more students in the process of learning and pursuing the dream of studying Asia's fashion capital. If you want to find out more information about studying abroad in another country you can immediately access ApplyZones- online study abroad platform. Here, all the information you need is very complete and accurate.