Studying Music in Korea - the shortest path to passion
Referring to Korea, many people will immediately think of the Kpop music trend that is spreading with great influence in the world. With a good investment in the media, the Korean entertainment industry has been reaching certain successes. Therefore, studying Music in Korea has become a selection trend for many young people with a passion for music today. Check out this article for detailed information about this discipline.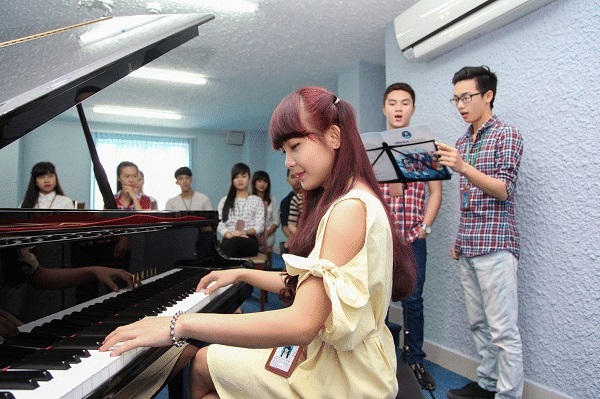 What attractive about studying Music in Korea?
Excellent quality of education
Korea is known as one of the top education countries in Asia. With educational programs always updated according to the latest trends and modern equipment system. All contribute to creating a professional, advanced learning environment with an excellent quality of education.
In recent years, Korean music has been taking strong steps. Although it does not own a large number of bands like the UK or the world-class music quality like German classical music, with the creation of melodies, lively dances, cheerful colors in the music videos has made Korean music leave a deep impression on listeners. When studying in Music in Korea, students will be trained in all specializations such as vocal skills, composing music, using musical instruments, instrumental combinations... to practice processing skills in music, stage situations, creative thinking. Besides, you also have the opportunity to challenge yourself with many innovative new music styles around the world, helping you shape the right direction for yourself on the path of art.
Great development potential
Korean music is highly appreciated by experts and has a great potential for development, the music market share of Korea probably surpasses that of Japan. Therefore, when studying Music in Korea, you will take advantage of these to learn more from the experience of successful singers and musicians in Korea. You also have the opportunity to meet and interact with Kpop idols such as Bigbang, EXO, Super Junior, SNSD ... and practice and work at leading entertainment companies, professional in the film industry and music. This is an opportunity to help international students come closer to their dream of standing on stage.
Diverse study programs with affordable tuition fees
Not only outstanding by innovative learning programs, catching up with the latest music trends today, the program is also very flexible, suitable for many subjects.
In addition, compared to what you receive, the tuition and living costs in Korea are quite affordable, suitable for those with not too large financial resources. Even, compared to the fee spent when studying in European countries and the US, Studying in Korea costs only account for 30-40%.
Requirements for studying Music in Korea in 2020
To pursue the dream of studying Music in Korea, you need to meet some basic requirements as follows:
- Graduated from high school with good academic performance or higher
- Have a minimum Korean certificate of Topik 3
- Talent and passion for music is an advantage. Accordingly, in order to quickly get acquainted and be able to absorb well knowledge during study abroad, it is best to learn the basic background knowledge of music in Vietnam. Because at the beginning of the study abroad, the differences in language and culture can become barriers in acquiring professional knowledge.
In addition, if you meet academic requirements, international students from Asia also have the opportunity to receive valuable scholarships including study expenses, living expenses ...
Top Korean universities to study Music
To study Music in Korea, you are required to have talent in music and perseverance, hard work and persistence. Along with that, if you are trained with a detailed scientific program, it will help you maximize your ability, so choosing the right school and program is very necessary. Please refer to the following list of universities in Korea:
- Seoul Korea Arts University
- Chugye University of the Arts
- Daegu University of the Arts
- Kookmin University
- Korea National University of Arts
- ChuGye College of the Arts
These are all art training universities in Korea. With modern facilities and equipment, excellent teaching staff, students will be helped to capture the spirit and necessary knowledge about the arts and navigate your future success.
We hope that the useful information about studying music in Korea above will help you have more motivation to choose the school and discipline of your interest. If you still have questions related to studying abroad, please visit ApplyZones for free assistance.