Things you did not know about Australia
The country of Kangaroo is a "paradise" destination that attracts international students from all over the world. So, besides advanced education, friendly people and ideal living environment, what makes this country attractive? Let's find out some interesting things about Australia in the article below.
Australia is a country with a vast territory and rich in natural resources. Despite being the smallest continent in the world, Australia is the 6th largest country in the world by area. Australia's population is quite small, so its population density is quite low. This is a country with a developed economy, ranked 12th in the world and has a high per capita. In addition, the country has a high human development index, the quality of health, education, economic freedom, and protection of human rights. This can be considered the most worthy of the world, so Australia always attracts a lot of immigrants as well as international students. In addition to the above, Australia has other special things that you may not know. Let's find out what are the interesting things.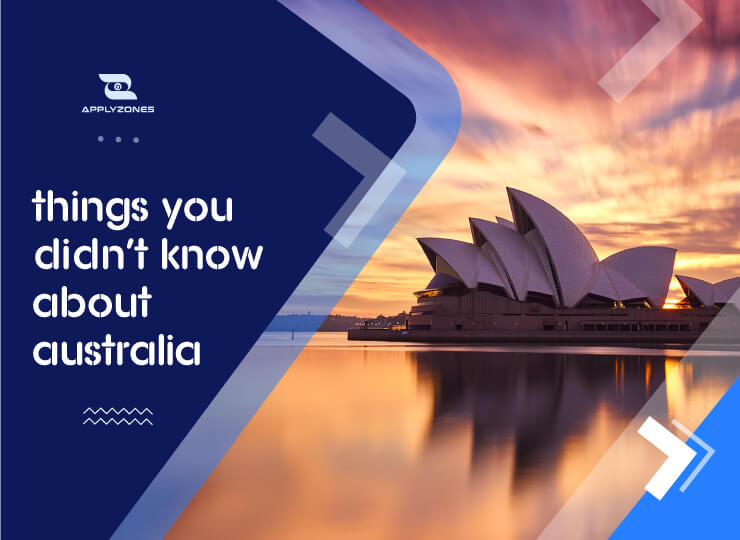 The most beautiful beaches in the world
Australia is famous for its pristine and unique beaches, attracting many visitors around the world to experience and resort every year. It has more than 1,000 beaches and all of its beauty is equally attractive. These include some beautiful and famous beaches such as:
1. Bondi Beach
Bondi Beach is located right on the famous city of Sydney, is an interesting destination not to be missed when coming to Australia. This beach is always beautiful and clear despite a large number of tourists. In particular, there is an experienced and professional rescue team, so you absolutely can safely swim, surf and join in leisure activities on the beach,... without being worry too much about safety.
2. Whitehaven Beach
Whitehaven Beach is famous for its clear neon blue water, surrounded by white sandy which is smooth as velvet... All of these make Whitehaven like a vivid, beautiful picture that makes travellers coming to Australia impressive.
High quality of life
Besides the world's leading prestige and quality of education, Australia is also a livable city with an excellent quality of life. Sydney and Melbourne are always ranked as the most livable cities in the world. With a developed economy, public services, as well as medical quality in Australia, are ranked high. Australians have the fourth highest life expectancy in the world, following only Iceland, Japan and Hong Kong. In 2012, Australia's GDP per capita was the fifth highest in the world. The country focuses on developing people so the quality of education here is very modern and advanced. Therefore, international students come to study here, after graduation will have very high job opportunities. In addition, the pleasantly cool weather and the comfortable climate make Australia become one of the most livable countries in the world.
Multicultural environment
Australian culture is greatly influenced by Western Anglo-Celt culture. Specific cultural features also emerge from Australia's natural environment and indigenous culture. Since the mid-twentieth century, American culture has greatly influenced Australia through film and television. Large-scale immigration from non-English speaking countries and Asian countries also greatly influenced Australian culture. Therefore, Australian culture is very diverse and unique, which is a mix of great cultures around the world. Studying in Australia will be a great opportunity for you to learn and integrate with many different cultures.
Wild nature
Not only is it famous for its amazing natural scenery, but Australia is also home to the wild, the natural habitat of wildlife. There are 755 reptiles here, making Australia the country with the largest number of reptiles in the world. Some of the famous animals here are kangaroos, koala bears, Australian ostrich and kookaburra kingfisher, etc. However, do not worry too much, these animals are very friendly and harmless for humans. If you are an international student studying here, take the time to learn more about these animals, it will be very interesting.
Kangaroo - the symbolic animal of Australia
With all of the above, it can be seen that Australia is a beautiful and livable country. There are still many interesting things about Australia for you to learn and explore. Living and working here will be a great opportunity for you to explore this beautiful and worthwhile country. Don't miss the chance to come to this country!