Cost of studying in Spain - Latest updated
Thanks to government subsidies, the cost of studying abroad in Spain is always much lower than other countries in the region. Many international students choose Spain as their study abroad destination. Is it true or is it just a rumor? Let's explore through the following article with ApplyZones.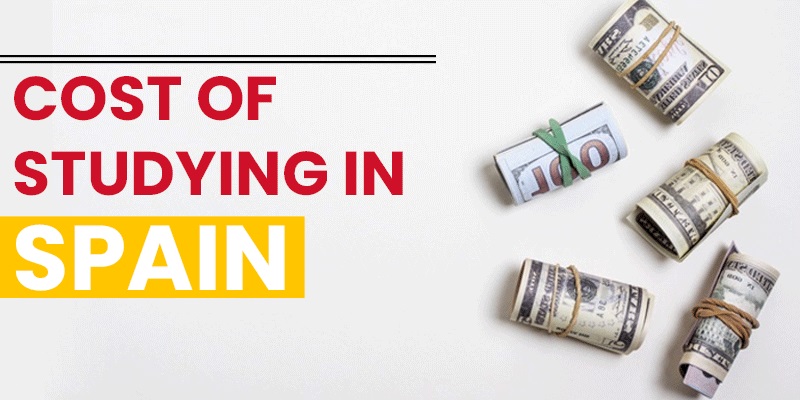 Costs of studying in Spain
1. Tuition fee
Tuition fees are divided into different levels, namely:
• Diploma: 350 - 550 Euro / year
• Undergraduate: 1000 – 5000 Euro / year
• Postgraduate: 2000 – 5000 Euro / year
• Spanish course: 4,500-5,500 EURO/year
From this year onwards, most schools in Spain are government-funded. Therefore, students will not have to pay much for the main course, especially tuition.
Tuition fee is about 738 Euro/year (equivalent to 18 million/year) for the following disciplines: Law, Business Administration, Business Administration and Law, Media, Economics, Tourism, Social ...
Tuition fee in universities is about 1,044 Euro/ year (equivalent to VND 26 million/year) for disciplines: Architecture, Construction, Mechanical Engineering, Marine, Biotechnology, Chemistry, Cosmetic Surgery. ...
In general, tuition in universities in Spain will depend on the level of study and discipline. However, this is quite cheap compared to the quality of education in Spain. Even compared to some schools in Vietnam, this fee is much lower.
2. VISA application fee
The cost of visa approval and interviews is also relatively cheap.
- Cost for the Embassy: 50 Euro
- Consular approval fee: 150 Euro
- Insurance fee: 300 Euro
- Invitation application fee: 200 Euro
- Proof of finance: 22.000 Euro
3. Cost of living in Spain
Cost of living plays an important role in your study abroad. The cost of living in Spain is not too expensive. International students are usually under little financial pressure because the country has low tuition fees and affordable living costs, along with many valuable scholarship programs.
The cost of living in Spain will vary depending on whether your area is urban or rural. Madrid, Barcelona are the most expensive cities in Spain. Therefore, the living cost here is 1,000 Euro/month.
However, you can manage your expenses to reduce your living cost to 800 Euro/month. In other cities, such as Valencia, Seville, Cadiz, the cost of living can range from 600 - 900 Euro/month.
Even if you choose to study at a school in Madrid or Barcelona, ​​you can still choose to live in a nearby city, at a reasonable cost.
4. Cost of housing and food
The main housing options for international students are
- Student accommodation: from 360 - 650 Euro / month
- Apartments: 400 - 700 Euro/month and maybe higher if in Madrid and Barcelona area
- Homestay: 700 - 800 Euro / month (including meals)
If you choose to rent an apartment, you may have to pay additional basic service fees (electricity, water, heating, cleaning, internet).
On average, a restaurant meal in Spain costs an average of 6-20 Euro per person. To save money, you can buy food to cook yourself.
In general, the cost of living in Spain is about 20% lower than in other European countries. The appropriate spending plan will certainly help you not encounter financial problems in the process of living and studying here.
Economical solutions when studying in Spain
Hunting a scholarship
The Spanish government invests heavily in education. Every year, the country always has scholarship programs to attract students.
Spain also offers many attractive scholarship programs with values ​​ranging from 30-100% tuition for international students. So, if you want to save money on studying abroad, you can hunt for a scholarship to study in Spain.
Finding a part-time job
International students are also entitled to a comprehensive subsidy and sponsorship system from the Spanish government while studying and living in Spain.
International students are allowed to practice and work while studying, provided that the process and results of studies are not affected. The maximum work time allowed is about 80 hours/month with jobs such as putting up leaflets, serving, English tutors, receptionists, part-time jobs in companies, hotels ...
Using public transportation
You only need to pay about 6 Euro to use transportation means such as buses, trains, subways to save money every month.
With Europe's cheapest tuition and living cost, Spain will be one of the attractive study destinations for international students. Please contact AppyZones for advice on the route and cost of studying in Spain!