Cyprus education system
Every year, Cyprus spends about 7% of GDP to develop education. Thanks to the right investment, the Cyprus education system has always been highly appreciated for its quality and diverse programs, which are easily accessible to all subjects. To explore the Cyprus education system, please find out through the article below with Applyzones!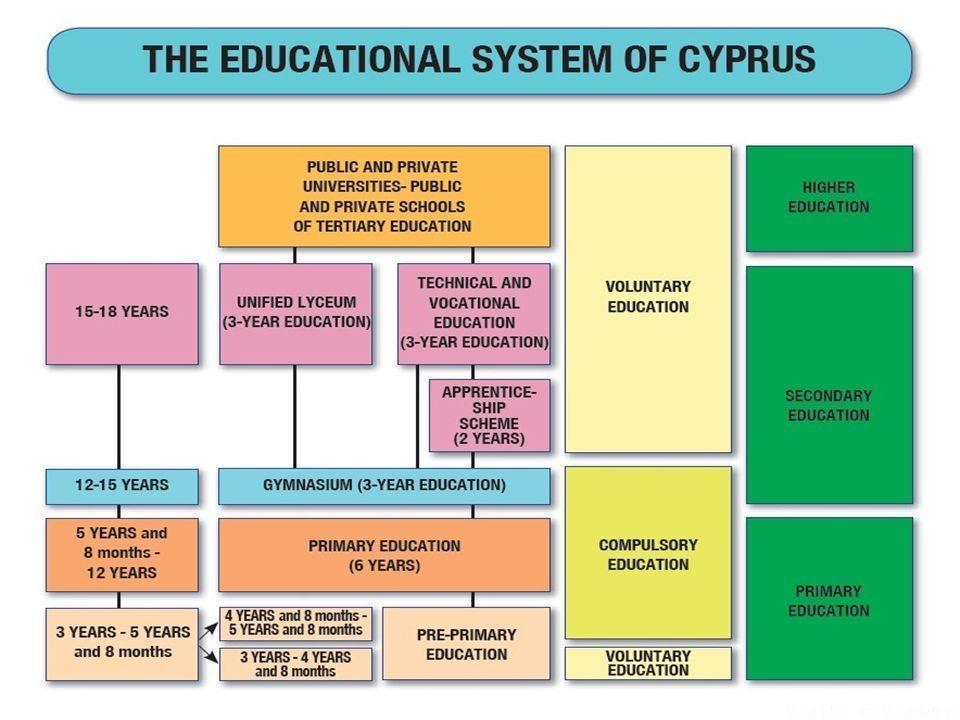 Cyprus education system is always paid a great deal of attention
Not only has the most advanced educational environment, when students studying in Cyprus also have the opportunity to study in developed countries in Europe or America, Australia. This is because most universities in Cyprus have close partnerships with universities in the United Kingdom, the United States, and Canada. The curriculum is also built according to an international standard.
Early childhood education
Cyprus early childhood education is designed to help children develop their abilities and develop personality in the most comprehensive way. At this education level, children can start going to school at the age of 3.
Primary education
The primary education, which is 6 years, is compulsory for all children from the age of five. At this education level, students will have the opportunity to learn about age.
Secondary education
The Cyprus secondary education, which is also 6 years, is divided into Gymnasio (lower secondary) and Lykeio (upper secondary). It is compulsory for children from the age of twelve. One of the highlights of Cyprus secondary education is interdisciplinary education. This education is always for lower secondary students to experience a lot of extracurricular activities and direct contact with different jobs in the future, to help them gain an overview and future career directions.
For upper secondary education, students have the opportunity to participate in Technical and Vocational education programs. These programs will provide students with the skills needed to prepare for future work or research projects.
In addition, after completing secondary education you can also attend vocational training courses. Vocational courses usually last from 2-3 years and you can completely apply for a stable job upon completion.
Higher education
Unlike other education levels, Cyprus higher education is paid great attention. With a variety of study programs, international students can easily find the right university for their capacity.
Whether choosing private schools or public schools, the quality of education is guaranteed to meet the standards. In addition, the Government of Cyprus also has issued many policies to encourage and support international students such as financial support, scholarships, living support etc. You can feel secure and believe in the Cyprus education system.
In addition, higher education is also invested in modern facilities and qualified teaching staff, helping students prepare themselves soft skills, necessary knowledge to create a solid foundation for future work.
List of top quality universities in Cyprus you can refer to:
- University of Cyprus
- Cyprus University of Technology
- Cyprus Open University
- European University Cyprus
- Frederick University Cyprus
- University of Nicosia Cyprus
- Neapolis University – Pafos
5 reasons to choose Cyprus education system
- Visa pass rate is high with a quick and easy application procedure.
- Cost of studying and living is low. International students are allowed to work part-time for about 20 hours per week with an income of at least 700 EUR per month
- Qualifications are internationally recognized
- International students can easily transfer to schools in the UK, France, Germany in the process of study without applying for a new Visa
- Students have an opportunity to settle permanently and easily apply for visas to visit the beautiful Republic of Cyprus and neighbouring countries.
Pathway and requirements for studying in Cyprus
Pathway:
- English preparation program (from 6 months to 1 year)
- Diploma program (2 years)
- Undergraduate program (4 years)
- Master's program (2 years)
Requirements for studying in Cyprus
- Upper secondary school graduation. Good academic achievement is prefered.
- A minimum IELTS score of 5.5 for Diploma, a minimum IELTS score of 6.0 for Undergraduate and a minimum IELTS score of 6.5 for Master degrees.
- If students do not have an IELTS certificate, students will undertake an English preparation course before the main course.
The Government of Cyprus has always paid special attention to the development of education. The proof is that Cyprus is always on the list of the world's quality study destinations. So, if you want to study abroad, you can have the Cyprus education system considered.
Have you dreamed of studying abroad but you don't know where to start? Do you not know which major, which school is right for you? Let ApplyZones help you. Applyzones is the leading free online study abroad platform today.
Applyzones will help you:
• Find the right course for your ability and conditions
• Contact the school you wish to enroll in directly through the membership management system
• Apply directly without any charge
• Apply directly for an offer letter
• Update the latest admission information from universities around the world
• Compare information, entry requirements, tuition of the same field of study offered by different schools.
Do not hesitate and register now to experience the free online study abroad platform of Applyzones!