What documents are required to study in the US
What documents are reuqired to study in the US? What is the procedure? This is a common problem of many students in the process of preparing documents. Your dream of studying abroad in the United States may be suspended if you do not prepare full documents. In this article, ApplyZones will provide the process to prepare ducoments to the fullest.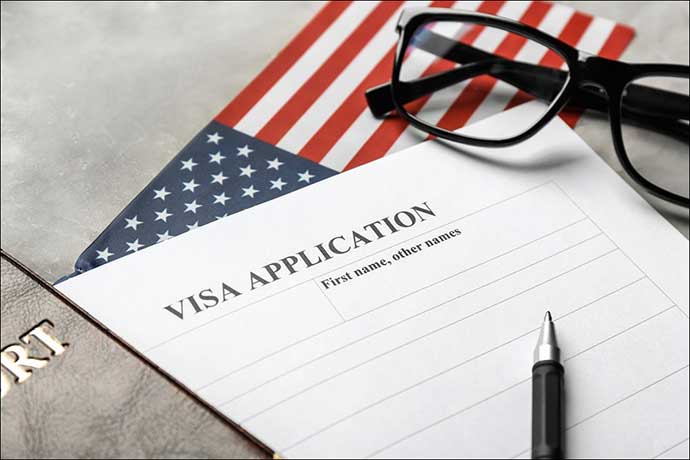 Steps to prepare an application for studying in the US
The US student application process includes a lot of steps such as writing an essay, preparing for the IELTS/TOEFL test, applying for a student visa and letter of reference. However, to save the most time and cost, you need to follow the order in the most accurate and most standard way.
Step 1: Learn about the school and determine school to apply
Once you have determined your desired school, you will have enrollment criteria. Besides, you will be able to track the application deadline to timely submit complete applications.
You should visit the school's website for updated information: entry requirements, required documents and application deadline. You need to pay close attention to it because it will cover the general and specific requirements for specialized courses. Any university in the US has a website and updates details continuously.
At the school website, in the process of finding out what documents are required to study in the US, you can also refer to other information such as:
Expected tuition
Application deadline
Extracurricular activities
List of lectures
List of subjects
Specializations available
Step 2: Prepare application for studying in the US
You need to create an excel file of the required application documents after referencing on the school's website. Each school will have different application deadlines, students need to monitor this information to avoid overdue, not allowed to enroll in the school. Students can complete the application 1 month, 1 week or 1 day before the deadline depending on the circumstances of each person.
Step 3: Apply for a Visa and prepare an I-20 form
What is an I-20 form? This is a certificate of eligibility for nonimmigrant (F1) student status. It is accompanied by information related to financial resources and programs. Your financial resources need to ensure that you can pay tuition for at least 1 year. If you receive a response for your I-20, it will also mean that you have been accepted to the school.
You need to learn more about the website of the Embassy, ​​the US Department of State to prepare the necessary documents for a US student visa. The procedure of application for a Student Visa usually lasts at least 60 days.
Step 4: Attend an interview to complete the visa application
You will be informed of the visa interview schedule. At that time, it is necessary to dress politely, prepare necessary documents such as I-20 form, the appointment of interview, photo card, passport, proof of financial resources, academic records etc.
From the scheduled date to the visa interview date, it takes from 4 days to 9 days, depending on where you apply.
Step 5: Study in the US
When the Embassy consents, they will keep your passport, seal the US visa and send it to you after a few days. The total time of preparation and application for studying in the US usually lasts from 3 to 6 months. Before this time, students need to prepare for the necessary English certificates.
What documents are required to study in the US?
Many students have to delay studying abroad due to a visa denial, incomplete documents as required by the school, or unqualified documents. Three important sets of documents that are indispensable are:
Application documents
Proof of finance
Visa application documents
Application documents
The following documents that international students need to prepare are:
Application form (students should use the download form from the school website)
Passport
Recent academic records, academic transcripts (2 copies in Vietnamese and English)
Application fee
Diploma;
Student card (if still attending school)
Certificate of merit, other certificates (if any);
Certificates (2 copies in Vietnamese and English);
Special certificate (if any).
Students who are attending college, university are required a referral from the school to be eligible for approval. Students who want to enroll in prestigious schools need to write an essay or attend an interview at the request of the school.
IELTS, TOEFL or other equivalent certificates:
A certificate of English language is required. At each level of education, there will be different English language requirements, namely:
High School: a SLEP score of > = 45, for some schools, it may be lower.
Diploma: IELTS 5.5 or TOEFL iBT > = 61
Undergraduate or postgraduate: IELTS 6.0 - 6.5 or TOEFL iBT> = 79 - 90
In addition, you can also use other valid English certificates to increase the chance of application approval.
Proof of financial resources
It helps the school to know the students' ability to pay tuition when studying at the school. You need to prepare the following documents:
Proof of valid financial resources
Proof of other financial sources;
Economic contracts;
Land and house ownership certification;
Vehicle ownership;
Contribution contract;
Profit sharing table;
Saving book;
Confirmation of saving deposits
Visa application
You will prepare your visa application after receiving an I-20 with your letter of invitation. The documents you need to prepare are:
Visa application (using the official form)
Receipt of payment of interview fee;
I-20 and invitation from the school
Student profile;
A 5 × 5 photo - standard image (white background, frontal view);
Original passport;
Birth certificate;
ID card;
Household book;
Registration of marriage of parents;
Proof of finance.
Notes in the process of preparing documents to study in the US
In addition to fully and properly preparing the necessary documents, students who want to study in the US should pay attention to the followings:
Confidence in their English ability and good communication skill;
Choose a school carefully, which is appropriate for your academic and financial ability;
All documents submitted to the school or embassy must be fully certified.
The order of records and papers should be as requested;
Students take originals of the documents to the interview;
Be friendly, honest and confident during the interview of visa application to be more likely to be approved.
Clothes are formal and serious;
Provide reasonable and convincing reasons for the Embassy to issue a visa.
Thus, the process of preparing an application for studying in the US is quite difficult and takes a lot of time and effort. However, if you fully understand this information, the possibility of approval will be higher, saving time and cost. Students who want to study abroad in the US as well as find out information about documents required to study in the US can visit the website of ApplyZones - the leading online study abroad platform today for the best support services. With Applyzones, you can search for all the information you want and can apply directly for the school of your interest.