EB3 – A U.S immigrant visa
EB3, a US immigrant visa, is the shortest path to live in the US. However, not everyone knows what requirements for a legal worker and permanent resident in the US are. In the following article, ApplyZones will guide you on the EB3 US immigration process and procedures.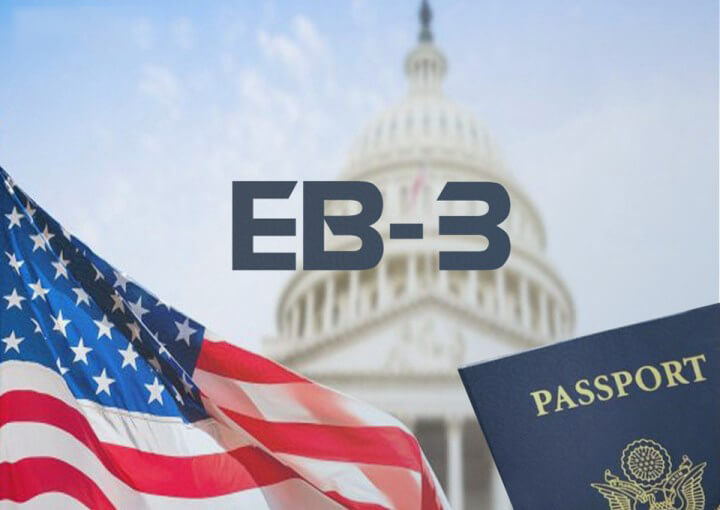 EB3 – A U.S immigrant visa
EB3, Employment-Based Third category, was adopted in 1990 by the US government, which is the opportunity and also the shortest immigration path for foreign unskilled workers to work in areas where the number of local workers is not enough to satisfy.
The applicants that are eligible for EB3 visa include Experts, skilled workers, unskilled workers, bachelors... The highlight of EB3 is that depending on the sponsorship of the US employer, all workers will have a permanent green card.
According to statistics, the number of immigrants living in the US is nearly 5 times higher than that of other countries. Because the US is not only a "promised land" with open employment opportunities, it also highly values ​​human rights. All citizens of the United States are treated equally, no matter you are indigenous or immigrant.
Besides, the US is well-known as a country with support policies, the most advanced education in the world and many diverse cultures, so when living here, your children will enjoy these wonderful things.
Children of EB3 green card holders who are unmarried and under 21 years old will be considered as US citizens when living here. They will be free to study in the US until 12th grade and have the opportunity to study at reputable universities with the cost of only 40% compared to the cost of international students.
EB3 visa holders will have benefits:
- Possess a contract with a flexible working schedule in a safe, friendly and equal working environment with a desirable income
- Get American citizenship, becoming a dual nationality
- Enjoy full rights as a US citizen including financial, medical, social rights... (except the right to vote)
- Entry and exit the US at any time without applying for a visa
- To sponsor relatives if naturalized
- To enjoy health insurance and labor insurance at the workplace as prescribed.
Eligibility for EB3 visa
EB3 visa is considered a shortcut to the US because the amount of investment capital and the waiting time to own a US green card is quite small, only about 1/10 of the amount and 1/2 of the time compared to that of other programs. However, to eligible for this, you must meet the following requirements:
+ At the age of 18 to 50
+ Have full working capacity, not suffering from infectious diseases
+ Have no criminal record, have never stayed illegally in any country.
+ Commit to doing long-term employment for employers in the US.
+ Skilled workers must have at least 2 years of working experience
+ Experts must have the expertise, at least 1 American degree or equivalent foreign qualifications.
+ Unskilled workers must normally have a personal labor certificate and approved by the US Department of Labor on Form ETA-9089
+ Marital status: Married or unmarried.
+ Degree, foreign language, experience: Not required.
With this type of immigration, applicants do not need to prove financial resources to the US government. This is considered a smart solution for students who are studying in the US and want to receive a green card.
Many people are interested in EB3 visas, but not everyone knows how to find out the correct information source and how to handle the procedures to quickly enjoy favorable conditions.
In order to go on the right path, complete the review documents, shorten the time and ensure safety, you should seek advice and assistance from reputable consultancy agencies to be able to complete smoothly to avoid obstacles in the application process due to improper implementation of the process.