What is the change in Alberta immigration policy?
The Alberta Immigration Nomination Program (AINP) open up great immigration opportunities for who want to work and live permanently Alberta. So, what's attractive about Alberta immigration policy? Let's find out through the article below with Applyzones.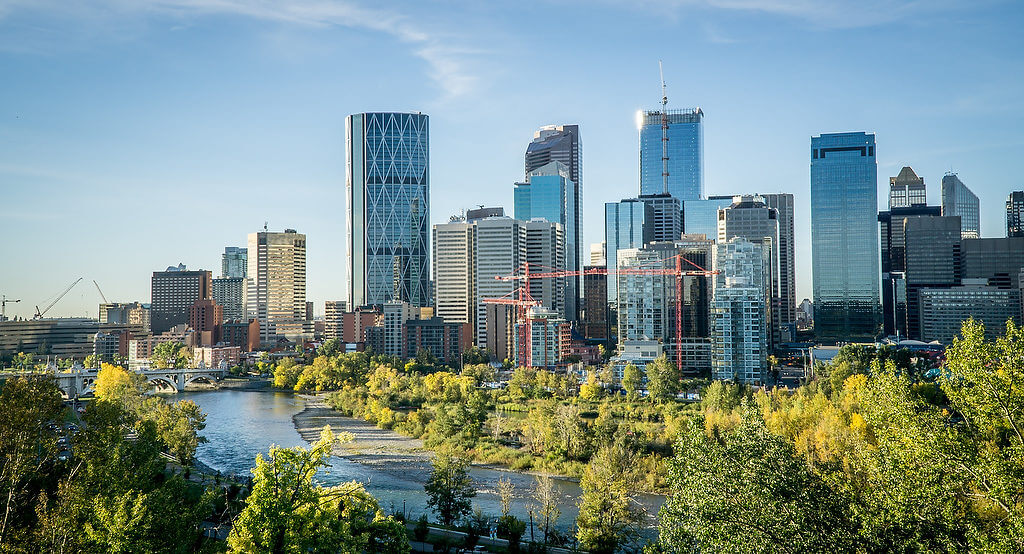 Introduction to Alberta
Alberta is one of Canada's beautiful provinces famous for its majestic natural landscape with beautiful attractions, diverse culture and peaceful and high-quality living environment. Alberta is named after Princess Louise Caroline Alberta, the fourth daughter of Queen Victoria.
Alberta is located in western Canada with an area of ​​about 661,190 km2. Southwards, it borders the United States. Eastwards, it borders the province of Saskatchewan. At the north, it is separated from the Northwest Territories. To the west, it borders British Columbia. It is the fourth most populous province in Canada and has a large area only after Ontario, British Columbia and Quebec. Alberta's capital is the city of Edmonton and its largest city is Calgary.
Alberta has a solid economy, easy immigration programs and abundant natural resources. Alberta is known as the oil and gas capital of Canada with stretches of oil sands, especially in Edmonton, a land of oil and natural gas resources. Besides the strength of the oil and gas industry, the province of Alberta also has strengths in other industries such as agriculture, forestry, tourism, finance, manufacturing and information and communication technology. Many global and Canada's large corporations and companies are based in the province of Alberta, including more than 80% of oil companies and more than 60% of coal companies.
Alberta is also home to many prestigious universities such as the University of Calgary and the University of Albert, which is highly appreciated with the second-highest number of students in Canada. The University of Alberta is well known for its many top-quality research projects and national leading education. In addition, there are many other big universities and institutes such as SAIT, NAIT, Mac Ewan, Athabasca and Lethbridge in Alberta. Therefore, living and working in Alberta will open up many opportunities for international students and foreign workers.
Alberta immigration programs:
Express Entry Program
The Express Entry program allows Alberta to invite qualified candidates in the federal Express Entry profile for provincial nomination. This stream will manage candidates in major Canadian economic immigrant classes including Federal Skilled Worker, Federal Skilled Trades and Canadian Experience. Eligible candidates will be directly selected by the Alberta Immigrant Nominee Program (AINP) and these applicants can only apply for provincial nomination after receiving the offer letter from AINP.
Alberta Immigrant Nominee Program (AINP)
The Alberta Immigrant Nominee Program (AINP) is one of the Alberta immigration policies for international students and foreign workers. This is an economic immigration stream, nominating candidates for permanent residence in Alberta. Accordingly, each year AINP program will select and invite eligible candidates to receive a provincial nomination letter to supplement the candidate's PR profile. Candidates need to meet the conditions and requirements of skills and competencies to make up for the labor shortage in Alberta. In addition, they need to have the ability to support their families. This stream is administered by the Alberta government and the federal government.
Normally, the eligible points to receive PR invitations range from 430-450 points, so getting the provincial nomination letter will give you 600 points immediately, this will help you hold the green card in your hand.
This stream is aimed at 2 main types of work permit holders including foreign workers who own work permit with Labor Market Impact Assessment (LMIA) and international students who own Post Graduate Work permit (PGWP)
Post Graduate Worker Program Category:
Individuals who have graduated from a recognized post-secondary institution in Alberta
Individuals who are currently working in Alberta in an eligible occupation on Post-Graduation Work Permit
Individuals may be eligible if they meet the following requirements:
Intend to live permanently in Alberta.
Currently working full time in Alberta at the time of application for Nomination. AINP will not approve a nomination letter if there is a dispute between applicants and the company in Alberta.
Have Certificate, Diploma or Degree; or have graduated from a recognized post-secondary institution in Alberta. http://eae.alberta.ca/post-secondary/institutions/public.aspx
The study program is at least 1 year in duration.
Have been working in their trade
Have a valid post-graduation work permit.
Have been working in the following occupations:
+ NOC 0: Managers
+ NOC A: Occupations that usually require university education
+ NOC B: Occupations that usually require college education or apprenticeship training
+ NOC C: Industry that requires secondary school and/or occupation-specific training.
Currently working in an occupation that is not included in the list of excluded occupations or list of low/high paying occupations that is not in demand at the time of application
Minimum language ability: CLB 5
When not to apply:
Refugee claimants, or individuals involved in a federal appeal or removal process
Live-in Caregivers currently living in Canada.
Temporary Foreign Workers working and residing in a province other than Alberta
International students studying in Canada and doing co-op work placements or internships as part of their study program.
Alberta Immigrant Nominee Program (AINP)
AINP International Graduate Category:
Applicants must have completed their post-secondary education in Alberta
Applicants must receive a job letter for a long-term and full-time work from an employer in Alberta
Are you a student? Do you want to study in Canada but do not know where to apply?
Are you looking for courses that suit your interests and abilities?
Do you want to apply for your studies yourself without spending intermediary fees?
Let's experience AppyZones- a free online study abroad platform right now.
4 great advantages of ApplyZones that you cannot ignore:
Simple: Just one click on the ApplyZones system, you can experience the online application process for schools around the world without the help and support of any overseas study consultancy centers.
Convenience: With ApplyZones' smart AI filter, customers can search for courses that match their criteria and conditions quickly and conveniently in just a few seconds.
Quick: Experience the online study abroad technology platform from creating applications to receiving visas and studying abroad with half the time compared to traditional procedures.
Savings: Experience a completely new technology platform for free now, making studying abroad simple, cost-saving and time-saving.