Latest British Columbia immigration policy 2020
British Columbia (BC) is westernmost province in Canada, whose capital is Victoria. It is the 4th largest economy in Canada, followed by Ontario, Alberta and Quebec. The economy of British Columbia is focused on the exploitation of rich natural resources especially forestry and mining. There are also other sectors such as finance, insurance, real estate etc. The whole province has more than 207,000 companies creating abundant job markets to help international students easily apply for jobs after graduation.
British Columbia is also the province with the second-highest immigrant rate in Canada and one of the seven provinces with a provincial government immigration program that attracts many talented people. So, what is the attractive immigration policy of British Columbia that attracts so many immigrants? Let's find out in the article below with Applyzones.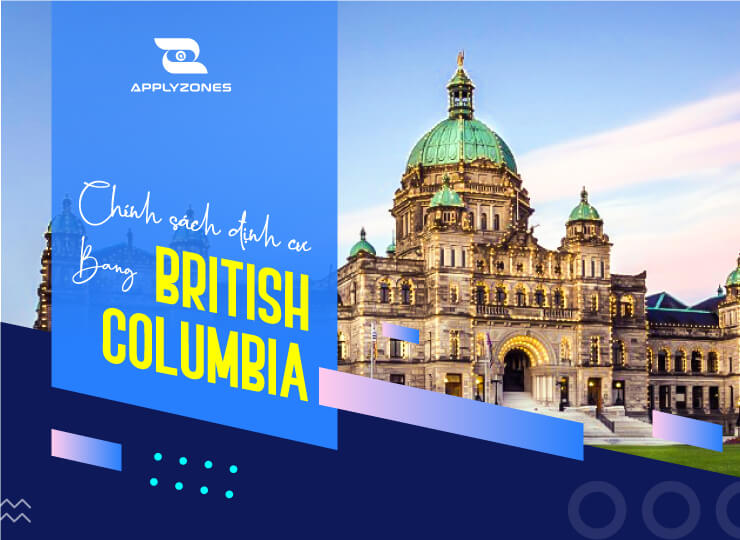 British Columbia Immigration Policy (BC PNP)
British Columbia is famous for the freshest and most pleasant climate, especially in the Lower Mainland. So, its immigration policy is stricter here than in some other states.
Those who obtain the skills and experience that match the criteria of British Columbia will receive a nomination certificate. This form allows foreigners to apply for permanent residence in Canada faster than other types of immigration.
British Columbia immigration: "Express Entry" program for international graduates
The Express Entry program is designed by British Columbia, to attract people with the qualifications and high professional skills necessary for the economic development of Canada. This program allows eligible people to be prioritized in the BC provincial nomination process. If you are nominated, you can apply for immigration in Canada.
International Graduate: a program for international students after graduation
International Postgraduate: a program for international students with postgraduate qualifications
Health Care Professional: a program for health care professionals
Skilled workers: a program for provincial skilled workers
Immigration program for highly specialized subjects:
Candidates must meet the following minimum conditions:
Health Care Professional: Doctors, nurses, and registered health professionals hired by the government
Skilled workers: Managers, professionals and skilled workers.
International Graduate: possessing degrees granted by Canadian colleges or universities
International Postgraduate: having a master's or doctoral degree in the natural sciences, applied sciences, health sciences granted by B.C universities.
Entry Level and Semi-Skilled: workers in hospitality and tourism, food industry, long-distance transportation or people employed in the Northeast B.C. developed area
Immigration program for international students:
Two following types of international students will successfully apply for Canadian permanent residency:
+ International Graduate:
Graduated from a public college or university in Canada with a minimum duration of 8 months
Get a full-time job.
Salary meeting industry standards
Proof of minimum income sufficient to support yourself and your dependents
Language ability
Intending to permanently live in British Columbia
+ International Postgraduate: apply for a settlement policy without Job Offer
Having a master's degree or a PhD in natural and applied science
Duration of study is at least 2 years
Working in the fields of nature, science and health such as agriculture; biological; computer science; engineering; high technology; medicine or mathematics; natural resources research and conservation and physics
Intending to permanently live in British Columbia
Immigration program for health care professionals
A program for those who already have working experience
A reasonable work offer
Working as nurses, doctors, psychiatrists and some other health professionals.
Notice: it is required a job offer for health care
Immigration program for skilled workers
For managers, professionals, and skilled workers
Having at least 2 years of experience
Being offered full-time and non-term employment in British Columbia
Proof of minimum income
Language ability
Immigration programs for semi-skilled workers:
Working in food processing, hospitality, tourism and long-distance transportation
Working and living in the northeastern region of British Columbia
Immigration program for businesses
This program is divided into 2 categories:
Business enterprise: for managers or business owners intending to invest in the business in British Columbia.
Project strategy: foreign-invested companies or international enterprises can set up business in BC and no more than 5 technically qualified members can be selected in this program.
Process of approval of immigration records in British Columbia
Depending on the application you submit, it will take a short or long time for you to receive a result. It usually takes 1-2 months.
Step 1: Verify the candidate's records
This is the first and the most important step to decide whether you are accepted or not. You should prepare all the paperwork and make a general declaration
Step 2: Review records and interview
You will receive an invitation for an interview if your application meets the standards set by the immigration department.
Step 3: Get the result
You will receive the result after the interview ends.
Above is some information about British Columbia immigration. If you have any questions, do not hesitate to ask to be supported by ApplyZones.
What will you get by using ApplyZones?
Simple: Just one click on the ApplyZones system, you can experience the online application process for schools around the world without asking for the help of any overseas study consultancy centers.
Convenience: With ApplyZones' smart AI filter, customers can search for courses that match their criteria and conditions quickly and conveniently in just a few seconds.
Quick: Experience the online study abroad technology platform from creating applications to receiving visas and studying abroad with half the time compared to traditional procedures.
Savings: Experience a completely new technology platform for free now, making studying abroad simple, cost-saving and time-saving.