What do you know about the Quebec immigration policy?
Quebec is one of the five states that have the best immigration policy for foreigners in general and international students in particular. With an open and easy policy than many other states, Quebec will be a great choice for those who wish to have a stable and safe life in Canada. Therefore, Quebec is proud to be the province most foreigners choose to immigrate into in Canada. So, what's attractive about Quebec immigration policy? Let's find out through the following article with ApplyZones.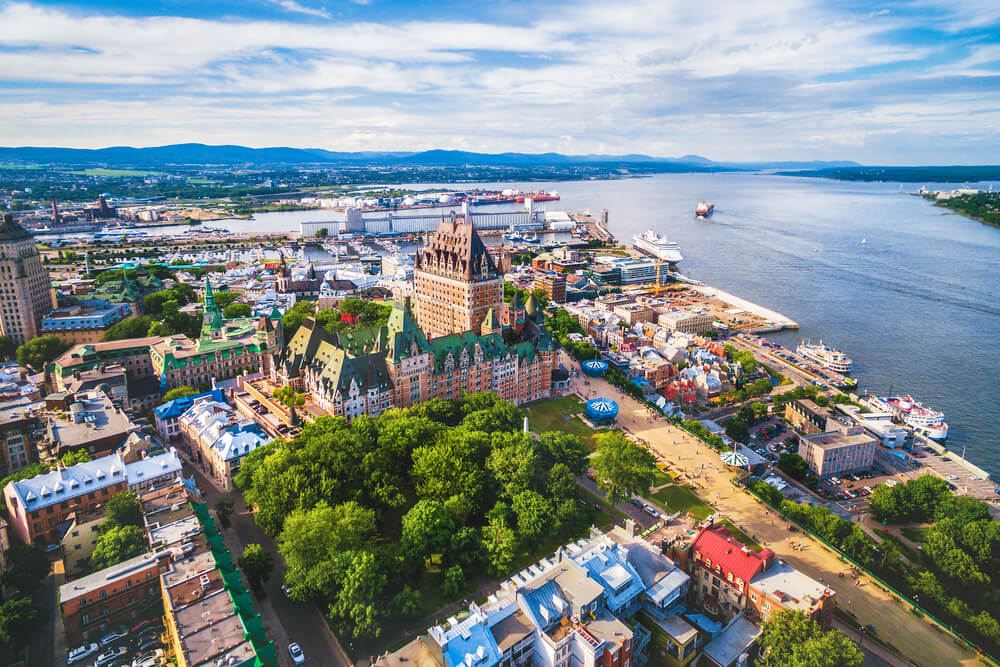 Introduction to Quebec
Known as Europe of North America, Quebec is one of the ten states of Canada, 3 times the size of France and the second largest province in the country of maple leaves. Southern Quebec is bordered by the US states of Maine, New Hampshire and New York. The south is bordered by Ontario and Hudson Bay. Quebec's largest city is Montreal and its capital is Quebec.
Quebec is the only province in Canada that is recognized as a country of Canada with a different language, culture and political institution. Therefore, Quebec is not subject to the federal government but has its own legislative bodies. Unlike other Canadian provinces, Quebec uses French as its primary language, but half of the state's population speak English and French fluently.
In addition, Quebec immigration policy also attracts many foreigners to come here to live and work because of its poetic beauty, Europe style which caused by previously management of French. Many people said that it is hard to speak French under the Quebec law, but if you come here to study and live, maybe language is not a big problem. Here you can access to cheap living standard and convenient transportation.
Quebec's economy ranks among the top in Canada only after Ontario, with abundant natural resources with strengths in high industries such as aviation, information technology and communications etc. accounting for a large proportion of about 30% of GDP. Quebec's advanced manufacturing industry produces a range of products for export such as subways, helicopters, aviation survey equipment and software. In addition, Quebec is famous for its entertainment industry and Montreal is a famous film production in Canada with a large scale after Vancouver.
The average income of a family in Quebec is about $ 70,000 CAD/year. However, the cost of living here is cheaper than in other areas in Canada, especially in housing. Montreal has always been rated as one of the most livable cities in North America. So, after graduation, many international students work and live permanently here.
Quebec's education is excellent and superior in Canada with many prestigious universities. The schools here are preferential rates, cheaper than many other Canadian universities. In Quebec, the primary and secondary education systems are funded by the government, with a bilingual learning environment in English and French.
Due to the historical feature of Quebec, which was under the control of the French, this province has forced students to use French in the learning process. This provision is considered an attempt to preserve French and French culture in Canada. However, it is not necessary for private schools in Quebec to comply.
Quebec immigration policy for international students
To migrate to Quebec, you can refer to the following two programs:
Quebec Experience Program (PEQ)
The Quebec Experience Program (PEQ) is an express Canadian immigration program in the province of Quebec, announced by the Quebec government in 2018, which has brought the immigration opportunities for many international students. Accordingly, international students can apply for Quebec immigration within 6 months before graduation and the processing time is within 1-3 months.
Eligibilities to apply for a permanent residence in Quebec
Have completed a certificate, bachelor, masters or doctoral program in a public university or educational institution with a minimum of 1800 hours or 2 years or more in duration.
French proficiency: upper-intermediate.
You can prove your French skills in one of the following ways:
Have completed their studies at universities or educational institutions in French
Have complete at least 2 years full-time French-language training course at a secondary or post-secondary institution
Or have completed intermediate or advanced French course in Quebec
• If you graduate from a French school that uses English as teaching language, you must achieve Quebecois des niveaux en francais level 7 or a Common European Framework Reference B2. Quebecois Level 7 can be obtained while studying French in the school because Quebec has a table used to assess the equivalence of each school's French courses with Quebecois en Francais level 7. For B2, you will need to take the test in listening and writing.
Canadian Experience Class (CEC) immigration program:
For the CEC program, students need to have completed 2 years of studies and have a job offer, but in Quebec, you do not need a job offer.
While the CEC requires 12 months of work experience and your occupation must be included in NOC B occupations, in Quebec it does not
While the CEC limits the number of immigrants or requires an IELTS score of 6.0, in Quebec, it does not.
Especially, while CEC permanent residence application requires 12 months of work experience, in Quebec it requires 6 months of work experience
Quebec Immigrant Investor Program
If you are an entrepreneur, you are eligible to apply for Quebec immigration if you meet the following requirements:
Investment:
The minimum net worth of $ 2,000,000 CAD
Investment amount:
Non-refundable investment of $ 330,000 - $ 360,000 for financial institutions
Or $ 1,200,000 CAD for government bonds, which is guaranteed to be refundable by the government within 5 years.
Eligibilities
From 22 - 65 years of age
Have completed secondary education or higher
Proof of financial resources
At least 2 years of working experience as a senior manager/business owner
Good health without a criminal record
Intend to live permanently in Canada
Process of investor visa application:
Active records: 1 month
Submit your application: 2 weeks
Receive File Number: 12 months
Receive investment acceptance letter, the investor transfers money to Canadian financial institutions or government funds: 110 days
Receive provincial nomination letter: 1 - 3 months
Submit your application to federal: 12 - 24 months
Above are several Quebec immigration programs that you can refer to choose the right one for you. With advantages such as no need for international students to get a job immediately, no limit to the number of immigrants or early immigrants, it is a huge advantage that only Quebec has. Do not hesitate and start your new life in Quebec!
Study abroad through Applyzones platform
Have you dreamed of studying abroad but you don't know where to start? Do you not know which major, which school is right for you? Let ApplyZones help you. Applyzones is the leading free online study abroad platform today.
Applyzones will help you:
Find the right course for your ability and conditions
Contact the school you wish to enroll in directly through the membership management system
Apply directly without any charge
Apply directly for an offer letter
Update the latest admission information from universities around the world
Compare information, entry requirements, tuition of the same field of study offered by different schools.
Let's experience the completely free service of ApplyZones by directly searching for courses and applying to study in Canada here. With just a few simple steps, you can easily search for courses, apply for a student visa or even apply for an offer letter through our system. If you have any questions, do not hesitate to contact us.