6 reasons to settle in to Switzerland
Switzerland is known as the highest salary and living standard country in the world. It is also the place where people have the highest level of satisfaction with life both physically and mentally. According to the website of the OECD developed countries, the average income of the Swiss people is 46,000 USD / year, nearly 23,000 USD higher than the OECD group. So it is not surprising that Switzerland has become a dream destination for many people wishing to settle in to Switzerland.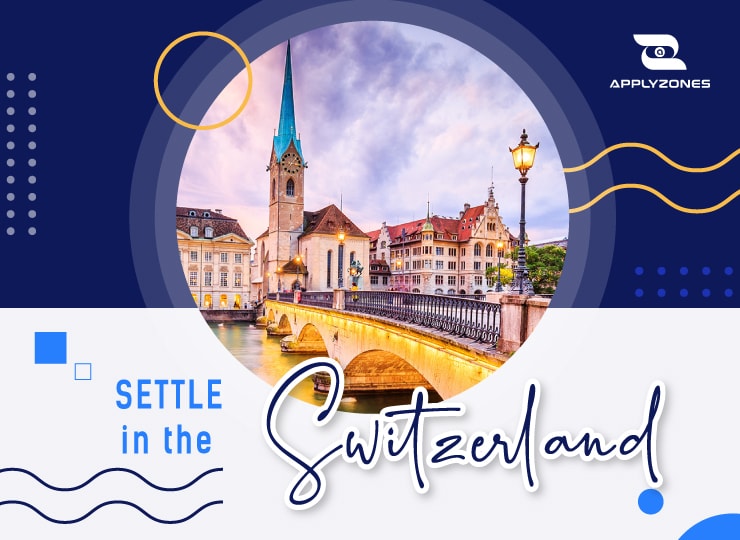 6 reasons to settle in to Switzerland
Switzerland is ranked as the happiest country in the world. Despite of its small area, Switzerland is peaceful, wealth and prosperous. So it is an ideal destination for those who wish to settle down in Europe. Here's 6 reasons for why you should settle down in Switzerland.
Switzerland- The safest country in the world
One of the top criteria for choosing a country to settle in is safety. Living in a safe and peaceful country, your life will be guaranteed and developed.
Switzerland has been a neutral country without any wars since 1815 until now. Therefore, Switzerland is proud to be the location of important international organizations with its headquarters such as the United Nations in Europe, the International Committee of the Red Cross and the World Trade Organization.
In addition, in case of a nuclear war, Switzerland has built shelters and bunkers from urban to rural areas to meet 100% of the population. So if a war suddenly happens, the Swiss people will still be safe.
Settling in Switzerland to enjoy the world's leading quality of life
According to surveys of the quality of life index, Switzerland is the best country to have children. Switzerland is paying special attention to public services and social security, where children are raised better than any other countries in the world.
Switzerland's facilities are extremely great such as advanced transportation systems, modern communications, superior power supplies ...
Switzerland's tax system is also very reasonable with many incentives. Therefore, you can settle in Switzerland with a stable life while being able to make your own business plans.
Switzerland with the least crime rate in the world
The social security of Switzerland is very good and the crime rate is the lowest in the world. Swiss people respect for laws and regulations very seriously, so people are very aware of their compliance with the laws set by the government.
Switzerland with the highest per capita income in the world
Did you know that Switzerland is the country with the highest per capita income in the world? Although the average working time is low, only 35.2 hours/week (working time in the UK is 36.4 hours, in Spain is 38 hours, in Turkey is 48.9 hours) but Swiss people's average earnings before tax is about 6502 france per month equivalent to about $6500).
Settling in Switzerland to enjoy quality education
In addition to effective social policies, Switzerland is also famous for being the country with the best education in the world. Switzerland always invests in improving the quality of training, giving students the opportunity to study through both theory and practice. In particular, Switzerland's tourism, hotel and restaurant industries are considered to be the best in the world.
Beautiful nature
Switzerland is endowed by nature with lakes, rivers, streams, mountains, hills... all intertwined, making Switzerland extremely beautiful. Besides that, Switzerland's nature also gives people a sense of peace, safety and romance.
How to settle in Switzerland
If you want to settle in Switzerland, you must have a residence permit and must stay in Switzerland more than 180 days a year.
This permit will be issued by the Federal or provincial authorities and issued in your place of residence. There are provisions on conditions to stay in Switzerland such as period of time, whether you can move here with family members, whether you are allowed to work or not ...
If you have lived in Switzerland for more than 12 years, you can apply for naturalization. The immigration office will examine issues such as whether the applicant is integrated into life in Switzerland, whether you get used to the traditions and customs here or whether you will obey the laws or jeopardize the security of the country
Swiss immigration application will be conducted in 3 stages. If you meet the requirements of federal law, you will be granted a naturalization. However, to be granted a naturalization, you need the consent of the state and locality where you are, which often have their own requirements.
Some places you should choose to settle in Switzerland
Geneva
Called the world's smallest metropolis Geneva is home to UNO's European headquarters and the headquarters of the International Red Cross.
Geneva has a professional culture and there is a lot to offer foreigners. However, Geneva is also one of the most expensive cities in Switzerland because there are many diplomats and politicians working here. In addition, Geneva is also a popular destination for foreigners and tourists, who wish to settle in Switzerland.
Zurich
Zurich is the main business destination of Switzerland. There are many international companies operating in the banking, arts and media fields. Career opportunities in Zurich are very great.
Basel
Considered the cultural capital of Switzerland, Basel is a quite small and cozy town located in northwestern Switzerland.
Due to its special position on the border of Germany and France, a lot of industries and trade between these countries are formed and developed here, so Basel will be a good suggestion for those who are intending to settle in Switzerland.
Hopefully this article will bring useful information for those who are intending to settle in Switzerland. If you have any questions, please do not hesitate to contact us.