Study Business Administration in Canada: Things you should know
Business is one of the fastest growing industries in the world. The demand for human resources who are highly qualified, in-depth knowledge of economics and finance is increasing. Studying business administration in Canada is chosen by lots of international students due to the Canadian quality of education as well as many other attractive things. Let's find out through this article with Applyzones.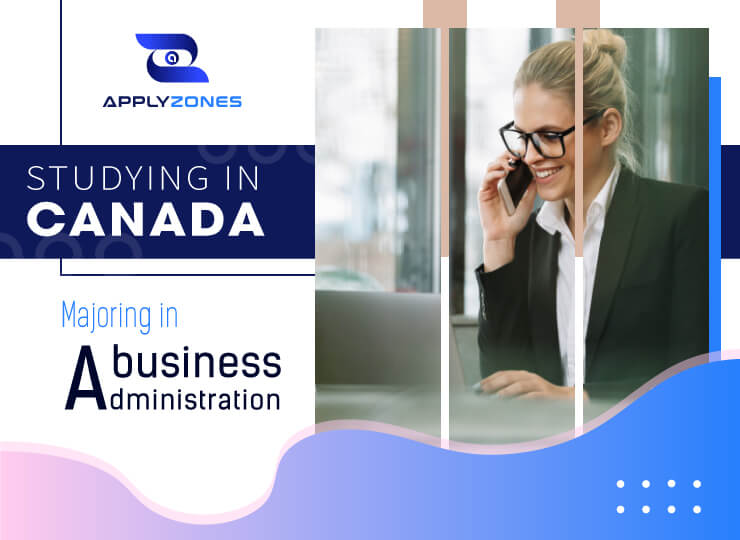 I. Why should you study Canada in business administration?
1. Canadian education program
According to the QS World University ranking, Canadian universities are consistently ranked in the top 100 in the world for quality of business administration program. Leading universities in this field are the University of Toronto, University of British Columbia, McGill University, Queen's University, Western Ontario University ...
The Canadian curriculum offers a wide selection for students to meet the needs of a wide range of careers. Popular programs include:
General business administration
Human resources management
Financial administration
Logistic administration
Entrepreneurship management
Quality management
Supply chain management
Marketing management
Students will be firmly equipped with a solid foundation of knowledge and skills needed for future jobs. In addition, students are trained in skills such as analysis, management, prediction, plan and strategy development.
Canadian study programs help students increase the competitive advantage in the business environment through excellent and diverse education programs, opportunities to exchange and access resources that are the most in the world
2. Recruitment needs and immigration opportunities
The country of red maple leaves is considered as the 10th largest economy in the world with a high level of economic development and science and technology. The demand for highly qualified human resources is enormous. Therefore, job opportunities for students who study business administration in Canada are always open.
After graduation, students can flexibly work in many positions such as Auditors, assistant directors, tax advisors, business specialists, trade specialists... A Canadian degree in business administration is recognized internationally, helping students demonstrate their experience, knowledge and abilities, then expand employment opportunities and attractive salaries.
The Government of Canada is also extremely favorable to this industry and offers many supportive policies. Specifically, the migration capacity for graduates is quite high, some priority occupations for immigration in this country are:
Economics: Financial Management, Accounting, Auditing, Human Resources Management ...
Engineering: Software Engineering, IT Engineering, Programming, Electronics Engineering, Electrical Engineering ...
Medicine and Pharmacy: Nursing, Pharmacy, Physiotherapy ...
Education and administration: University lecturers, Preschool teachers, professors, tellers ...
II. What are the requirements to study Business Administration in Canada?
IELTS 6.5
High school diploma
Academic report
For the high school programs, international students are not required for English proficiency, they just need to prepare a report card with scores of the last 3 years of study.
For diploma, undergraduate and postgraduate programs, international students are required to have English certificates such as IELTS, TOEFL ...
In the case of international students who cannot meet the English proficiency requirements, they can take an English course at the school they apply to. Depending on the school they choose, the requirements will be different.
III. List of Canada's top business administration schools
1. Rotman School of Management
The school has a long history, with a variety of disciplines, especially business administration. The strength of the school is to teach students integrated thinking, focusing on the relationship between economic disciplines.
2. Ivey Business School
The University of Western Ontario University, with a speciality in business, ranked second in Canada. The development and expansion of teaching methods, giving students an environment for self-study and problem-solving, are the strength of the school.
With a modern learning model for both content and organization, courses always put students in real-world situations.
3. Sauder Business School
Sauder School of the University is a faculty at the University of British Columbia, offering courses such as full-time 15-month and part-time 20-month MBA, 4-year Bachelor of Commerce courses. In addition, the school also has an 18-month executive MBA course with other services such as health care ... The program is very diverse to meet the unique needs of each student.
4. Schulich School Business
It is a business school of York University in Toronto, known for its international business courses which last for 4 years.
Business administration is a pretty interesting discipline, opening students to a bright path in the future. If you want to learn more about studying in Canada for business administration, do not hesitate to immediately contact ApplyZones - an online portal with deep experience in overseas studying. ApplyZones has successfully helped and supported thousands of international students, helping them realize their dreams. All processes in searching for schools, applying to study abroad are completed correctly and quickly.
Studying business administration in Canada is a trend chosen by lots of young people. With this article, ApplyZones hope you will succeed with your choice.