Study Construction in Canada: high immigration opportunities
Canada is one of the leading countries in the world for construction. With highly practical programs favored by employers, tuition and living costs that are cheaper than European countries and especially the opportunity to migrate into Canada easily, studying construction in Canada is the ideal choice for those who passionate about this field and desire to have the opportunity to develop in one of the world's leading countries.
According to forecasts of human resources by 2025, construction is one of the eight industries attracting the most employees with the requirement of 11,000 new employees for each position every year, accounting for 4% of total employment needs. Therefore, studying construction in Canada will open up many opportunities for foreign students.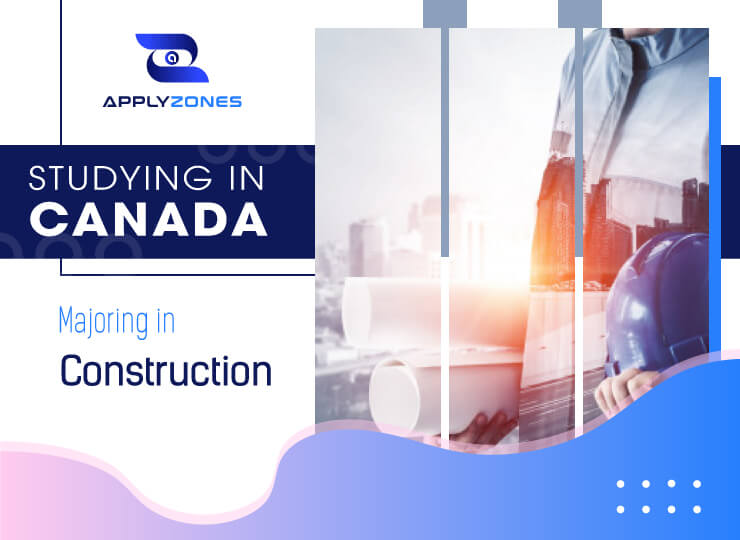 Introduction to the construction in Canada
The construction is specialized in the areas of consultancy, construction organization, supervision management, design, and acceptance of civil construction works. Civil construction works to serve human life such as houses, hospitals, schools, factories, commercial centers ...
Required skills
• Analytical skills: Analytical skills are the first skill an engineer must possess. Engineers must understand the content of the blueprints and the circumstances in which they are created in order to perform their job well.
• Observation skills: Observation is also a skill that an architect must have. You have to see how the parts of the structure link together in order to visualize the overall work will be done when completed.
• Leadership: Engineers are ultimately responsible for the projects they carry out. Therefore, they must be able to calculate, survey, manage employees and others to implement their project plans.
• Mathematical ability: The last but not least skill that an engineer must have is mathematical ability. Civil engineers must know how to use the principles of computation, trigonometry and other mathematical knowledge to analyze, design and troubleshoot their work.
What will study in Construction courses in Canada?
Construction Management
Construction Trades Techniques
Building Renovation Technology
Architectural Technology
Architectural Technician
Interior Design Technology
Civil Engineering Technology
Construction Engineering
Building Information Modeling Management
What jobs can you get with a Canadian construction degree?
After graduating, you can work as a construction engineer in businesses, construction companies, contractors or state management agencies in charge of construction, or take on positions such as construction, supervision, project evaluation, pre-acceptance test and design, consulting, project planning, planning and appraisal for companies and corporations.
Engineers in charge of construction, design, appraisal, supervision and acceptance of civil construction works at construction companies or state management agencies in charge of construction. Or working in construction research, teaching and training institutes
Reasons to study Construction in Canada:
Great human resource needs
Canada's population is aging and in need of high-quality human resources
Canada is a country with a serious shortage of human resources in construction because the country's population is aging. It is predicted that Canada will need more than 300,000 construction workers to replace retired human resources and meet labor needs in the coming period.
High immigration opportunities
Studying construction in Canada will open up a high opportunity for international students in this country because construction is one of the priority occupations in Canada. Those groups are
Economics: Auditant, financial manager, an accountant, a financial specialist ...
Engineering: Software engineer, Construct, programmers, information technology engineers ...
Medicine and Pharmacy: Pharmacology, physiotherapy, nurse ...
Education and Administration: Transactors, preschool teachers, university lecturers, professors
High income
The average income of students studying in Canada is usually quite high, ranging from $ 60,000-90,000 / year. Salary may vary based on experience, competence and position.
Students are allowed to work part-time
Studying in Canada, students will be allowed to work part-time 20 hours/week work full-time during the summer vacation. The minimum wage that students receive will be 1,045 CAD/hour. On average, they can earn 836– 1200 CAD per month.
Stay in Canada for 3 years after graduation
Students may be allowed to stay in Canada for 3 years after graduating from College or University. And, if you want to stay in Canada for a long time, you need to accumulate enough working time, from 6 months to 1 year. It will be a great advantage for students intending to settle here.
More specifically for the two provincial states in Canada, British Columbia and Ontario, after graduating with a master degree in applied science, students will be allowed to migrate into Canada after having a job, similar to other masters in Ontario.
Requirements to study architecture and construction in Canada
To pursue this career in Canada, international students need to meet the following requirements:
Learn quite a lot of natural subjects, have good computing ability to process estimates information, technical design, verify designs correctly.
English proficiency: English is one of the common requirements of Canadian schools for international students. Some schools will require you to take extended classes or some will only need you to prove you have taken a high-level English course
You need a Canadian graduation degree so that you can study courses like Diploma, Bachelor, Postgraduate Program, Advanced Diploma, Master program
How much will you pay to study Construction in Canada?
Cost is an issue many international students and their families care about when the children are sent to study abroad. For the cost of studying construction in Canada, depending on the type of school and specialized knowledge, construction will have different tuition. However, the lowest tuition for construction is only about $ 7000. So you don't need to worry too much
Which schools are the best to study Construction in Canada?
The leading Canadian universities that deliver construction courses are: the University of Waterloo, Queen's University at Kingston, The University of Western Ontario, University of Calgary, University of Toronto, University of British Columbia, Simon Fraser University, McMaster University, Université du Québec, Carleton University, McGill University
Schools with CES CES leading in construction majors are British Columbia Institute of Technology, University of Fraser Valley, Lambton College of Applied Arts & Technology, Confederation College of Applied Arts & Technology ...
Studying in Canada today is easier and simpler than ever when you use our free online application platform ApplyZones. You can choose the school and construction courses yourself on ApplyZones by following the system requirements. After that, ApplyZones will automatically find the right course for your ability and financial condition.
In particular, you can send your application directly to any school in the world through the free system of ApplyZones. All procedures such as choosing/finding a school, submitting your profile, applying for an offer letter or a student visa are made easily on ApplyZones and completely free of charge. Try and experience our service.
For Applyzonones's customers who are overseas study consultancy agents when using the ApplyZones system, you will easily find customers, find information, compare courses, study programs as well as tuition fees as quickly as possible, helping you save time and manpower in advising students. Especially, ApplyZones also helps you to promote their wide brands to students ...
In addition to students and agents, ApplyZones is also a bridge between students and schools, helping the brand of schools be widely known by more students through the ApplyZones information system.
In addition, with proprietary technology, Applyzones helps schools to control the admission criteria, help reduce the volume and increase the efficiency of the admission work. In addition, with the smart membership management system, Applyzones helps schools to be able to set goals through filtering and statistics of potential markets. This will be a major step forward, making it easier and more effective to make selection, counselling and enrollment strategies. Hopefully, the article about studying construction in Canada will help you in your preparation for studying abroad