Study Cookery in Canada: opportunity for those who want to migrate into Canada
Besides the key occupations, the ones related to serving, entertainment, meeting the needs of people are increasingly focused. Studying Cookery in Canada is now chosen by many international students because this is not only a high-income occupation but also allows students to migrate into Canada. To pursue this job for a long time, students need to constantly study and strive. So ApplyZones here to help you find out more about this study field.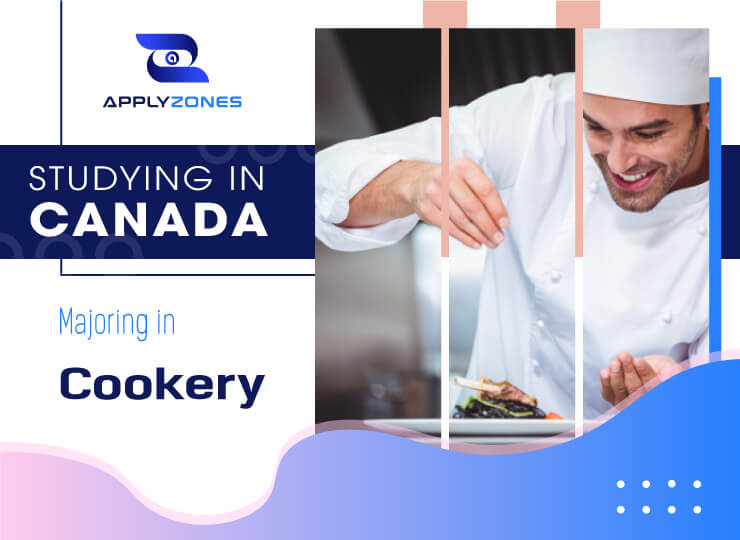 I. Requirements to study Cookery in Canada
Requirements to study this field is quite simple, students are required to:
Graduated from high school with a GPA of 6.0 or higher.
IELTS 5.0 and above.
For students with English proficiency that is less than minimum English requirements, you are required to take an English course before enrolling in the main major.
The duration of a Cookery course is relatively short, from 2 to 3 years. Upon completion, international students are eligible to become chefs, accumulating experience to work.
II. Why study Cookery in Canada?
1. High income
The different job positions in this field: chef, head chef, baker, cook assistant, manager, supervisor, lecturer, food manager, food stylist, food writer may have different salary rate. Because this is a service industry, the salary depends on the time, trends that customers choose. In general, this is a high-income industry with many attractive opportunities:
Chef: 49,859 CAD / year
Head chef: 53,856 CAD / year
Bar, Food and Beverage: 50,890 CAD/year...
2. Employment opportunities
In Canada, the cookery always needs a great human resource because this country welcomes tens of millions of tourists every year. Source of foreign currency income from tourists is up to tens of billion dollars. Chefs, head chefs in restaurants, hotels always have to work at full capacity.
In Vietnam, young chefs, especially chefs who have completed their study overseas have many job opportunities at famous hotels in big cities like Hanoi, Ho Chi Minh ... with high income. Well-trained chefs are entitled to allowances, salaries, bonuses, commissions, sales every year.
Besides, food hygiene and safety is always on top priority, the requirements are more and more stringent. The careful selection of human resources in this industry creates a quality of service. Thus, students who study Cookery in Canada will have a lot of career options for themselves.
III. Requirements to become a chef in Canada
Besides factors such as talent, health etc., students are required to have no skin diseases and intestinal diseases. Because the industry requires strict hygiene, chefs must regularly undergo periodic health checks.
If you want to open a restaurant, restaurant, your height is not a factor to consider. However, to work in a professional environment, the minimum height of a chef must be over 165 centimetres because the cookware is arranged to suit the person at that height.
Knowledge: Chefs not only do tasks such as preparing, cooking but also making a menu, processing, guiding customers to eat and drink...
Hardworking and curiosity: through continuous learning of cooking channels combined with regular practice.
Passion: This is the most essential element in any occupations. Especially, it is not easy to be a cookery, so students who want to study cookery in Canada have to consider before deciding to study.
Management and organization skills: These two skills will help you be able to coordinate, organize the work and motivate employees.
Planning skills: By making menus, you can ensure the delivery of dishes required by customers at all times.
Financial management skills: Control costs, reduce food costs and improve business performance.
Skilful and sensitive to taste, aesthetic: These skills can be trained in the process of working, but this is one of the factors to know who is a good and enthusiastic chef.
The psychological factors such as thoughtfulness, meticulousness, curiosity are more necessary than the appearance factors.
IV. List of schools that offer Cookery courses in Canada
- University of Alberta
- Humber College
- Fanshawe College
- Okanagan College
- Northern Lights College
- University of Guelph
- Niagara College
- Red River College
- Canadore College
- George Brown College
- University of Saskatchewan
- Algonquin College
Where can you directly apply to study Cookery in Canada?
You can send your application directly to Canadian colleges and universities on ApplyZones's free online platform. You just need to search and select the course that suits your ability and criteria on the ApplyZones system, then prepare all the application documents and scan them on ApplyZones, the system will help you send automatically to your desired school.
Especially, this process is completely free, helping students save time and money in searching and applying for study abroad. ApplyZones also helps students apply for a student visa as well as understand the entire time and process of application processing, from applying for a student visa to receiving an offer letter. Let's try and experience our service!
For customers who are recruitment partners, you will easily find customers, find information and compare courses, study programs as well as tuition fees, helping save time and manpower in counselling students. Especially, ApplyZones also helps partners to promote their brands to more students
In addition to customers who are students and recruitment partners, ApplyZones is also a bridge between students and the education providers, helping their brand be widely known by more students through the ApplyZones information system.
In addition, with proprietary technology, Applyzones helps education partners to manage the admission criteria, reduce the volume and increase the efficiency of the admission work. Besides, with the smart membership management system, Applyzones helps them to be able to set goals by filtering and statistics of potential markets. This will be a major step forward, making it easier and more effective to make selection, counselling and enrollment strategies.
Above is the information about studying oil and gas engineering in Canada. We hope that this article helps you in preparing for studying abroad. To prepare well for your upcoming study abroad journey, you need to plan and in advance. Here is how to identify goals to help you get things done easier. Good luck!