Study engineering - a career with a high income in Canada
Thanks to the advanced education system along with good education quality, studying in Canada is getting more and more popular to international student community. Studying in Canada in general and studying engineering in Canada in particular not only helps students gain knowledge but also have the opportunity to discover many new things. Let's find out with Applyzones!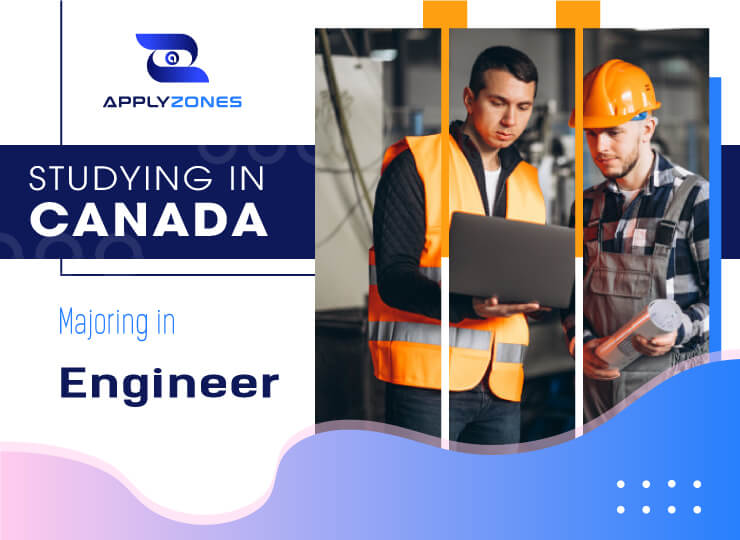 I. Engineering courses in Canada
This is the profession that Canada prides itself on with the best quality in the world. The engineering has never been popular, especially in the current economic development. Engineering plays a important role, in parallel to the economic development of a country. It is the application of mathematical and scientific principles to practice, to design, manufacture and operate structures, machines, etc. All of the above aims to serve human life, making the quality of life better through each day, each period.
The field of engineering is a fairly wide, so students should explore the majors included in this field of study, in order to find the right option for themselves:
Construction mechanics: metallurgy, electricity, traffic ....
Electronics and telecommunications engineering: electrical engineering, electronic engineering ...
Irrigation: water supply and drainage engineering, environmental engineering ...
Other related majors: footwear technology, printing technology, food technology ....
II. Requirements to study electrical engineering in Canada
To study a bachelor's degree in engineering in the country of red maple leaves, or to study at a higher level such as a master's degree, a doctor's degree ... the first prerequisites that international students need to meet are:
- English certificate: IELTS or TOEFL. Depending on the requirements of each school that international students apply, the score of English certificate will be different. However, according to the current average, for students who want to study bachelor degree, they are required to have IELTS of at least 6.0. To pursue a master's degree, students need to complete a bachelor degree in engineering, with English proficiency of IELTS 6.5 or above and have a clear learning purpose.
- High GPA is an advantage for students because of the relatively high competitiveness in the technical disciplines: high school GPA, university GPA ...
- In addition to the above-mentioned requiremwnts, students need to complete the documents, proving a clear learning purpose to be able to set foot in the country of red maple leaves.
- It takes about 4 years for bachelor's degree, 2 years for master's degree.
III. Why study engineering in Canada?
1. Afordable tuition
The Government of Canada provides a large amount of funding for most universities. The average tuition per year ranges from CAD 16,000 to CAD 25,000. This is not too expensive. Vietnamese families with good conditions can send their children to Canada to study engineering.
2. High immigration capacity
Canada is a relatively sparsely populated country, the population mainly immigrated from other countries to live and work. This country has a diverse culture made up of racial diversity.
After completing programs, students can apply for a visa to stay working for about 2 years. Some special provinces will have their own priority immigration policies, depending on the time and opportunity that international students get.
3. High salary
Compared with other industries, the salary of the engineer ranges from 60,000 CAD to 100,000 CAD / year. With this figure, students studying engineering can pay for the costs and can earn more with more relavant experience.
4. Career prospects
Engineering has always been a pillar of social development and the demand for human resources in engineering is quite high. Students studying engineering in Canada can apply to companies and enterprises in related fields with diverse positions.
Studying engineering in Canada is a wise choice because Canada is one of the world's leading countries delivering engineering courses. Canadian university's engineering degrees are highly recognized globally.
IV. List of good schools that delivering engineering courses in Canada
Depending on financial conditions and orientation, international students choose a school to attend. ApplyZones recommends outstanding schools in the field of engineering:
1. University of Toronto
The university was founded two centuries ago, owns the third largest library in North America with an international student population of about 10%. In 2018, the school ranked first in the ranking of the best engineering schools in Canada.
2. University of Waterloo
The university is recognized as a school delivering good sciences and engineering courses in Canada, in the top 50 engineering universities ranked by Academic Ranking of World Universities.
3. University of British Columbia
The university has a worldwide reputation for leading academic research and teaching at various levels. Every year, the number of students enrolling in the school is quite large.
4. McGill University
The university attracts a large number of students from around the world to study and research. The number of international students is about 20% of the total student body. With 300 different disciplines, a wide range of exciting curriculum, engineering students are encouraged to participate in important research through the summer program and training.
With the above shared information, ApplyZones hope you get an overview of studying engineering in Canada. We provide international students and parents with the most accurate information about study programs, training, scholarships ... in Canada. With many years working in the field of study abroad consultancy, ApplyZones successfully connects young people to the land of knowledge.
Please prepare everything carefully, choose a suitable school and study engineering in Canada. Good luck!