5 great advantages of studying Engineering in Australia
Engineering is one of Australia's top-earning industries, which are in demand of highly qualified human resources. Therefore, this industry is always contained in the Australian skilled occupations list. Therefore, Australia has a larger number of international students studying engineering program than any other countries and it is also the third most popular study area that Vietnamese students choose. So what is so special about this field that attracts many international students? Let's find out through the following article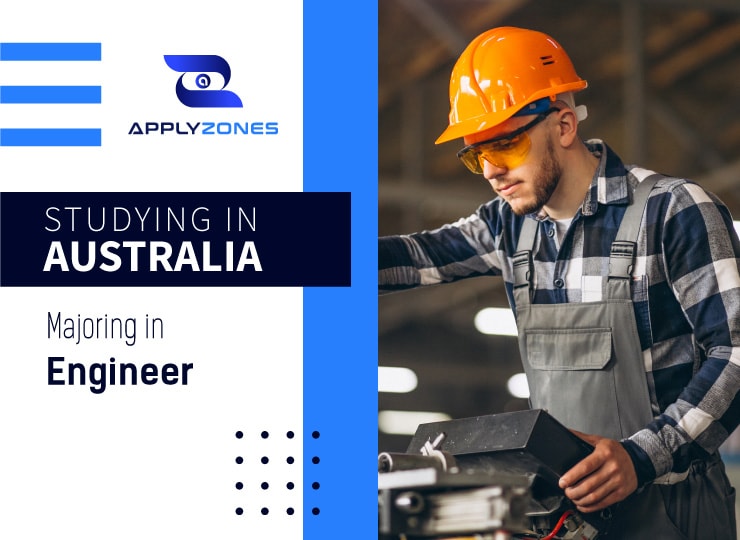 What you study in the field of engineering?
Engineering is the application of scientific, economic, social and practical knowledge to design, construct and maintain machinery, equipment, systems and materials. .. This is an extremely large field, including specific technical areas, each of which will have its own technology and applications.
Studying engineering in Australia, you can choose from a variety of majors: Electrical, Electronics, Mechanical, Telecommunications, Chemistry, Computers, Aviation, Geology, Environment, Biotechnology, etc. These courses are taught throughout Australia so students can choose their preferred school and major of study.
5 advantages when studying in Australia for engineering
International recognized qualifications
Australia is famous for the world's leading prestigious education. So Australian qualifications are always appreciated, recognized worldwide.
Besides, in Australia, there is the Engineers Australia Association, which is responsible for bachelor's engineering programs. The association must ensure that Australian institutions provide high-quality courses to train competent engineers. Therefore, studying engineering in Australia is a great way to ensure the quality of students' training and education.
Besides, engineering graduates can become members of the association, which provides them with many opportunities for career development and confidence so that they can enter into a global working environment.
Wide range of engineering courses
In Australia, there are many majors and courses suitable for the field that you want to pursue.
Great opportunities to migrate to Australia
Studying engineering in Australia will open up an extremely high opportunity to migrate to Australia for international students. With Australia's shortage of highly qualified engineering human resources especially in developing regions such as Western Australia and Queensland, the Australian Government has always had a priority immigration policy for this area. So this will be a wise choice for those who wish to settle in Australia after graduation,
Well-trained students are eligible to apply for permanent residence visas in Australia. You can apply for a Post-study Work Visa or Graduate (Temporary) Visa.
The sectors in Australia's priority group to immigrate are Electrical, Electronics, Mechanical, Architect, Chemistry, Mining and Petroleum Operations, Aeronautical Engineering, Civil Engineering, and Project Management. ..
Excellent employment prospects
Engineering graduates have a high employment rate and an attractive salary. For example, a chemical engineer can earn 156,000 AUD / year, a civil engineering engineer can earn 134,000 AUD / year
Work experience opportunities
Work experience is a vital part of engineering courses in Australia, ensuring that graduates gain the practical experience and skills required by employers in the workforce. Therefore, engineering courses in Australia includes a work placement at an Australian company.
The work placement is a 12-month work experience program for international students, allowing them to study in a professional working environment.
What and what will you do after graduation?
Engineering graduates have many employment options. You can choose from the following:
Teaching, in-depth research on engineering with the major that you have studied
Researching development, geology, atoms, gene, internal testing at laboratories, corporations or national research institutes.
Project management engineer, machine operation engineer, construction engineer ... at companies, engineering incorporations specializing in construction, machinery manufacturing, ...
Moreover, in states with many mines and fuel resources such as Western Australia and Queensland, international students will be provided more employment prospects. Engineering graduates working in Australia can earn an average salary of $ 60,705. According to The Good Universities Guide 2013, recent engineering graduates, on average, earned $60,705 — one of the highest salaries of any field.
How long will you study engineering course?
Depending on the level of education and the school you enrol, the duration of the courses varies. Normally, a diploma program lasts 1 – 2 years, a bachelor degree lasts 3-4 years and a master degree lasts 1.5 – 2 years.
To find out exactly the duration of the course that you desire to study, please check the information through our system here.
What are the requirements to study Engineering in Australia?
To study engineering in Australia, students need to meet the school's requirements. Depending on the school you choose, there will be specific requirements. So to know the exact entry requirements of the school you enrol, please contact the school directly via our system.
However, there are minimum criteria that you need to meet:
Successful completion of high school
IELTS minimum of 5.5
TOEFL minimum 55
Cost of studying engineering in Australia
The cost of studying abroad is a great concern to everyone. Therefore, to know the most accurate information about the cost of studying this field, you can check the tuition fees of the school through our system. All information is updated to the latest.
Leading engineering schools in Australia
Macquarie University
Macquarie University is in the top 1% of the best universities in the world. This is one of the schools that has produced many talented engineers, many excellent experts in many different fields and are always sought by employers.
University of Sydney
The University of Sydney is ranked 1st in Australia and 42nd in the world's best universities ranking. The University of Sydney has a high graduate employment rate.
Deakin University
Deakin University has excellent educational quality, providing an innovative learning experience. It is also a 5-star QS university for world-class research, research and teaching facilities. For those who want to study Engineering, the University is an ideal choice. The University is fully equipped with modern equipment so that students can practice and get the most practical experience.
Especially, the university is ranked in the top 2% of the world's best universities.
With the advantages mentioned above, we can found that studying engineering in Australia will provide students with a lot of opportunities. If you want to get a high-paid job or a high opportunity to migrate to Australia, do not hesitate to apply now.