Study Environmental Sciences in Canada: Open employment opportunity with high salaries
Labor imbalance is a fairly common situation in many countries around the world. Many areas are seriously in a shortage of human resources, while in other areas, there is an oversupply of human resources. Especially in recent years, as climate change and resource depletion have become more serious, the human resource demand for the natural resources and environment sector has increased.
Studying environmental sciences in Canada will give you a wide range of career opportunities working as a research adviser for companies from working at environmental technology institutes. For over 50 years, Canada has been a global leader in environmental research. Therefore, if you wish to study in a developed country with a sustainable development environment, Canada is the wise choice for you.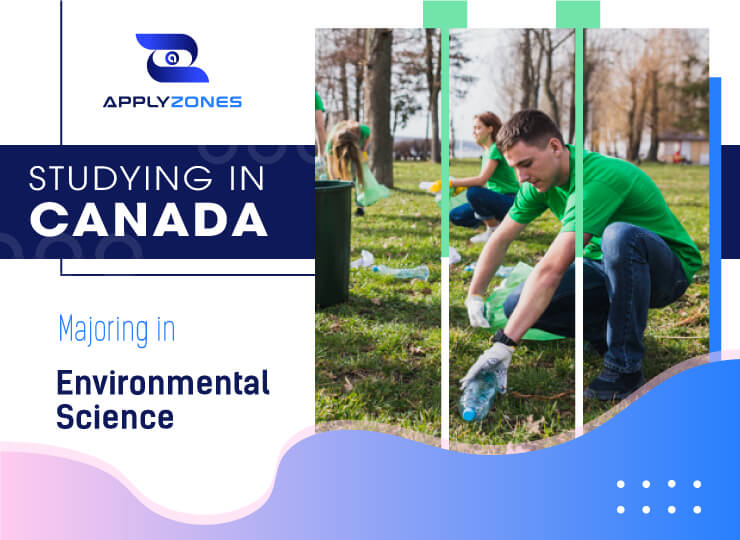 1. What is environmental science?
Environmental science is the study of chemicals in the environment, studying the influence of humans on the environment of soil, water, air and organisms in order to protect and improve the human environment on earth.
The subject of the environmental study is the natural environment, social environment and man-made environment in the support relationship between organisms and humans.
The environmental science in Canada is divided into 2 fields: environmental science and environmental research. In the field of environmental science, students will be learning knowledge related to engineering, geology and physics to do research projects. Meanwhile, in the field of environmental research, students will be learning mainly about humans, society, environmental policies and ways to overcome the current environmental situation.
Studying Environmental sciences in Canada, students need to prepare for the following characters:
Be Enthusiastic, dynamic, creative
Loving nature and environment with an inquiring mind.
Be patient
Able to work in a team
Ability to speak in public
Courage and acceptance of challenges
2. What will you study in Environmental Science?
Studying environmental science in Canada, international students will study in an environment of priority development. Normally, it takes 4 years to complete a Bachelor of Environmental Science program. In the first year, students will be introduced to engineering design, building a foundation of math and basic science in the field of engineering. These are essential skills for a future engineer. In the following academic years, students will gain specialized study on environmental issues such as environmental policy, environment, society, geography and chemistry, earth science or philosophy ...
3. What jobs can you get with a Canadian environmental sciences degree?
Upon graduation, students can do the following:
Specialists at state management agencies in charge of natural resources and environment, such as the Ministry of Natural Resources and Environment, the Department of Natural Resources and Environment, or other specialized sections on natural resources and environment of other management agencies.
Working at research institutes
Teaching at colleges and universities that offer courses in environmental sciences
Specialists in health facilities
Working in environmental businesses such as Technical staff or technician...
Specialists in national parks or conservation centers ...
Technical staff in environmental departments at factories, businesses such as ISO rooms, environmental management rooms, labor safety and hygiene rooms, wastewater treatment stations, etc.
Officers and soldiers in environmental police departments
Working for non-governmental organizations, projects related to natural resources and environment
4. Why study environmental science in Canada?
Students studying environmental studies in Canada have many development opportunities
Canada is endowed with nature for its majestic natural landscape with abundant resources. Therefore, it is not surprising that the country has always been a pioneer in the field of global environmental science.
Education has always been one of the top concerns of the Canadian government. Every year, Canada always invests a large budget to improve the quality of education and upgrade facilities. According to the results of a survey, Canada is the country with the largest investment in the G8 and OECD. As a result, many Canadian representatives have won high prizes in international-level academic competitions.
Canadian universities that provide courses in environmental science is globally famous, most of which are among the top 200 universities in the world, including universities like British Columbia, University of Toronto and McGill University
Students studying environmental science in Canada have more options for training programs that suit their abilities such as certificates, diplomas, bachelors, masters…
Open employment opportunities with high salaries
The cost of studying and living is cheaper than other countries like England, USA ...
5. Prospects of the environmental sciences in Canada
Environmental protection is a hot topic that attracts much attention from society. In addition to complying with the Law on Natural Resources and Environment, businesses in Canada are constantly offering quality, environmentally friendly products. Therefore, to recruit qualified personnel on environmental technology management is essential for businesses.
Canada's industries are in dire need of environmental engineers to carry out the management, production and sales of green, clean, economical and environmental protection products.
Studying environmental science in Canada, students will not have to worry about employment. In recent years, the demand for human resources in this industry has been increasing. In Canada, more than 730,000 employees are working in this field with a growth rate of nearly 10% / year. It is predicted that recruitment demand in this industry will continue to increase for many upcoming years due to environmental concerns around the world.
In addition, population aging is taking place in Canada, which lead to a shortage of human resources due to retirement. Therefore, the environment industries will face the risk of 20% shortage of labor when current workers will retire in the next 10 years.
The average salary of a person working in this industry is more than $ 64,000 equivalent to about $ 33/hour. This industry makes a relatively high income compared to others.
6. List of leading schools that deliver environmental science courses in Canada
Here are some of the top schools in Canada delivering courses in environmental science that you can refer to:
Thompson Rivers University
Simon Fraser University
Concordia University
University of Toronto
Niagara College
Fleming College
Centennial College
Seneca College
Where can you directly apply to study Environmental Sciences in Canada?
To choose Aviation course in Canada that is right for you, you can easily search on the free online study platform ApplyZones. You only need to enter information about your education background, the field that you want to study, the area you want to live in ... ApplyZones will automatically search for courses that match your ability and conditions.
In particular, you can send your application directly to Canadian schools through the ApplyZones system. All procedures such as choosing/finding a school, applying, applying for an offer letter or a student visa are made easily on ApplyZones and completely free of charge. Let's try and experience our service!
For customers, ApplyZones partners who are recruitment partners, partners will easily find customers, find information, compare courses, study programs as well as tuition fees, helping save time and manpower in counselling students who want to study Environmental in Canada. Especially, ApplyZones also helps partners to promote their brands to more students
In addition to customers who are students and recruitment partners, ApplyZones is also a bridge between students and the education providers, helping their brand be widely known by more students through the ApplyZones information system.
In addition, with proprietary technology, Applyzones helps education partners to manage the admission criteria, reduce the volume and increase the efficiency of the admission work. Besides, with the smart membership management system, Applyzones helps them to be able to set goals by filtering and statistics of potential markets. This will be a major step forward, making it easier and more effective to make selection, counselling and enrollment strategies.
Above is the information about studying Environmental Sciences in Canada. We hope that this article helps you in preparing for studying abroad. To prepare well for your upcoming study abroad journey, you need to plan and in advance. Here is how to identify goals to help you get things done easier. Good luck!