What you need to prepare to study Graphic design in the US?
If you are passionate about design and creativity, and always keep unique ideas in your mind, studying graphic design in the US is probably the right program for you. Studying at one of the world's leading powers will surely bring you unique and exciting experiences. So if you are still wondering whether you are suitable for this field or not, take a few minutes to read the article below of ApplyZones to have answers.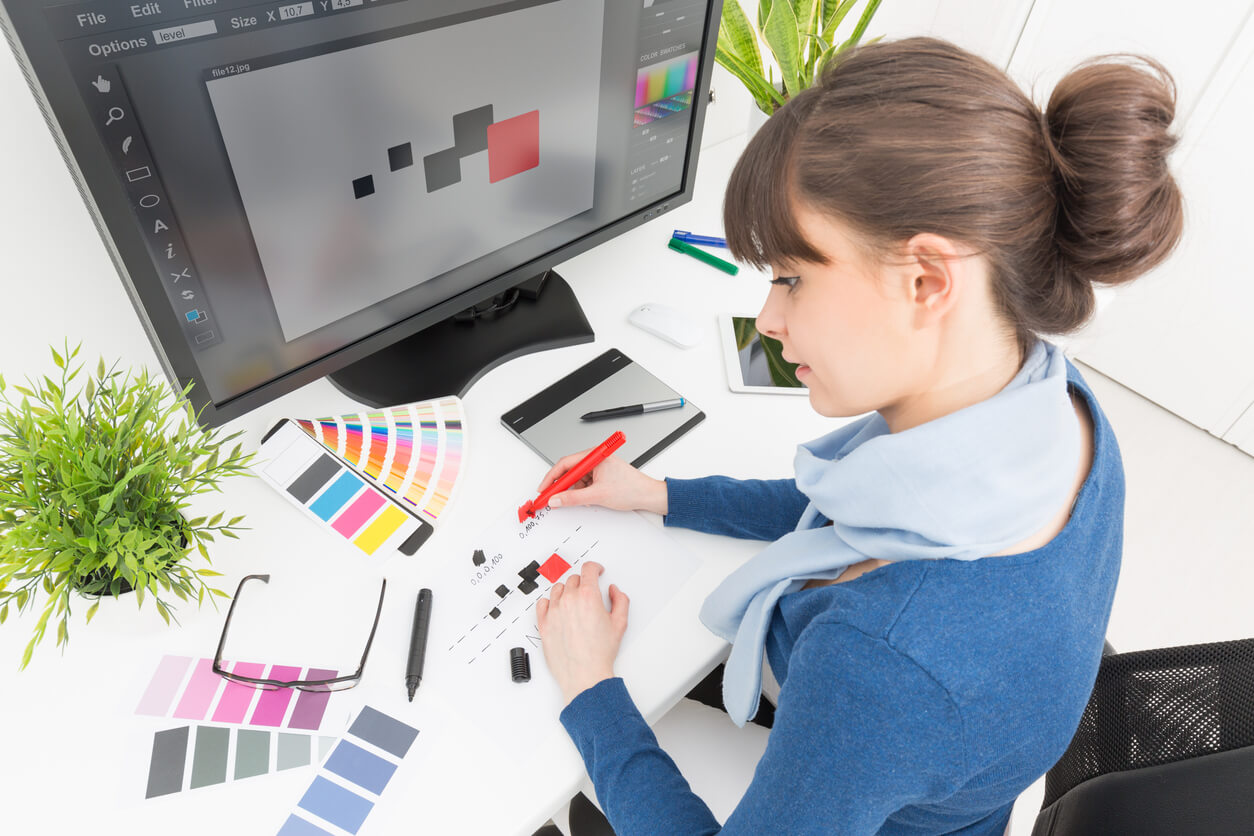 1. What is graphic design?
Graphic design is a discipline that combines creative ideas and the ability to feel aesthetics, conveying the messages with beautiful and impressive images through graphic tools. In other words, the graphic design combines imagery and writing with creative ideas to convey interesting and effective information through print and online publications.
Studying graphic design in the US, students will be equipped with the knowledge, skills of the art platform and design methods or the techniques of application and use of technology in graphic design. Graphic design graduates in the US can meet the requirements of major media and event companies.
2. Why is graphic design important?
Graphic design plays an important role in the current digital age. Thanks to graphic design, companies and businesses can bring their product images to potential customers. Graphic designers are responsible for designing the product packaging so that it is eye-catching for buyers to pay attention. They also design posters to advertise products hanging in public to introduce, attract to users. In short, graphic designers will make the best product images possible because creating a good product pakaging helps companies sell them to customers.
Besides helping companies sell goods, graphic design also helps companies build brand images. Any business needs professional designers to design logos, name cards, visit cards, signs, standees, brochures to build professional images.
3. Who is suitable to study graphic design in the US?
To pursue the path of graphic design, you need to have the following skills:
• Be creative: Creativity is the vital thing you must have to survive in an environment that craves newness of graphics. However, you will not be too creative as you like but subject to the management and control of your management, company or partners.
• Love colors: If you are a lover of beautiful images or are interested in watching colorful advertising banners, the graphic design is for you.
• Eager-to-learn: Graphic design is constantly updated with new trends, so you are required to constantly learn to be creative and to keep up with the trend.
• Withstand pressure: Designing is a job that requires a lot of creativity and pressure. Certainly, when you will sometimes encounter stress when have no ideas but still have to meet the deadline every month. So, this job is not for those who desire a leisurely job. Besides, if you want to work 8 hours a day, graphic design is not for you because the time to do this job is quite flexible and sometimes you have to work more than 8 hours a day or stay up late if it's near the deadline and you still don't have any ideas or sketches, or there are big projects that require you to work overtime to keep up the progress.
4. What skills does the graphic design require?
To study and work in graphic design, you need the following basic skills:
• Specialized skills: Hand-drawing, photo editing, photography, printing or graphic software, fonts using etc. These skills require a long process to cultivate, so you have to have interest and patient enough to follow this field.
• Teamwork skills: Teamwork is one of the basic skills that graphic designers should have. In this industry you will have many opportunities to collaborate with people, so you need to coordinate well with others to produce the best quality products.
• Communication skills: This is an indispensable skill in any industry, especially for jobs where you often have to interact with customers like graphic design.
• Time management skills: this job always comes with deadlines, so you must have good time management skills to be able to get the job done on time.
5. Why study graphic design in the US?
- Studying graphic design in the US, you will be fully equipped with specialized knowledge as well as management knowledge in each field to be able to work best with specific subjects such as business management, brand management, luxury brand marketing, or management in specific areas of design
- Studying design in the US, students will have access to the most modern equipment and practice in photography studios, iMac computer room, drawing room, multimedia room, design and printing room during the course. Students not only gain the foundation knowledge but also have the opportunity to directly practice, stimulate design thinking and cultivate the ability to evaluate design works.
- High-quality and practical program: Studying graphic design in the US, students will study in a quality environment with high practicality. Students will be trained in skills such as the ability to understand the needs and behaviors of consumers as well as the willingness to face challenges and creative thinking.
- U.S universities have many relationships with strategic partners, so students will have the opportunity to interact and learn with leading experts in the field of design to learn the experience as well as be updated with the latest information on recruitment in those companies. Besides, international students also have the opportunity to participate in national and international exhibitions, unique shows and compete with potential designers from all over the world.
6. Career opportunities for graphic design graduates
Graphic design graduates will have many job opportunities and do not have to worry about unemployment, because no matter the economic downturn, organizations, businesses or brands still need designers to advertise their products.
Possible careers:
Consultants, designers at advertising agencies, design firms or media and event management companies
Art director of advertising agency
Animation specialist
Illustrators
Packaging designer
Logo designer, web designer
User interface designer or user experience designer
You can work at:
Art studios, newsrooms, publishers, television agencies, press, ...
Establishing design company, studio service
Teaching graphic design at schools, centers or clubs.
7. Salary of graphic designers in the US
The average salary of a person working in the field of graphic design in the US is about $ 50,370/year. According to the forecast of the US Bureau of Labor Statistics, graphic designers working on computers and related fields are expected to have job growth of over 20% in the next few years.
8. Some of the leading graphic design schools in the US
Here are some graphic design schools in the US that you can refer to:
• University of Illinois
• Auburn University
• Arizona State University
• University of Iowa
• State University of New York
• Bridgeport University
• Orange Coast College
• Virginia Commonwealth University
• Broward College
• Southern Utah University
• Longwood University
Above is some information about studying graphic design in the US. We hope that this article will bring you useful and necessary information. If you have any questions, do not hesitate to ask questions below, please contact us for a free consultation.
Have you dreamed of studying in the USA? Are you wondering where to find a school or apply for studying abroad?
Do you want to save time and money by applying for studying abroad yourself without the support of overseas study consultancy center?
Let ApplyZones help you. Applyzones is the leading free online study abroad platform today.
Applyzones will help you:
• Find the right course for your ability and conditions
• Contact the school you wish to enroll in directly through the membership management system
• Apply directly without any charge
• Apply directly for an offer letter
• Update the latest admission information from universities around the world
• Compare information, entry requirements, tuition of the same field of study offered by different schools.
Let's experience the completely free service of ApplyZones by directly searching for courses and applying to study graphic design in the US. With just a few simple steps, you can easily search for courses, send your application or even apply for a student visa. If you have any questions, do not hesitate to contact immediately to be supported by ApplyZones.