Study Human resource management in Canada: High immigration capacity
The human resource is considered to be a high value-added industry in Canada and it is also the industry that is lacking huge human resources in this beautiful North American country. According to forecasts by 2020, the difference between training and recruitment needs in human resources in Canada will reach 4.5 million people. Therefore, studying human resource management in Canada will open up career opportunities with high salaries for students. In addition, studying human resource management in Canada, students will have a great opportunity to be given priority to immigrate to Canada under the Canadian government's policy of attracting foreign workers.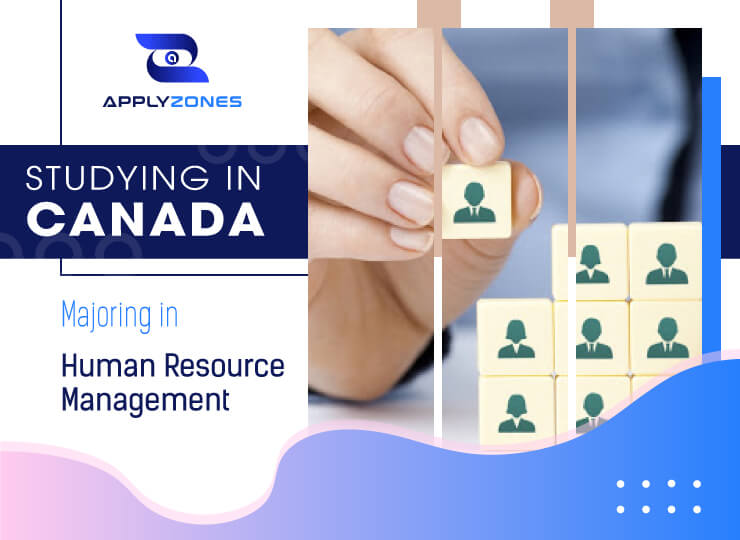 1. What is Human resource management (HR)?
If the sales department is considered as the leading spearhead of revenue for all businesses, human resource management is considered a solid foundation to help businesses grow. This is one of the most important parts of the company and is the key to the company's long-term and sustainable development.
The human resource manager is not only responsible for recruitment, evaluating the quality and competence of candidates to be suitable for the job, but also make decisions about the main policies, activities that directly affect the company as well as employee relations. Therefore, human resource management must have a good vision, management ability and thinking.
Studying human resource management in Canada will equip students with the major knowledge of management and commerce, skills to capture people's thinking, thereby helping to apply the competence of each employee in each type of job.
2. What do you study in human resource management?
Human resource management is a mandatory component of business courses, and you can also improve your expertise in human resources by taking diploma, undergraduate or postgraduate courses. Undergraduate courses aim to review and evaluate interpersonal processes and structures. It focuses on the critical parts of an organization's decision making, such as decision-making, management, and planning processes, as well as the process of formulating business strategies carried out by organizations or individuals.
Moreover, students will receive additional knowledge related to human interaction, operational processes and structure in business organizations and improve skills such as decision making, planning and management of workgroups, management and administrative strategies for all organizations and businesses.
3. Why study human resource management in Canada?
Canada has always been known as a developed economy with excellent education and training quality. Canadian universities mostly teach in-depth human resources management, so students will have many opportunities to choose the school that suits them.
The teaching staff in Canada is always highly appreciated for their expertise, methodical training, combining theory and practice so that students will have more useful and practical knowledge.
According to the QS University Rankings 2019, many Canadian schools are in the top 100 in Human Resource Management, following only the US, UK and Australia.
With the policy that allows students to work while studying, students are given the ideal conditions to integrate into the working environment before graduation and accumulate useful practical knowledge.
4. Requirements for studying human resource management in Canada
To study human resource management in Canada, you need to meet the entry requirements of each Canadian university or college. Different schools and levels of education will have different requirements. Therefore, to know the exact entry requirements to study human resources in Canadian schools, please check the details on the ApplyZones system.
However, here are the minimum entry requirements that you need to meet:
IELTS 5.5
GPA of 6.0 or higher
Canadian schools usually have two intakes September, January and the relative tuition fee of about 14,000-18,000 CAD per year.
You can find and take courses in human resource management at the following Canadian schools:
Centennial college
George Brown College
Seneca College
Concordia university
Thompson River University
Humber College
Sheridan college
5. Career and immigration opportunities for HR graduates
Studying human resource management in Canada will open up an open future with high employment and immigration capacity for graduates. With Canada's recent immigration and employment policies, young people are getting more and more opportunities when they intend to stay long with this beautiful North American country.
Although Canada's skilled migration program was launched in the late 1960s, it only flourished after 2002 when immigration and refugee protection laws were adopted with the perspective that is to prioritize skilled immigrants for economic development. Especially since January 1, 2015, when the Express Entry system was applied with a comprehensive and rapid information processing system, it created an opening for skilled workers. Therefore, international students graduating from diploma, bachelor, master and doctoral programs in Canada can participate in skilled migration right after graduation without working experience.
Employment opportunities:
Currently, organizations and businesses are in very high demand for HR professionals because they want to find the most suitable employees. As a human resources specialist, you will have the opportunity to work in various fields such as talent development and training, recruitment and management, academy, organization, human resource relationship management, performance evaluation and reward.
You will have the opportunity to work in the HR department of companies in a wide range of areas such as Business Finance, Culture, Cosmetics, Aviation, Information Technology ... In which, Finance - Banking are the two fields that many students of human resources choose to join. Here are some professions you can refer to:
Human resources management
HR Assistant
Recruitment coordinator
Recruitment staff
Health and safety coordinator
Health and safety assistant
Human resource systems analyst
What is the salary for human resources management in Canada?
Did you know that Canada is one of the top 10 countries with the highest minimum income in the world? The salary here will depend on the state, the degree and practical experience, but on average, a bachelor with 1 year of experience in the field of HR management earns from CAD 60,000 / year. All full-time employees are guaranteed full benefits. This is a very desirable salary for students with little experience.
6. Where can you directly apply for a human resource management course in Canada?
Do you want to find human resource management courses in Canada that suit your requirements and conditions?
Do you want to try to apply directly to study in Canada without intermediaries support?
So Applyzones is the solution you have been looking for. ApplyZones is a free online study broad system for students around the world. You can easily search for your right courses or schools by entering the information required by the system. Our filter will help you immediately find a course that matches your criteria within seconds. Then you can apply directly to Canadian schools without resorting to the support of 3rd parties. This helps the students save a lot of time and money compared to the traditional method.
In addition, you can track and know in advance the entire time process of applying for your student visa in Canada by following on the notice board of ApplyZones, so that you and your family can be proactive in prepare all papers, procedures, finance to study human resource management in Canadia.
Great benefits to education agent using ApplyZones:
Easily find desired customers
Easily find information about courses, programs as well as tuition fees, requirements of courses quickly, helping agents save time and manpower in counselling students
With thousands of detailed courses from schools around the world, agents can easily compare different courses, making it easy to counsel and help students quickly select their right courses.
Directly send information of courses and programs of interest to customers via email and the system of ApplyZones at no charge.
Promote the brand of Agent: when you use ApplyZones system to communicate with customers, all information about the brand of your business will be displayed fully.
3 great benefits to schools using products of ApplyZones
Our intelligent online connection platform integrated with artificial intelligence makes connecting students and students with schools easy, simple and effective. This helps the brand of the Schools to reach a wider range of students through the information system and the University's website link on the ApplyZones system.
With exclusive technology, Applyzones helps schools to control the admission criteria, which reduces the volume and increases the efficiency of enrollment.
With a smart membership management system, Applyzones helps schools to guide their goals through filtering and statistics of potential markets. This will be a major step forward, making it easier and more effective to make selection, counselling, enrollment more effective.
Try and experience completely free services on ApplyZones!