3 reasons to study Law in Canada
Although the Law is not a hot field that many students choose to study in Canada such as pedagogy, finance, economics ... but this is one of the highest-paid occupations. The average salary of the law is about 112,000 CAD per year. Besides, Canada is also famous all over the world because of its famous law schools. This means that if you study law in Canada, you will be educated and trained most seriously and accurately. So, if you are in passion with this field, studying in Canada will open up many opportunities for your future.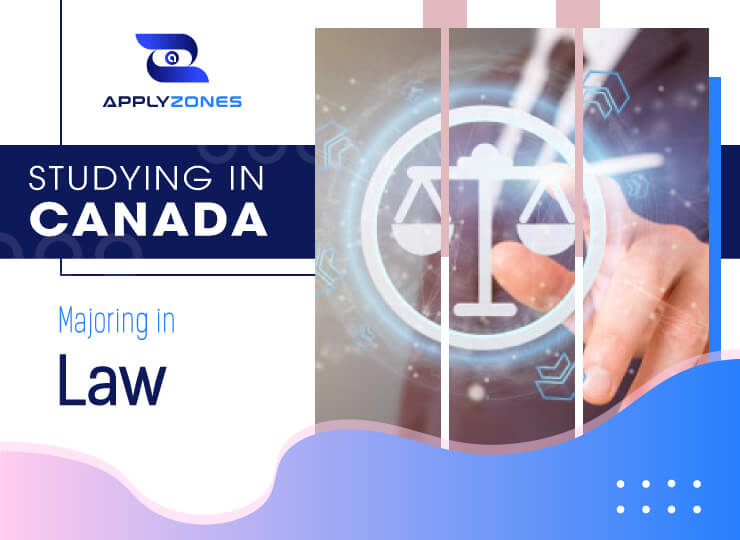 1. Overview of studying Law in Canada
Studying Law in Canada, students can choose to study in different majors/subjects such as international law, business law, cause and effect law, intellectual property law or environment ... Besides, in Canada, there are countless prestigious law universities like the University of Calgary, St. Thomas University, Cambrian College, Western University, University of Alberta ... These are all high-ranking schools in Canada and the world.
Studying law in Canada not only helps international students master the law system but also opens opportunities for international students to equip themselves with basic English skills in the native language environment. Besides, if studying Law in Canada, students will be trained in essential career skills such as quick response, sharp critical thinking, extensive knowledge and good communication skills. ...
2. Law programs in Canada
When studying law in Canada, there are two programs to choose from, which are bachelor of law and master of law programs.
- Bachelor of Laws usually lasts 3 years. Students will learn general knowledge about the various legal fields under the guidance and consultation of professional lawyers.
In addition, they also participate in activities that help train legal skills such as mediation, negotiation, confrontation, drafting of laws, etc.
- After completing the Bachelor program, international students can study to Master of Law in about 2 years. This program will provide a valuable learning experience, help you develop and perfect practical legal skills and gain a deep understanding of legal policies. Besides, the course also coordinates with business to help you develop necessary skills in the process of studying and training in more intensive fields such as public law, private law ...
3. Why should you study Law in Canada?
Open policies for international students
Since 2018, the Study Direct Stream (SDS) visa program has officially been valid and applied widely. Since then, this policy has opened the door to studying in Canada for students who do not have enough money to fulfill their dream of studying abroad. The SDS policy has the following advantages:
No financial proof required.
No study plan required.
You can apply to most Canadian schools without limitation.
IELTS score above 6.0 (no band below 6.0).
Worldwide leading law schools
Canada is home to the world's leading law schools. Therefore, studying law in Canada, students will study in an advanced environment, equipped with legal knowledge, practical and practical skills, and be able to challenge and express themselves while providing Resources needed to achieve high academic and professional performance in the future. In particular, Canadian law degrees are widely recognized around the world, offering broad career prospects. Therefore, job opportunities when studying in Canada in law are extremely open.
Open career opportunities
Law is one of the highest-paid occupations in Canada and this is also the industry that is in the shortage of human resources in Canada. Therefore, after graduation, students have many open career opportunities.
After graduation, students can choose many suitable job positions such as Legal Innovation Commissioner, Director of Public Relations Office, Lawyer, Researcher, Business Management, Investment and securities, judges, full secretaries ... Besides, you can also work at the best-known law firms or as legal staff of companies, businesses.
4. Requirements to become a lawyer in Canada
First of all, to become a lawyer in Canada, you must study a Bachelor of Laws (LLB) program that is widely taught in universities and has relatively high entry requirements compared to other fields.
And for students studying in Canada who majored in law only study LLM and PhD programs (Doctor of Laws), they will not take a license to practice in Canada if they do not study the basic LLB.
In addition, lawyers must be those who have a firm grasp of legal knowledge and professional ethics. Therefore, to become a lawyer in Canada, students will have to go through a period of serious study and practice, you will be trained for basic skills and solid knowledge.
Besides, the requirements to become a lawyer in each of Canada's state are not the same. Therefore, you need to research the state you want to become a lawyer. For example, if you want to become a lawyer in Quebec, you need to graduate from a law school in Quebec ...
5. Some of the top law schools in Canada
Here are some schools to study law in Canada you can choose:
1. University of Toronto
The University of Toronto is the leading law school in Canada. Toronto's admissions process is the most rigorous of law schools and one of North America's most registered universities.
The newly built Jackman Law Building is a great place to practice not only for the Faculty of Law but also for others. This is a project built by the school to improve the quality of teaching and evaluate students' ability to practice.
2. University of British Columbia
The University of British Columbia not only opens the door to becoming a professional lawyer, but it is also a stepping stone for you to develop more in the future. Some students at British Columbia after graduation hold an important legal role in community organizations and work in Government offices.
3. McGill University
One of the oldest Canadian universities and one of three famous English language schools in Quebec. Studying law at McGill University you will be offered programs: Bachelor of Civil Law, Bachelor of Law, Master of Law and Doctor of Civil Law. For McGill students who are studying law in Canada, McGill University is a reasonable choice.
Laws students at McGill are required for proficiency in both English and French. However, this requirement is waived for students enrolled in a master's degree or higher.
4. University of Ottawa
The University of Ottawa is a prestigious school in many fields. The School of Law offers specialities such as Dispute Resolution, Environmental Law, International Trade Law, Business Law, Human Rights Law ...
The University of Ottawa also offers intensive courses in International Law. In addition, the school is also home to the world-renowned Human Rights Education and Research Center.
5. University of Alberta
The University of Alberta's School of Law is considered by many students to be Canada's premier institution. Some alumni have been successful in positions such as the Chief Justice of the Supreme Court, Judges.
Where to apply directly to study Laws in Canada without any charge?
You can search for law courses as well as law schools in Canada on the ApplyZones system by entering the required information of the system, then select your desired major, state and city in Canada as well as the tuition fee suitable for your financial ability of your family.
ApplyZones will automatically search the law keys that match your requirements. And you just need to choose your right schools and apply directly through ApplyZones without any charge. All processes from searching courses, choosing a school, applying, getting an invitation or a visa are done online on the ApplyZones system. Try and experience it now!
In addition to the benefits for students, ApplyZones also brings great benefits to education agents using our system such as:
Easily find desired customers
Easily find information about courses, programs as well as tuition fees, requirements of courses quickly, helping agents save time and manpower in counselling students
With thousands of detailed courses from schools around the world, agents can easily compare different courses, making it easy to counsel and help students quickly select their right courses.
Directly send information of courses and programs of interest to customers via email and the system of ApplyZones at no charge.
Promote the brand of Agent: when you use ApplyZones system to communicate with customers, all information about the brand of your business will be displayed fully.
For schools using ApplyZones products will get great advantages such as:
ApplyZones makes connecting between students and students with schools easier, simpler and more effective. This helps the brand of the Schools to reach a wider range of students through the information system and the University's website link on the ApplyZones system.
With exclusive technology, Applyzones helps schools to control the admission criteria, which reduces the volume and increases the efficiency of enrollment.
With a smart membership management system, Applyzones helps schools to guide their goals through filtering and statistics of potential markets. This will be a major step forward, making it easier and more effective to make selection, counselling, enrollment more effective.