Study Marketing in Canada: great opportunities for you
Canada is considered to be the country with the best quality of education in the world today. Marketing has attracted a lot of students in recent years. Studying Marketing in Canada will help a lot for your future development through an international quality learning environment.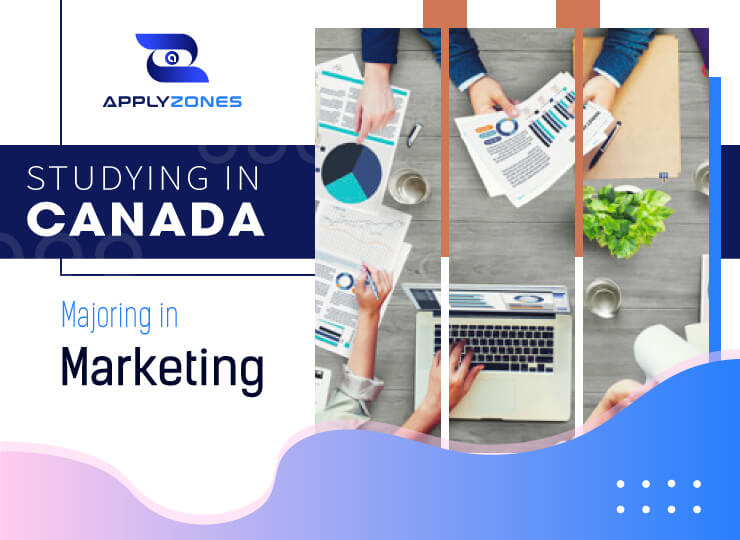 I. Why should you study Marketing in Canada?
The choice of field of study is extremely important, affecting your career path. Therefore, before studying abroad, you need to find out the potential prospects after graduation of the study field and many other factors. The following are the reasons
1. Quality learning environment
If you are looking for a quality learning environment, Canada is a great choice for you. This is a country with a thriving economy, a good education system that is paid high attention.
Up to 26 Canadian universities are named in the list of the world's best universities according to the 2017 QS World University rankings. In particular, the two Canada's highest-ranked schools are McGill University and the University of Toronto located in the two Canada's largest cities: Montreal and Toronto.
2. High employment opportunities
Marketing plays an important role in the development of businesses, named in the list priority occupations for Canadian immigration. The personnel demand for this position in the business is huge. Therefore, looking for employment opportunities will not be a major obstacle for graduates.
In case you want to return to Vietnam, obtaining an international marketing degree is another plus point for your future resumes.
3. Opportunity to become top strategic planners
This is the industry that studies the tastes and needs of customers, thereby developing to meet the needs of customers. Studying marketing involves researching marketing strategies for the foundations of sales, communication and business techniques.
Students will have opportunities to acquaint with market analysis, identification of potential customers and appropriate products and services.
Studying marketing in Canada normally combines courses in math, statistics, design, organization ... Students will have the opportunity to practice and become a professional marketing expert.
4. No language barriers
Canada is considered as a good nation for you to pursue education. This is a country of many ethnic groups in the world, known as a multicultural country. Language is no longer a barrier because everyone continually learns and cultivates their English skills. English preparation courses are available for students before they enter the main courses.
II. What will you study in Canadian Marketing programs?
The potential fields for marketing graduates are enormous, covering all areas of society. Specific groups are:
Market research
Public Relations
Brand management
Advertisement
The Canadian study programs that you can refer to:
1. Herzing College: Social Media and Digital Marketing, study duration are 3 years.
2. Cambrian College: Advanced Diploma in Public Relations (PR PG), with a tuition fee of about CAN $ 14,119/year.
3. Western University: Bachelor of Arts (BA) (Hons) - Media and the Public Interest, with a tuition fee of about CAN $ 29,100 / 1 year.
4. Centennial College: Advanced Diploma in Advertising and Marketing Communications Management, with a tuition fee of about CAN $ 12,772/year.
5. Laurentian University: Bachelor of Business Administration (BBA) in Business Administration - Marketing, with a tuition fee of about CAN $ 19,407/30 credits.
6. McMaster University: Bachelor of Commerce (B. Com.) - Marketing Concentration, with a tuition fee of about CAN $ 29,100/ year.
III. Career opportunities for Marketing graduates in Canada
Upon graduation, marketing graduates can undertake the following positions:
- Marketing manager: In charge of marketing strategies of the company.
- Marketing specialist: Developing specific marketing campaigns, communicating with customers, sourcing, placing ads, managing production ...
- Marketing assistant: Summazing financial information and statistics; writing a report; arranging advertising events….
- Sales manager: Organizing the sales team, hiring and training new sales team members ...
- Advertising manager: Responsible for monitoring, managing budgets, maintaining good relationships with customers ...
- Sales advisor: Consulting and guiding customers ...
Salary rate:
Up to 5 years of experience: About CAD 50,000
5 - 10 years of experience: From CAD 60,000 to 70,000
10 - 20 years of experience: From CAD 70,000 to 80,000
Over 20 years of experience: Over CAD 80,000
According to statistics of Canadianbusiness.com, marketing is one of the industries with the highest income growth in the last 5 years.
IV. List of universities that offer marketing undergraduate courses in Canada
If you intend to study Marketing in Canada, you can refer to the following schools:
University of Alberta
Mohawk College
University of the Fraser Valley
Humber College
Centennial College
Northern Alberta Institute of Technology
Ontario Tech University
Fanshawe College
Sheridan College
The University of Winnipeg
OCAD University
Marketing is a potential study field, providing you with many dynamic job opportunities. If you have any questions about studying marketing in Canada, please contact ApplyZones - we are here to consult and support you.
All information is always updated accurately and in the fastest way to support international students who want to study abroad and your parents. ApplyZones is a bridge leading you to success, connecting young people to a modern learning environment.
Studying marketing in Canada has been the choice of young people who prefer newness and creativity. Let's conquer the issues related to studying abroad with ApplyZones!