Study Social Work in Canada: high immigration opportunities
The shortage of manpower is a common situation in developed countries such as the United Kingdom, Australia, USA and Canada. Especially in Canada, the shortage of skilled human resources is a problem that the government is worried about. Therefore, Canada has launched many priority policies and immigration programs for international students to attract talented people to study and stay to work in this country. And social work is one of the priority sectors in Canada. Therefore, studying social work in Canada will be a great stepping stone for those who love this field and want to have the opportunity to migrate into Canada.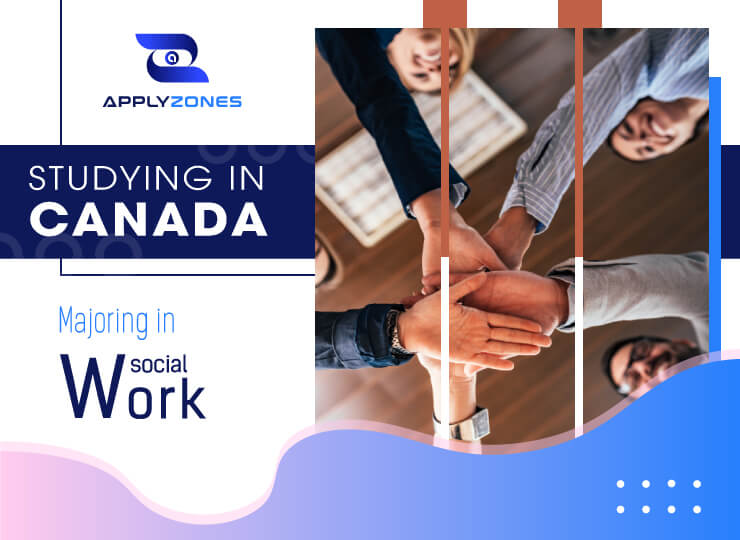 What is social work?
Social work is aimed at improving the quality of life of individuals and communities in society, helping people cope with difficulties, challenges and problems in daily life such as personal, family and social issues.
Social work includes research, policy development, community setting, intervention, and support for individuals after a crisis or life event.
Social workers often have to work 40 hours a week and deal with a large amount of work from different customer cases. The average salary of social workers is from 800-1000 CAD / week.
In Vietnam, although social work is quite new to many students, in recent years, this industry is receiving the attention of many Vietnamese students. Therefore, more and more Vietnamese students are choosing to study Canada in social work.
What jobs you can get with a Canadian social work degree?
Upon completion of this major in Canada, international students will do the following:
-Help people around, advise each individual how to cope, deal with problems in their life
-Help clients face illnesses, social problems such as unemployment, substance use, alcohol
-Help families deal with serious internal issues such as child abuse, spouses, domestic violence. Or conduct research and advocacy to improve services and participate in planning and development policies.
-Provide information to the community about social services when needed
-Research problems and find solutions to solve problems and needs of the community
-Develop and assess social policies
Where can you get a job after graduation?
After graduating from social work, international students can work at:
Buildings or residential areas. You can go on a local business trip to visit customers or meet service providers and attend other meetings.
Hospital
Governmental or private centers, youth employment support centers, and housing
Social welfare agency
City Council
Women union
Mental health support centers
Schools or centers for seniors and people with disabilities
Requirements to study Social Work in Canada
In Canada there are 5 levels of education taught to prepare for a career in social work, including:
Diploma of Social Work
Bachelor of Social Work
Master of Social Work
Doctor of Philosophy)
Doctor of Social Work)
Depending on the level of study (diploma, masters or doctorate), Canadian schools will have different entry requirements. However, to study this field in Canada, international students need to meet the following basic requirements:
Completion of Grade 12
IELTS minimum 6.5
Some of Canada's leading schools that deliver social work courses
To study social work in Canada, you can refer to some of the following prestigious schools:
• Seneca College
McMaster University
Humber College of Applied Arts and Technology
Algoma University
Georgian College of Applied Arts and Technology
Lakehead University
Ryerson University
Redeemer University College
University of Western Ontario
University of Toronto
North Island College
University of the Fraser Valley
University of British Columbia
Where can you directly apply tyo study Social Work in Canada?
You can send your application directly to Canadian colleges and universities on ApplyZones' free online overseas study platform. You just need to search and select the course that suits your ability and criteria on the ApplyZones system, then prepare all the application documents and scan these documents on ApplyZones, the system will help you send automatically to the school you desire.
Especially, this process is completely free, helping students save time and money in finding and applying for studying abroad. In addition, ApplyZones also helps international students apply for a student visa as well as understand the entire time and processing process from the beginning of the student's application until the end of receiving a visa and offer letter to study abroad. Let's try and experience ApplyZones!
For customers, ApplyZones partners who are overseas study consultancy centers, partners will easily find customers, find information, compare courses, study programs as well as tuition fees, helping save time and manpower in counselling students who want to study Logistics in Canada. Especially, ApplyZones also helps partners to promote their brands to more students
In addition to customers who are students and overseas study consultancy centers, ApplyZones is also a bridge between students and the school, helping the brand of the school be widely known by more students through the ApplyZones information system.
In addition, with proprietary technology, Applyzones helps schools to manage the admission criteria, reduce the volume and increase the efficiency of the admission work. Besides, with the smart membership management system, Applyzones helps schools to be able to set goals by filtering and statistics of potential markets. This will be a major step forward, making it easier and more effective to make selection, counselling and enrollment strategies.
Above is information about studying Social Work in Canada. We hope that this article will help ou on your journey to study abroad.