Study tourism – hospitality management in the US
In the US, hospitality is a thriving industry that contributes significantly to the economy, so the employment opportunity is immense. According to the results of a survey, 1 out of 18 people is directly or indirectly employed in tourism and hospitality management. Therefore, it is not surprising that the United States has always been one of the top study destinations chosen by thousands of international students who want to study tourism and hospitality management. So what is special about studying tourism in the US? What will you learn while studying in this country? All will be in the following article of ApplyZones.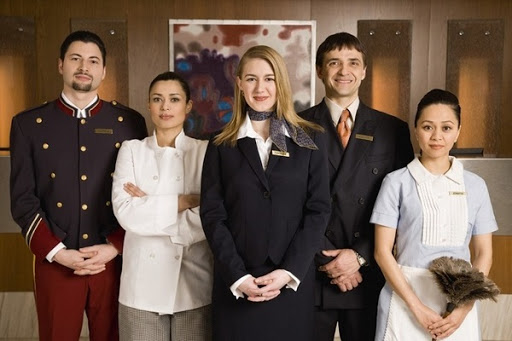 1. What will you study in tourism and hospitality management?
Studying in tourism and hospitality management, you will be equipped with the necessary knowledge to work in a professional tourism and hospitality environment.
You will learn knowledge about how to organize, manage personnel, prepare rooms and handle customer complaints or even marketing and advertising. With this knowledge, you can apply to any business model such as management of hostel, resort, or any other type of accommodation.
During the program, international students will receive training in leadership as well as improve their knowledge of restaurant & hotel management practices. These programs also include strategies for revenue management, sales and marketing to maximize profits and explore the elements that shape the ideal customer experience, from dining, resting to special events.
The curriculum includes:
Learn and explore property management software and hotel and restaurant information systems effectively.
Know how to measure the performance of company websites through important analytics and indicators.
Gain in-depth knowledge to ensure the financial viability of an organization through dynamic methods of managing revenue flows.
Discover strategies and services to get customer satisfaction and constantly improve service quality
Familiarize yourself with the management of room plans, preparation, sales, budgets, and forecasting.
Know how to practice the skills and manners of service, the standards of the hotel and restaurant operations.
2. What jobs can you get with a tourism and hospitality degree?
The main tasks of a tourism and hospitality manager include the following:
+ In charge of assigning work and coordinating resources to initiate business plans and market development strategies
+ Plan, direct and coordinate departments such as receptionists, waiters, kitchens, accountants
+ Control budget and other expenses
+ Set out human resource development programs
+ Ensure the implementation and compliance with hotel regulations according to the law
+ Executive advertising the image of the hotel through PR activities, advertising
With a major in hotel and restaurant business management, students also have many career options after completing their degree. Graduates can work in resorts, hotels, tourist resorts ...
3. Why study tourism and hospitality management in the US?
- The US is a convergence of many famous multinational corporations such as Marriott, Hyatt, Wyndham or Hilton ... and has a global linkage in the hospitality with a wide range of internships and diverse jobs in more than 50 states. Large companies and corporations in this field often prefer to recruit graduates in the United States. So studying tourism and hospitality management in the US will be an extremely promising choice.
- The United States has an outstanding hospitality program due to a combination of theory and practice. Students will be focused to develop comprehensively in a professional training environment and update the latest industry trends. This will be great for tourism and hospitality students
- Besides, with the prestigious diploma gained from the US, students can confidently go to work anywhere because American qualifications are recognized globally.
- The study locations are in the scenic areas, which will help students gain interesting life experience in the environment in which they will later work.
- Besides, studying tourism and hospitality will open many opportunities for international students because it is predicted that in the next 10 years, the US will need more than 8000 hotel managers. Therefore, anyone those holds a bachelor's degree in this field will certainly have advantages in the fierce job battle.
4. Some of the leading tourism and hospitality management schools in the US
In the US, many universities and colleges offer tourism and hospitality management courses. However, here are the top 7 most popular schools.
Cornell University
Cornell University is one of the leading schools in hospitality management training in the US. At Cornell, students will have many opportunities to practice in real environments and especially work part-time at the prestigious Statler hotel. In addition, students also have the opportunity to participate in exchange programs abroad for 6 to 12 months.
University of Nevada
University Of Nevada, Las Vegas, established in 1957, is one of the prestigious training schools in tourism and hospitality management. Located in one of the world's most famous tourism and hotel centers - Las vegas, the University of Nevada offers valuable internships and work opportunities for students. Students can study hospitality management to gain extensive knowledge in this field or choose specialized subjects such as game management, professional golf management or restaurant management...
Fairleigh Dickinson University
Fairleigh Dickinson University is one of the schools that offer the oldest hospitality management programs in the United States. Fairleigh Dickinson University's hospitality management program has been ranked in the top 15 among more than 200 programs nationwide by the Princeton Review.
With prime locations near New York and Atlantic, Fairleigh Dickinson University students have the opportunity to access the two major cities as the top two tourism and hotel centers across the country.
Every year, Fairleigh Dickinson University offers more than 2000 internship opportunities for students and according to a statistical result, Fairleigh Dickinson College has up to 3,000 alumni working in the field of tourism and hospitality management throughout the world.
University of Massachusetts - Amherst
University of Massachusetts - Amherst is one of the universities with the oldest and best hospitality management program in the United States. According to the rankings of Princeton Review, the hospitality management program of the University of Massachusetts ranked 4th among more than 200 programs in the US. In addition, the school's hospitality management program is always in the top 20 rankings of international organizations.
At the University of Massachusetts - Amherst, students can choose subjects such as casino management, club management, culinary management, tourism management and conferences ...
Purdue University
Purdue's Department of Hospitality and Tourism Management is one of the leading programs in hospitality management. Studying at Purdue University, students will have more than 400 hours of practice in hotel management and tourism with practical curriculum, helping them continually review and refresh their knowledge.
Michigan State University
Michigan State University is ranked 3rd in the world according to the Research of the Journal of Hospitality & Journal. It is also one of the oldest and best schools in the US specializing in tourism and hospitality management.
Studying at the University of Michigan, students will have to complete 400 hours of elementary practice and 400 hours of secondary practice. Career opportunities are always open to Michigan students when top employers in the US always go to school to recruit students every year.
Pennsylvania State University
Studying at Pennsylvania State University allows students to get 1,000 hours of actual work. Graduate employment opportunities are also wide open when more than 100 companies come to Pennsylvania State University every year to recruit. In addition, the university has a wide network of partners with international education partners as well as opportunities to practice and work for students.
Above is some information as well as the benefits of studying tourism in the US. Studying in the US will open a wide career path with many opportunities for advancement and high salaries. We hope that you will choose a suitable study destination and achieve much success on the path you chose.
Have you dreamed of studying in the USA? Are you wondering where to find a school or apply for studying abroad?
Do you want to save time and money by applying for studying abroad yourself without the support of overseas study consultancy center?
Let ApplyZones help you. Applyzones is the leading free online study abroad platform today.
Applyzones will help you:
Find the right course for your ability and conditions
Contact the school you wish to enroll in directly through the membership management system
Apply directly without any charge
Apply directly for an offer letter
Update the latest admission information from universities around the world
Compare information, entry requirements, tuition of the same field of study offered by different schools.
Let's experience the completely free service of ApplyZones right now!