All about studying Accounting in Canada
Studying Accounting in Canada not only opens up a high immigration capacity but also is a hot occupation that is highly paid in the country of maple leaves. Therefore, if you are passionate about numbers, accounting is a discipline that you should consider to study in Canada.
Accounting is a key position in any businesses or organizations. Accounting not only plays an important role not only in monitoring the cash flow of businesses but plays a role in business plans or marketing strategies ... Therefore, accounting always belongs to the group of professions selected by most of the students.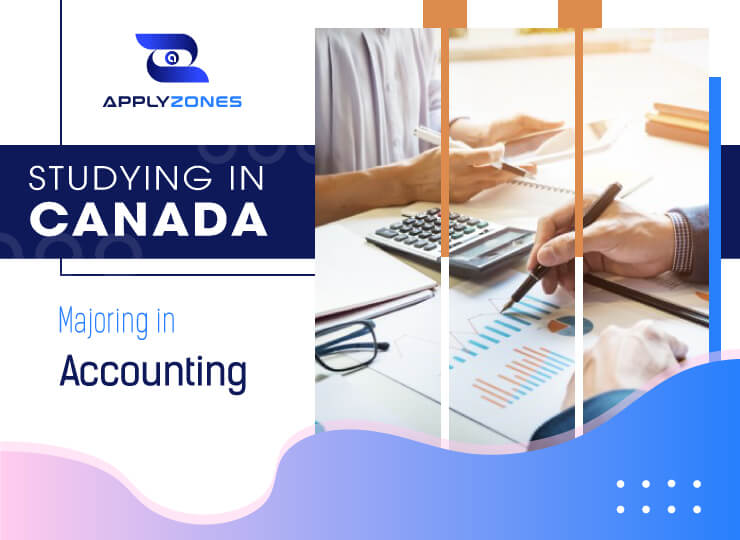 What does an accountant do?
Making and checking financial statistics, financial statements
Tax planning and reporting
Storing and preserving periodic financial statements
Checking books and learn how to use books to manage them effectively
Making sure the numbers written down are always accurate and legal
Finding solutions to optimize profits, increase income and minimize costs
What skills does an accountant need?
Students studying Accounting in Canada needs the following skills:
Numeracy skills: to synthesize, compare and process data
Analytical skills: to identify problems in the document and provide solutions, take action if needed
Qualities: Meticulous, diligent and honest. These are essential qualities for anyone who works as an accountant because this is a job related to books, papers and money. Honesty is important because you will hold extremely important information about the company.
What types of Canadian accountant are there?
With each type of position in accounting, the field will require different students/employees with different capabilities. Therefore, before going to Canada to study accounting, students need to determine a specific goal of becoming a public finance or auditing accountant ... so that they can choose an appropriate field of study.
Certified General Accountants (CGA)
CGAs are accounting professionals with expertise in tax, finance and business strategy, management, auditing and business leadership. CGA's main responsibilities are auditing, tax advice, accounting and financial reporting.
To get CGA certification, students are required to have a Bachelor degree (in any field). At the same time, students need to take 2 years or more of CGA-related courses, pass the entrance exam and have 2-3 years of business experience at the management level.
This program is very beneficial for students studying Accounting in Canada that you can study and work.
Certified Management Accountant (CMA)
For CMA certification, applicants must have a Bachelor degree with related subjects /majors (such as Bachelor of Commerce) with related work experience.
To get this certificate, students will have to undergo a rigorous 2-day evaluation process for knowledge about business management and accounting concepts. If you pass this level, you will be able to participate in a 2-year program and practice with mentoring.
CMA is a job that favors internal affairs in a business or corporation. Therefore, CMA certificate holders will focus on finding the most effective way to operate the company to minimize costs, increase revenue, and profit instead of doing tasks such as preparing/evaluating report or regular auditing.
CMA is also suitable for those who intend to pursue Management accounting, including jobs such as business/industrial management, cost management or internal research to support business managers in making business decisions.
Chartered Accountant (CA)
Students who will study Accounting in Canada can learn more about CA which is very much interested in students. A CA is a job that involves the duties of a standard accountant, such as planning, strategic management, preparation and tax audits.
To get a certificate of title, students are required to have a Bachelor degree in accounting. Besides, you must have 3 years working at a designated accounting firm. Finally, to receive the certificate, you are required to pass an extremely tough and challenging 3-day exam. CA diplomas are highly appreciated internationally.
With a CA degree in hand, you can work in all professional environments, including companies, businesses, profit-making organizations and governments.
Chartered Professional Accountant (CPA)
CPA is a certificate of independent accounting, suitable for international students who are planning to become a Public Accountant (PA) or Auditor. A PA mainly performs services such as issuing financial statements for one company, business consulting provider, tax declaration and personal financial planning services.
The positions for CPA are Tax accountant, financial accountant, legal accountant ... This certificate is very important for most senior jobs in the field of Accounting.
To possess a CPA certificate, you must have at least a bachelor's degree in Accounting (CPA Prerequisite Education Program) and 2 years of relevant experience.
Why should you study Accounting in Canada?
High immigration capacity
According to the accounting classification list, accounting and auditing are contained in the group with the highest immigration capacity for international graduates. Priority policies for Canadian immigration include:
Economics: Human resource management, auditing, accounting and finance specialists, financial management...
Engineering: Software engineer, electrical engineer, electrical engineer, IT engineer, programmer
Education and Administration: University lecturers, professors, preschool teachers, tellers….
Medicine and Pharmacy: Nursing, pharmacy, physiotherapists….
Great salary
According to the annual report (Salary guide 2016 Accounting & Finance Robert Half), the salary for new accountants is about $4,000 to $88,000. For managerial positions, the salary is from $78,000 to $112,000.
Bright career prospects
According to Job Bank Government Canada, this country will need another 75,000 accountants. It is caused by that the population of Canada is ageing and by 2024 and there will be about 45,000 retired accountants.
This statistic is based on an analysis combined with an assessment of the labor market in recent years. It is predicted that Canada will need to recruit additional 75,100 accounting personnel. The reason is that the aging population of Canada is predicted to have about 45,000 retired accountants by 2024.
Besides, Canada's states are in demand for accountants and need new personnel, therefore, studying accounting in Canada will open up extremely career opportunities for you.
How to become an accountant in Canada?
To work as an accountant in Canada, you need to study for a 2-year Accounting degree because normally new graduates (whether from college or university) have to start working at basic positions such as accounting assistant, accounting clerk, A/R clerk, A/P clerk, ... these positions only need certain knowledge such as account reconciliation, bank reconciliation, knowledge about debits, credits ...
If you are satisfied with jobs such as data processing, desks, A/R, A/P, accounting clerk is right for you. If you want to become an accountant, you will need additional skills.
You can find out more courses/qualifications: Diploma, Advanced Diploma, Bachelor program, Post Graduate Program, Master program. Duration of study lasts from 1 to 4 years depending on the course.
A tip for you is that you should consider programs that contain Co-op (internship) to improve your CV.
Which schools are the best to study in Canada?
If you intend to study Accounting in Canada to increase employment/immigration opportunities, you can refer to some prestigious schools:
Diploma program: Centennial College, Sheridan College, George Brown College, Humber College, Fanshawe College
Undergraduate: University of Toronto, Brock University, McGill University, University of Alberta, Queen's University at Kingston, University of Manitoba, Simon Fraser University, Thompson River University (TRU)
Postgraduate: Fanshawe College, Humber College, Thompson River University (TRU)
Majors:
Accounting and insurance
Accounting techniques
Accounting and payroll
Accounting and finance
Actuarial studies
Business analytics
Professional accounting practice
Fraud examination and forensic accounting
Financial accounting
Financial planning
Financial services
Financial services compliance administration
Studying accounting in Canada is now easier and simpler than ever. You can completely choose the profession and school with appropriate accounting majors on ApplyZones by following the system requirements. ApplyZones will automatically find the right course for your ability and financial ability. In particular, you can send your application directly to any school in the world through our free system. All procedures such as choosing/finding a school, submitting student profile, applying for an offer letter or a student visa are made easy on ApplyZones and completely free of charge. Let's try and experience our service!
For Applyzones partners who are oversea studying consultancy centers, when using the ApplyZones system, you will easily find customers, information and compare courses, study programs as well as tuition fees as quickly as possible, helping save time and manpower in advising students. Especially, ApplyZones also helps partners to promote their brands to students, ...
In addition, ApplyZones is also a bridge connecting students and the school, helping the brand of the school be widely known by students through the information system of ApplyZones.
With proprietary technology, Applyzones helps schools to manage the admission criteria, help reduce the work volume and increase the efficiency of the admission. In addition, with the smart membership management system, Applyzones helps schools to be able to set goals through filtering and statistics of potential markets. This will be a major step forward, making it easier and more effective to make selection, counselling and enrollment strategies.