What you need to know before studying in mechanical engineering abroad
Studying mechanical engineering in the US is an ideal choice for international students. You will not only study in the environment with the most advanced science and modern facilities but also have the opportunity to work overseas. In addition, the mechanical engineering industry in the US provides a good remuneration with high income for international graduates. Therefore, mechanical engineering is currently interested and selected by many international students.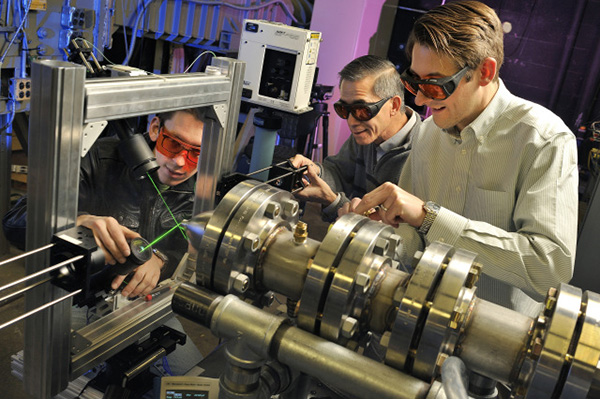 1. What is mechanical engineering?
Mechanical engineering is one of the key industries for global socio-economic development. This industry is considered the heart of industrialization and is growing rapidly.
The scientists, engineers, technicians and mechanical engineers have made a great contribution to the operation of all machines which operate in production lines, in the air or under the ground... Therefore, in the future, the demand for human resources of the mechanical engineering industry will continue to grow strongly, creating many attractive employment opportunities for international students.
Mechanical engineering is one of the oldest and most necessary engineering disciplines in life. Therefore, if you are interested in creating, designing, installing or operating or servicing equipment, machines or other useful items, mechanical engineering is for you.
Studying mechanical engineering in the USA, international students will be equipped with knowledge and skills of machining, designing, manufacturing, improving mechanical products, operating, assembling, maintaining mechanical equipment or mechanical systems and solving problems related to machinery and equipment in the production process. In addition, students are trained to deal with and draw technical drawings and proficiently use of CAD/ CAM/CNC/CAE technologies or robot interfaces...
2. What qualifications are required to study mechanical engineering in the US?
To study this field, students need to have the following qualifications:
Be interested and want to explore the process of assembling mechanical components to create finished products.
Be creative and have the desire to be at the forefront of creativity
Have a passion for developing complex machines to make people's lives simpler
3. What jobs can you get with a mechanical engineering degree?
A mechanical engineering degree gives international students many employment opportunities. You can refer to the following jobs:
Mechanical engineers: undertake the design, drawing, installation or processing of machinery and equipment at factory buildings or mechanical engineering companies.
Consultants in designing, operating, or repairing machines, mechanical devices or programming CNC machines
A managerial and technical staff at production, business and service units in mechanical engineering serving national security and defence...
Work in the aerospace industry such as research, design or production, operation and maintenance of machinery
Work in petrochemical companies, chemical production or support businesses (building new plants or developing new treatment technologies)
Work in the electronics industry such as designing and manufacturing equipment, components for fields from automotive to medicine and military
Work in the railway industry such as designing, building or managing and maintaining rail system components and tracking electrical systems and train control systems.
4. Why study mechanical engineering in the USA?
Quality curriculum
Studying mechanical engineering in the USA, students will be trained under world-class curriculum based on the basic principles and practical requirements.
Throughout the learning process, students will be provided with the applicable knowledge and skills such as the ability to apply math, science and engineering knowledge, or ability to design and conduct experiments, analyze and interpret data. In addition, students will be trained to use the most modern and advanced technical tools necessary for future jobs.
Globally recognized qualifications
Possessing a prestigious mechanical engineering degree in the United States, you will certainly not have to worry about the career path ahead. Because professional qualifications in the US are globally valued and are extremely important in Vietnam. You can confidently apply to the position of mechanical engineer at companies and large corporations around the world.
Excellent and highly applicable practice environment
Mechanical engineering requires workers to be highly skilled, equipped with comprehensive knowledge and professional skills. Therefore, not everyone can pursue this job.
Mechanical engineers require you to be able to perform complex calculations quickly, capture and work with advanced machine components, technology and be responsible for human safety as well as the impact on natural and social life. Therefore, to do this job well, you not only need to have passion, carefulness, precision but also need to have analytical, sharp and logical analytical thinking and especially need training in a high-quality environment. The amount of practical and valuable professional qualifications. Studying abroad in mechanical engineering will help you perfect all these factors.
The opportunity to stay in the US for a longer-term than other occupations
In the United States, if international students complete an undergraduate program and gain a degree in science, technology, engineering or math (STEM groups), they can extend their stay in the USA for another 17 months. Thus, engineering graduates are allowed to stay in the USA for 29 months while students of other majors only stay in the USA for 12 months. This will be very beneficial for international students to stay in the USA to work and gain experience.
5. List of some leading engineering schools in the USA
Studying mechanical engineering in the US, international students can choose to study at one of the 270 universities in this country. Undergraduate programs in mechanical engineering usually last 4 years and masters programs last 2 years.
Here are some suggestions about prestigious engineering schools in the USA that you can refer to:
Massachusetts Institute of Technology
The Massachusetts Institute of Technology is one of the best private schools in the United States, founded in 1861 in Cambridge (Massachusetts). Every year, the institute welcomes more than 4,000 students enrolled.
The engineering training programs at the Massachusetts Institute of Technology are not only excellent but also train mechanical technology skills for students. In addition to focusing on scientific and technological research, the Massachusetts Institute of Technology has strengths in economics, psychology, biology, chemistry, earth sciences, physics and mathematics.
UC Berkeley
University of California, Berkeley is a public university, founded in 1868. The University of California Berkeley consists of 14 universities and member colleges. The university's postgraduate programs in education, technology, law, social welfare, public health, ... are highly ranked.
Stanford University
Stanford University was founded in 1885 in the Gulf of California and is one of the best universities in the United States. Stanford University consists of 7 member schools, including highly ranked schools such as Education, Engineering, Law, Medicine and the Woods Institute of Environment, etc.
Studying at Stanford University, students are encouraged to participate in research in areas such as the humanities, social sciences and technology ... The University focuses on the way of multi-disciplinary teaching, research and promote innovation to address human health, technology, environmental or international issues and education worldwide.
California Institute of Technology
California Institute of Technology is a private school, founded in 1891 in Pasadena, about 11 miles northeast of Los Angeles, California. Despite its modest size, the California Institute of Technology was voted one of the best universities in the United States in 2012. The Institute offers leading graduate programs in engineering, biology, chemistry, computer science, earth sciences, mathematics and physics.
The US universities have close relationships with companies and researchers in many different fields to help students gain practical experience, helping international students develop in their future career. Therefore, studying mechanical engineering abroad will be the right choice for you. Good luck!
Have you dreamed of studying in the USA? Are you wondering where to find a school or apply for studying abroad?
Do you want to save time and money by applying for studying abroad yourself without the support of overseas study consultancy center?
Let ApplyZones help you. Applyzones is the leading free online study abroad platform today.
Applyzones will help you:
Find the right course for your ability and conditions
Contact the school you wish to enroll in directly through the membership management system
Apply directly without any charge
Apply directly for an offer letter
Update the latest admission information from universities around the world
Compare information, entry requirements, tuition of the same field of study offered by different schools.
Let's experience the completely free service of ApplyZones right now!