Studying international relations in Canada: A great choice for the future
International relations is one of the fields chosen by lots of international students who want to study in Canada. With its advanced education, diverse cultural environment and open employment opportunities in foreign companies with high salaries, Canada is strongly striving to become one of the most attractive destinations to study.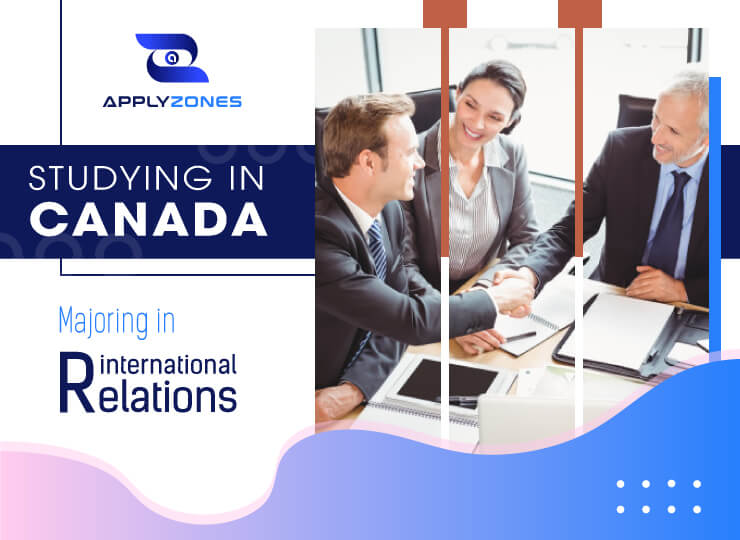 What is international relations?
International relations is a political science field that deals with globalization issues such as diplomacy, relationships between organizations, governments and multinational companies. The International Relations major provides students with a basic knowledge of the social sciences, international studies and specializations, as well as the ability to apply research to international issues.
Working in this field requires sensitivity, the ability to establish relationships, negotiating skills ... Especially with the regular communication with foreign partners and customers, so the International relations require students to be good at foreign languages, have a deep understanding of cultural, political, socio-economic issues of domestic and foreign.
Why should you study international relations in Canada?
Canada is a country that attaches great importance to the development of the education system. It is home to many of the world's leading universities. So studying in Canada, you will be trained in the best quality environment in international relations.
Canadian schools are always equipped with facilities, learning tools to create the best conditions for students. In particular, Canadian schools always update the most modern curriculum to bring high efficiency in the learning process of students. In addition, highly qualified teaching staff will give you a great learning experience in your academic performance.
On the other hand, while studying in Canada, you will have the opportunity to meet friends from many countries around the world and have the opportunity to interact with many different cultures. This is not only an opportunity to improve your knowledge and skills but also helps you to expand relationships that will be very helpful for your future work.
Requirements to study international relations in Canada
Depending on different schools and courses, there will be different entry requirements. For exact admission requirements of each school, please check directly on the ApplyZones system. However, this study field generally requires the following entry:
Completion of Grade 12
IELTS minimum of 6.0 and no band below 5.5
Which schools are the best to study international relations in Canada?
If you are wondering what school to study international relations in Canada, ApplyZones will reveal a few schools with strengths in this field for your reference.
University of Toronto
The University of Toronto is one of the oldest universities in Canada. The school is rated by Times Higher Education (THE) as one of the best universities in the world with many different disciplines, including International Relations.
The university has the strength of a highly qualified and experienced teaching staff in the subjects of history, economics and political science.
Study international relations, students will provide knowledge of contemporary international history. In addition, with the 4-year course, students also exposed to the analytical methods and skills that are needed for the latter job.
Western University
Western University was founded in 1878 in Ontario. Over 140 years of operation, Western University has provided courses to 350,000 students in all study programs.
Western University provides a solid foundation in the study of International Relations from two perspectives: History and Political Science. Students are required to participate in 4 different levels of the course. In the learning process, students can cultivate skills such as presentation, communication, essay writing, research, knowledge .... as well as improvement and enhancement.
Students who sudy International Relations will have the opportunity to practice in some places such as Youth Challenge International, Trade Commission of the Embassy of Canada - The Hague, Ontario Legislature Internship Program (OLIP) ...
University of Windsor
Windsor University is one of the universities offering many high quality disciplines, including International Relations.
Throughout the academic program, students will be exposed to the complex and challenging issues of global governance, thereby gaining a better understanding of how and how world politics works.
University of British Columbia
The University of British Columbia is the largest university in Vancouver. Every year, the school attracts a lot of international people to live and study.
The duration of international relations course at the school is 4 years. Here, students will learn macro issues such as, global economy, world security, diplomacy ... The program will cover a wide range of subjects ranging from geography to political science. , nutrition and health, society.
Where can you directly apply to study international relations in Canada?
To choose the international relations course in Canada that is right for you, you can easily search on the free online study platform ApplyZones. You only need to enter information about your study, the field that you want to study, the area you want to live in ... ApplyZones will automatically search for courses that match your qualifications and conditions.
In particular, you can send your application directly to Canadian schools through the ApplyZones system. All procedures such as choosing / finding a school, applying, applying for a offer letter or a student visa are made easily on ApplyZones and completely free of charge. Try and experience our service.
For customers, ApplyZones partners who are overseas study consultancy centers, partners will easily find customers, find information, compare courses, study programs as well as tuition fees, helping save time and manpower in counselling students who want to study Logistics in Canada. Especially, ApplyZones also helps partners to promote their brands to more students
In addition to customers who are students and overseas study consultancy centers, ApplyZones is also a bridge between students and the school, helping the brand of the school be widely known by more students through the ApplyZones information system.
In addition, with proprietary technology, Applyzones helps schools to manage the admission criteria, reduce the volume and increase the efficiency of the admission work. Besides, with the smart membership management system, Applyzones helps schools to be able to set goals by filtering and statistics of potential markets. This will be a major step forward, making it easier and more effective to make selection, counselling and enrollment strategies.
Above is the information about studying in International Relations in Canada. We hope that this article help you in preparing for studying abroad.