Open career prospects for students studying Logistics in Canada
Studying Logistics in Canada is chosen by lots of international students. In the context of globalization today, hundreds of thousands of tons of goods are delivered every day, so the demand for human resources in logistics is very high.
Canada is one of the most livable countries in the world with a developed economy, high income, good social security policies and world-class education, making it become one of the destinations chosen to study by many international students. Studying logistics in Canada will be the right choice for those who wish to find an ideal study environment, high employment opportunities and especially immigration opportunities.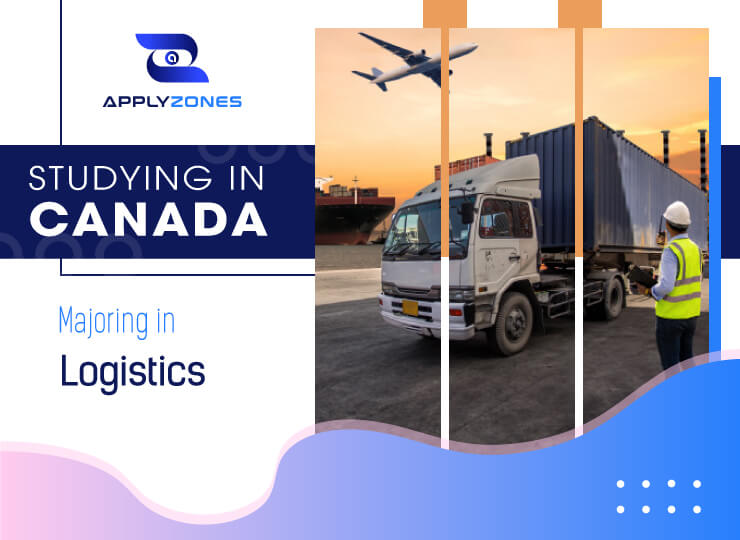 1. What is Logistics?
Logistics is the process of planning, implementing and controlling the efficient, effective forward, and reverse flow and storage of goods, semi-finished products and finished products between the point of origin and the point of consumption to meet requirements of customers.
The goal of Logistics is to save costs, reduce product costs, increase competitiveness and increase profits. The function of the Logistics is not only to deliver but also to include other activities such as warehousing, storage, packaging, packaging, transportation, rotation, handling of damaged goods, etc.
Logistics is very broa, divided into majors. In general, when studying this field, students will be provided with depth knowledge of logistics economics, human resource management, transportation law, logistics management, supply chain management, distribution and delivery systems, multimodal transport operators, financial and accounting operations in businesses specializing in logistics services and multimodal transport.
Logistic management students will gain an in-depth study of supply chain management between the point of origin and the point of consumption, including various modes of transportation such as road, rail, marine and airline
Also, students are equipped with knowledge of international marketing, supply chains, distribution systems, modes of transport to save time and cost of goods.
2. Why should you study logistics in Canada?
International qualifications
Studying Logistics in Canada, students will be taught in a safe and ideal international environment and gain internationally recognized qualifications. In addition, international students will also enjoy the following benefits:
International business environment
When working in Canada, you will have the opportunity to work in a dynamic, professional environment. All Logistics companies cooperate with other foreign partners and customers. Therefore, you will develop many relationships with professional partners around the world. You also have the opportunity to travel abroad.
Open career opportunities
Currently, major seaports such as Vancouver, Rotterdam or Quebec, Saint John, Halifax are seriously in shortage of human resources. Therefore, studying abroad in Logistics will open up career opportunities for you.
Attractive salary rate
Logistics is the industry with very high pressure so the salary for this industry is commensurate. In Canada, the salary for those working in the Logistics industry usually ranges from 40,000 ~ 42,000 CAD/year. At the same time when working in the field of Logistics is always guaranteed the best benefits due to high work pressure.
3. What jobs can you get with a Canadian logistics degree?
Logistics can be divided into 3 categories: logistics, warehousing and transportation; include the following positions:
Inventory Manager
Purchase Analyst / Assistant
Materials Analyst / Materials manager
Strategic planner
Supply chain manager
Commodity Manager
Operations Manager
Procurement Manager
Warehousing Manager
Sourcing manager
4. Which schools are the best to study logistics in Canada?
Here are some suggestions that you can refer to when you intend to study logistics in Canada.
STT

State

School

Qualification

Intake

Entry requirements

1

Ontario

Centennial College

Postgraduate (1 year)

Sep

GPA > 7.0

IELTS 6.5

2

Ontario

Humber College

Undergraduate (4 years)

Jan - Sep

GPA >7.0

IELTS 6.5

3

Toronto – Ontario

George Brown College

Diploma ( 2 years)

Jan – May - Sep

GPA > 7.0

IELTS 6.0

4

London – Ontario

Fanshawe College

Postgraduate (1 year)

Jan – May - Sep

GPA >7.0

IELTS 6.5

5

Brampton – Ontario

Sheridan College

Undergraduate (4 years)

Jan – May - Sep

GPA >7.0

IELTS 6.5
Where can you directly apply to study logistics in Canada?
You can search for logistics courses of Canadian schools by yourself that suits your ability and condition on our free ApplyZones system.
You just provide information, following the system requirements for your education, interests or major / city you want to apply, ApplyZones will automatically search for courses that suit your demand criteria only in a few seconds.
You can check whether you can apply or not by clicking the "Check Eligibility" button at the end of each course. For courses for which you are eligible to apply, the system will display a notice.
This makes it easy for students to find the course as well as save more time and money than using support services from third parties.
In particular, students can directly apply to the desired university in the most effective way. This is a special feature only available at ApplyZones. Try and experience our services.
For customers, ApplyZones partners who are overseas study consultancy centers, partners will easily find customers, find information, compare courses, study programs as well as tuition fees, helping save time and manpower in counselling students who want to study Logistics in Canada. Especially, ApplyZones also helps partners to promote their brands to more students
In addition to customers who are students and overseas study consultancy centers, ApplyZones is also a bridge between students and the school, helping the brand of the school be widely known by more students through the ApplyZones information system.
In addition, with proprietary technology, Applyzones helps schools to manage the admission criteria, reduce the volume and increase the efficiency of the admission work. Besides, with the smart membership management system, Applyzones helps schools to be able to set goals by filtering and statistics of potential markets. This will be a major step forward, making it easier and more effective to make selection, counselling and enrollment strategies.