Studying Nursing in the US is not just about passion
Studying Nursing in the US, international students will not have to worry about unemployment because this is a profession that is in great need of human resources in the US. Nursing, in particular, is also a career that allows international students to stay in the US for a long time and can apply for immigration here. Therefore, in recent years nursing has become one of the attractive options for those who are planning to study in the US.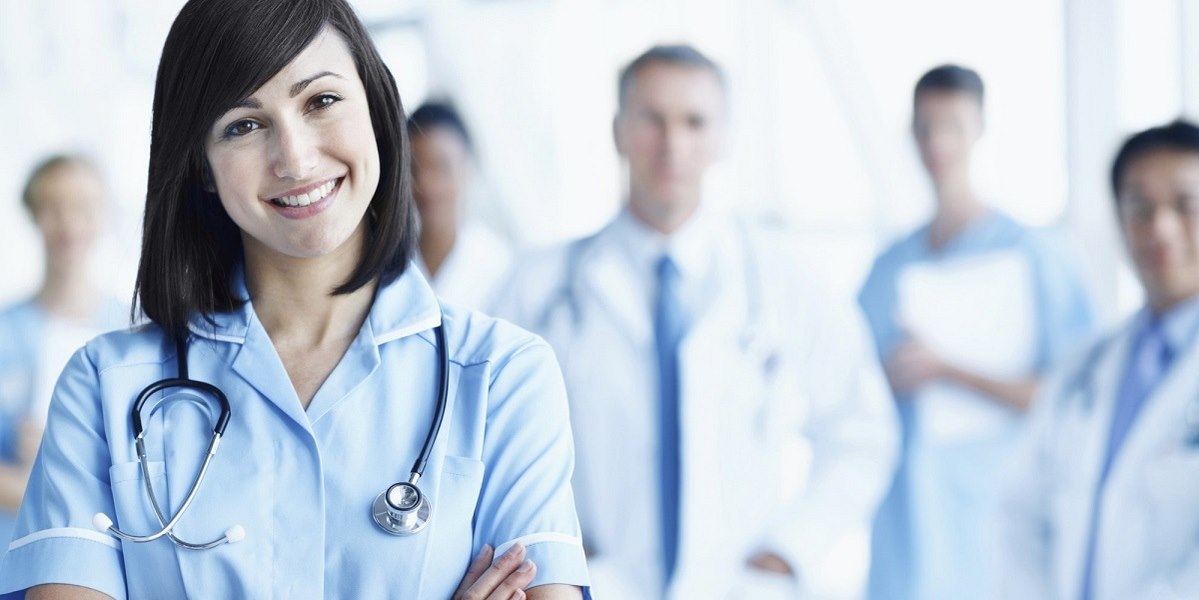 1. Introduction to Nursing in the US
Nursing is a field of medical knowledge, practical skills. Nurses must be very knowledgeable about patient care principles and procedures to patient care procedures to assist doctors in implementing treatment-related activities such as infusion, injection, psychological counselling or patient care...
Although nursing has a great opportunity in the US, studying this field is not easy. So when deciding to study nursing in the US, international students must confirm that you are passionate about this profession because nursing in the US is not the same as in Vietnam.
On average, a nursing course in the US can last up to 7 years including the internship. To become a nurse in the US, students must complete their studies in American nursing schools. You will usually study at a community college for 2 years, then practice for 2 years or more and take the National Council for the Examination of Licensing Licenses (NCLEX). To be a nurse in a country with a well-developed health system like the United States, you are required a high level of expertise and experience. Although the training time is long and the learning process is also hard, the career future of nursing is very open, especially the opportunity of immigration to the US as a nurse is very high.
2. Career prospects for nursing in the US
The serious shortage of human resources in nursing is a common problem for powers such as the US, Australia or Canada. According to current statistics, the US is short of 100,000 thousand nurses and it is expected that it will increase to 260,000 by 2025. The serious shortage of nurses forces hospitals and Health departments in the US have to hire foreign workers. In early 2006, the US government amended the Immigration Law to remove the limit on the number of foreign nurses that American hospitals can hire, opening up many opportunities for foreign nurses to live and work in the United States. Of course, compared to people who have been trained in other countries before coming to the US to work, those who have studied in the US will have the advantage and priority. There is a fact in the United States that you need to know that indigenous people are not too keen to pursue this industry because nursing has many difficulties and hardships. However, for international students who want to live permanently in the US, nursing will be a great choice.
3. What qualities are required to study Nursing in the US?
To study nursing in the US, you need to have the following qualities:
Passion: To study nursing, you need to have passion, have good ethics and a high sense of responsibility because nursing is very hard with a large number of jobs. Especially this is the job related to the patient's life, any mistake may cause unpredictable consequences.
Knowledge of medicine and pharmacy: Nurses need to have general medical knowledge
Well-trained: this is an important requirement. Nurses need to carry out accurate and complete skills such as injection, infusion, dressing change, first aid for wounds or use of medical equipment ...
Charity: This is one of the qualities that nursing needs to have in order to empathize and share the pain with the patient and to always encourage and comfort the patient.
Soft and principles: Nurses are not just simple caregivers, but this is a "psychologist" capable of reviewing and assessing the morale of patients in each stage. At the same time, nurses must have the principle of no stigma and aversion to patients.
4. Why study Nursing in the US?
The United States has one of the best health care and medical services for the world's people. Therefore, this country pays great attention to the quality of nursing education and training. When studying nursing in the US, students will have many advantages such as:
Easily choose the curriculum that suits your qualifications and desires because in the US nursing varies from bachelor to master and doctoral degree
Access to a wide range of specialized knowledge from which to gain diverse cultural perspectives and global competencies
The USA is home to many of the world's leading and best universities
Be immersed in a foreign language and improve your English proficiency
American qualifications are recognized worldwide
High job opportunities, easily apply for jobs in the US or in other countries
5. Requirements to study Nursing in the US
Different universities will have different entry requirements for international students wishing to study nursing. However, to study nursing in the US, international students must meet the following basic requirements:
Completed the high school education or higher (applicants are required to good at Chemistry, Biology)
IELTS 6.5 or above or TOEFL 90+
Pass the GPA and SAT exams (from 1150 and above)
Take the HESI/TEAR entrance exam
In addition to the academic requirements, students also need to demonstrate financial resources during their study abroad in the US. This is also one of the important factors that determine whether you are accepted or not. Typically, nursing in the US has a tuition fee ranging from 11,000 USD/year or more for public schools and 40,000 USD/year or more for private schools.
6. Nursing programs in the US
If you intend to study nursing in the US, here are the popular nursing programs in the US.
LPN or LVN programs
LPN and LVN are licensed practice nursing and vocational nursing programs. These programs operate under registered nursing care and last about 1 year.
You can study LPN/LVN at many colleges across the United States. These programs usually do not require prerequisite classes. However, some schools will require minimum TOEFL, SAT or ACT. Students will have to pass a national exam to get a practising license.
According to statistics of the US Department of Labor, the average annual salary of a practical and licensed vocational nurse is 39,030 USD.
ADN program
ADN is equal to an associate in nursing. This program will last for 15 months or 2 years. This program is usually taught at community colleges and often requires a number of prerequisite classes.
The ADN program usually focuses on technical nursing skills. Therefore, when you complete this program, you can provide treatment and guidance, as well as emotional support for patients or their family members. It is noticed that all students enrolled in the ADN program must pass the National Board Licensing Exam to obtain a nursing practising license.
BSN program
BSN is a bachelor's degree in nursing. This program will last for four years of study and you can study at colleges and universities across the United States. The Bachelor of Nursing program is very popular with international students because it offers an open career prospect and a high salary.
Accelerated BSN Program
These accelerated BSN are often referred to as secondary programs and are usually aimed at students who have previously received a degree. This program lasts from 12 to 18 months and is the fastest way to become a registered nurse. Although these programs are very competitive and pressuring, many international students prefer this type of learning.
MSN Program
The MSN program is a master of science in nursing program that combines many advanced nursing majors into a single course. These advanced programs can combine majors such as neonatal nursing, adult nursing, women's health nursing, pediatric nursing, nurse education, etc.
The average salary for people with a master of science in nursing in the US is about 60,000-150,000 USD depending on the speciality.
CRNA program
A Certified Registered Nurse Anesthetist program usually lasts 1 to 2 years. Students enrolled in the CRNA program will learn anaesthetic techniques, test theory and how to apply their knowledge to clinical issues.
The registered CRNA program is certified as a high professional qualification. Therefore, the salary is also quite high, ranging from 160,000 - 250,000 USD per year depending on the state of working.
DNP program
The PhD program in Nursing focuses on training in research methods including data analysis and statistics, history and philosophy of nursing science. DNP programs usually last 18 to 30 months, excluding MSN.
Graduated as a PhD in nursing, you can find a job with a salary of more than 135,830 USD/year.
7. Salary of a nurse in the US
In the US, nursing is a relatively high-paying profession with a minimum salary of about 45,000 USD per year. Nurses take care of babies with an average salary of about 100,000 USD/year (according to Salary.com). The average salary of anesthesiologists sometimes reaches 147,000 USD/year. This job is high-paying with a stable income in the US.
8. List of schools that deliver nursing courses
University of Pennsylvania
The University of Pennsylvania is a prestigious Ivy League private research university and one of the oldest universities in the United States to offer both undergraduate and graduate programs. The university is rated as one of the best research and education provider in the world.
According to statistics, the University of Pennsylvania is No.1 university for nursing in the US according to US News & World Report.
Johns Hopkins University
Johns Hopkins University is a private research university in Baltimore, Maryland, famous for being one of the best medical universities in the United States.
Johns Hopkins University School of Nursing is ranked No. 2, School of Medicine is 5th and Pharmacy and Pharmacology are ranked 17th on the QS rankings. In addition to a diverse curriculum, Johns Hopkins University also invests heavily in faculty members who are outstanding in the global medical field. A special point of Johns Hopkins University is that students will study at Johns Hopkins Hospital, this is one of the leading hospitals in the US.
Although the university's nursing department has a high tuition fee, it always offers scholarships for excellent students.
University of Washington
With a history of more than 150 years, the University of Washington is one of the leading universities in the United States with internationally recognized curricula.
The University of Washington offers bachelors, masters and doctoral courses with over 2000 courses offered at 16 colleges and schools.
The most popular majors offered by the University of Washington include Social Sciences, Biological Sciences and Biomedical Sciences, Business, Management, Marketing, Engineering, ...
The University of Washington School of Nursing is the first US West Coast for nursing and also the first American university to offer quality teaching accredited by the National Organization of Public Health Nurses.
The main goal of the university's nursing courses is to promote nursing science and practise through teaching in-depth knowledge and research. Currently, the university's nursing department has more than 600 students, more than 115 prestigious lecturers and research professors.
University of California, San Francisco
In recent years, the University of California at San Francisco has become one of the leading universities in the development of modern biomedical engineering and modern medical education thanks to the advancements of science and biotechnology. The University of California is also the only university in the US to be in the top 10 list for research and health care.
There are currently about 2,600 students enrolled in the postgraduate program in dentistry, medicine, nursing and pharmacy at the University of California. The university has many nursing programs that are accredited by prestigious institutions such as the master of nursing (and the APRN program) accredited by the Commission on Collegiate of Nursing Education (CCNE) or obstetric-obstetric nursing program accredited by the Accreditation Commission for Midwifery Education (ACME);
University of Michigan
The University of Michigan is one of the world's leading public universities. Michigan is home to more than 28,000 undergraduate students and 15,000 graduate students from 50 states and 121 countries around the world.
The University of Michigan has many leading nursing programs such as Nurse-Midwifery, Nursing Administration, Nursing Informatics, and Family Nurse Practitioner or /Doctor in Nursing Practice ...
Above is all the information you need to know before studying nursing in the US. With a generous salary, a stable job and never having to worry about unemployment, nursing is a worthy field of study for you to pursue in the US.
Have you dreamed of studying in the US? Are you wondering where to find a school or apply for studying abroad?
Do you want to save time and money by applying for studying abroad yourself without the support of overseas study consultancy center?
Let ApplyZones help you. Applyzones is the leading free online study abroad platform today.
Applyzones will help you:
Find the right course for your ability and conditions
Contact the school you wish to enroll in directly through the membership management system
Apply directly without any charge
Apply directly for an offer letter
Update the latest admission information from universities around the world
Compare information, entry requirements, tuition of the same field of study offered by different schools.
Let's experience the completely free service of ApplyZones by directly searching for courses and applying to study graphic design in the US. With just a few simple steps, you can easily search for courses, send your application or even apply for a student visa. If you have any questions, do not hesitate to contact immediately to be supported by ApplyZones.