Top universities in Canada
Canadian universities not only have high quality of education, internationally recognized qualifications, but high percentage of students who are employed after graduation. However, because the number of universities in Canada is very large, which is difficlult for you to find a suitable study enviroment. So, Applyzones provide you a list of top universities in Canada in the following article!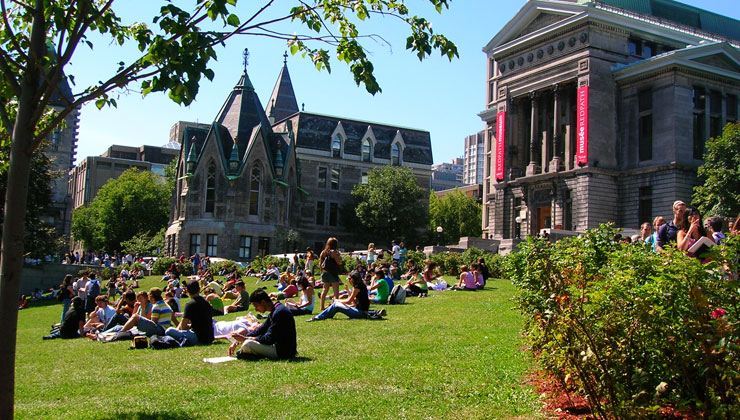 List of Canadian universities with the best quality
University of Toronto
The university is located in the beautiful city of Toronto, one of the largest economic and financial centers of Canada with high population density and the busiest financial and commercial area. More specifically, it is famous for its vibrant and diverse job market, the University of Toronto will bring great opportunities for international students.
The University of Toronto has more than 60,000 students, 700 undergraduate programs and nearly 200 graduate programs. For many years, the university has always been ranked in top universities in Canada for best quality, ranked 22nd among the top universities in the world. In particular, it also reaches high achievements in subjects of arts and humanities, science and technology.
Accordingly, the quality of teaching and facilities at the University of Toronto are highly appreciated. The university always focuses on investing in teaching methods and equipment that are constantly improved. This helps students easily absorb and study more effectively.
McGill University
One of McGill University's international student attractions is that it is the only Canadian university to be on the global university leadership forum at the World Economic Forum. Not only that, but McGill also ranked first among Canadian universities for the doctor of medicine. More than 250,000 international students have graduated from this prestigious university.
Founded in 1821, McGill University is also known as Canada's oldest and second-largest university in the world with buildings built of typical grey limestone. McGill University currently has 21 faculties and affiliated schools, more than 300 different fields of study with more than 34,000 students from nearly 140 different countries worldwide enrolled in each course.
University of British Columbia
Ranked 36 in the world for quality of teaching, University of British Columbia is known as a university with extremely competitive entry rates and requirements. At university, there were 7 Nobel Prize-winning scientists, 69 Rhodes scholars and many athletes who were awarded medals at the Olympics.
In addition, at UBC, international students also have the opportunity to live in a dormitory in Vancouver, located next to the romantic beach with a spectacular view of the majestic North Shore.
McMaster University
Also one of the universities in Canada with outstanding achievements in many fields such as arts, economics, environment, science, engineering ... It has about 25,000 students with modern facilities for nuclear research. In recent years, McMaster University has always received the special attention of international students who want to pursue and develop their arts career. McMaster University currently offers top-rated study programs across 6 faculties under DeGroote.
University of Montreal
The University of Montreal is the last name to rank among the Top Quality Universities in Canada in 2020. The reason for this ranking is because Montreal is the second largest university in Canada for the number of students. This is considered the cradle of training many talents such as famous CEOs for many famous big corporations, or leading scientists and engineers in nuclear energy and magnetic code.
Besides the top 5 universities in Canada with the best quality in 2020 above, you can refer to some prestigious and quality training schools provided by Apply Zones below:
+ University of Alberta (ranked 107 in the world with the outstanding major in economics)
+ University of Waterloo (ranked 173rd in the world, a member of U15 - a group of intensive research universities in Canada)
+ University of Calgary (ranked 195th in the world, including 14 faculties from undergraduate to doctorate)
+ University of Western (ranked 201-205 with 3,500 lecturers and administrative staff)
+ Simon Fraser University
+ Dalhousie University
+ University of Laval
+ University of Ottawa
+ York University
+ University Manitoba
+ University of Saskatchewan
Above is TOP universities in Canada with the best quality in 2020. If you are still wondering whether your academic ability and financial conditions will be suitable for any university in Canada, please visit immediately ApplyZones system. With the basis of intelligent search technology and data analysis, ApplyZones will help you find a prestigious and suitable university in the shortest possible time. Let Apply Zones help you reach your dream of studying in Canada!.